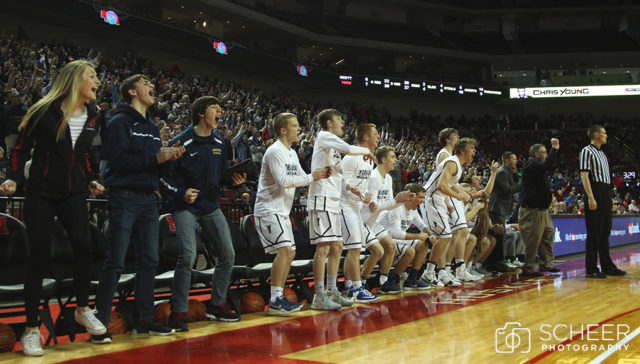 2018 saw some incredible performances and feats from our Striv Schools. We were fortunate to capture some of those stories, gathered here for a year-end review. We hope 2019 finds you happy, healthy, and ready to tackle new challenges!
10. Why I Coach -Tahner Theim
David City wrestling coach Tahner Theim had the most listens of any of our podcasts in the spring. There's good reason.

9. Camp Confidential – Centennial
The Broncos were coming off a runner-up finish to Yutan in the C-2 state football championship. Ben Mohorn had just got his drone license. This was one of the most fun shoots we've had.
8. Titletown
Football. Boys Basketball. In Class B. It doesn't happen often, but York managed this double feature championship in 2018. They would add championships in speech and boys golf in the school year.
7. The Football Whisperer
Carter Terry has been around football since before he could walk. He thinks like his coach, which is handy when he goes home with dad after practices and games. The Northwest football team enjoyed another great year.
6. On the Range
Our goal: make golf look cool. Our subjects: the York boys golf team. The guys didn't disappoint, running away with the Class B State championship. (Our recap from that tournament was pretty good, too.)
5. The Offseason
Fallon Stutheit (Johnson-Brock), Brent Wetovick (Fullerton) and Brady Danielson & Garrett Snodgrass (York) have enjoyed outstanding careers, that aren't done. Stutheit, Wetovick and Snodgrass will compete at Nebraska. Danielson is a Northern State committ.
Brady Danielson & Garrett Snodgrass
4. Dear Mullen
Hear from one of the top rushers in Nebraska high school history. It's the legacy of Lane Edis, and all the past and future Broncos.
3. A Championship Journey: Two days in Lincoln
It started with an idea to make a short video about the winners from Striv schools in the 2017 football championships. It turned in to a film that took over two months to edit, and lasts over an hour.
2. So, You Wrestle/Heartbreak
State Wrestling can bring out emotions that few could understand. We tried capturing those emotions and paired it with a script from Tony Chapman's article So, You Wrestle, Judging from the views, I'd say we did a good job.
1. Competition and Kindness
Our most important project to date. We could all use a little more kindness in our lives. Schuyler Central schools shares their stories with us to shine a light on what kindness COULD look like, and it starts with adults.