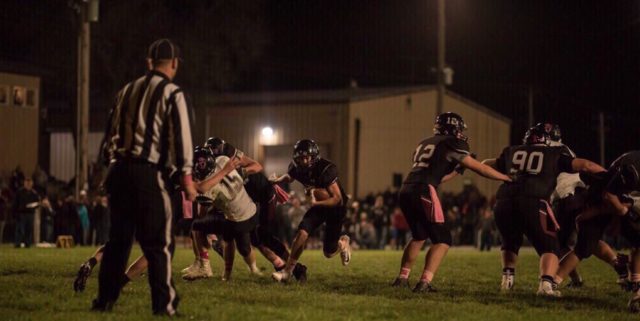 END OF STATE MAINTENANCE, SHICKLEY — The Rewind has been to Bruning and Shickley a few times since they started building this football mansion in 2010. Both little towns have great places to watch a football game.
They've been to the playoffs every year. Last year's seniors were in the finals three times (won two), didn't lose a game in the regular season and finished their careers 49-2. This year's group — 45-1 in since they were freshmen — would need a state title to do them one better.
Mostly, they just represent mom and dad and grandma and grandpa. Folks who have worked the land all these years and who take a break from harvest for three hours each Friday to watch their boys.
"It seems like we get an extra month of practice every year," Eagle co-coach Chris Ardissono said on Friday night after a 46-12 district championship win over Thayer Central. "We have always thought we wanted to be a playoff team. There is a different speed when it comes to a playoff game.
"Those teams that are good in the playoffs, they play hard on every, single play. They come at you every play with eight guys. It takes a while. Once you've been in some of those games, your kids know what it takes to play at that speed every play. That's our goal, every year. I am not sure we are there yet."
This Eagles bunch is close, if they aren't. But, they need to get healthy.
On Friday, they sat senior Jacob Schoenholz as a precaution. On his third run of the game, quarterback John Christiansen strained his right knee. So, he finished the game with three carries — 59, 14 and 13 yards — and a touchdown. Then, rested up as to prepare for the second season. Later, senior Heath Calvert — he's 6-feet, 275 pounds and plays, I don't what to call it; fullback — went down with an sprained ankle as well.
"The trainer should have got paid extra tonight," Eagle co-coach Mark Rotter joked. "We are like a M*A*S*H* unit out there. I am old. I have never played by third string quarterback as much as I have this year."
All kidding aside, it doesn't seem to matter. Here's why: Kyle Ardissono, Isaac Elses, Nolan Weber, Justin Stengel, Glenn Meyer and Nate Nelson. That's the crew that does most of the work for the guy who run the ball — straight ahead — for BDS this year. They have, mostly, knocked you over about eight yards down from the line of scrimmage.
The final tally on Friday was 62 runs for 340 yards.They had two plays the whole game for negative yards until two errant snaps toward the end. It's a type of football that will win you a few in the playoffs.
That's the plan anyway, for BDS. Just like always. Time for another month of practice.
Follow the Playoffs
A brief change here to give you an opportunity to go over and follow our wall-to-wall playoff coverage on nebpreps.com. There you can get all the brackets, all the scores, all the radio and streaming links and when the games are over statewide recaps. We'll be there for you all the way to the finals and beyond.