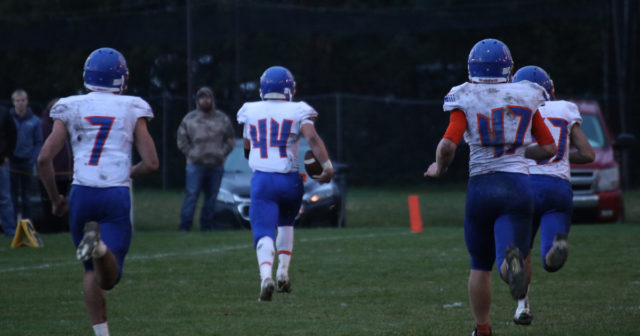 This one's for the underdogs // The good guys // The come back kids and the long shots // The pinch third stringers // The for the fence swingers // Keeping on keeping on // This one's for the underdogs — Underdogs by Jimmie Allen
PLAYOFF TOWNS, NEBRASKA — Over two nights, we play 72 playoff games in Nebraska to get this awesome month going.
That means 72 winners — 32 8-man, 32 11-man and eight 6-man — left that we'll pair down to 36 by he end of the night this Friday.
These opening round games always bring out the questions in folks — too many teams in the playoffs they say. They might not be wrong. But they might not be right either.
Don't tell the boys from Osceola/High Plains or Lawrence-Nelson they didn't deserve a shot. Or the 11th-seeded Elkhorn South Storm in Class A. Or the 10th-seeded wonders from Bishop Neumann or Aquinas.
These playoffs and the lessons they teach can be for just about anyone.
The Storm survived one of the top passers in Class A — North Dakota recruit Cedric Case — with experience from their Class B title runs and a defense that just wouldn't break. Storm 27, Lincoln High 24.
"One of the big cornerstones of our program is to play the next play. It's amazing how many games you can win if you play a little rope-a-dope and hang in there," Storm coach Guy Rosenberg told the Lincoln Journal-Star after their upset.
Down in Bruning, TJ Nielsen and Greg Wood's young bucks might have pulled the biggest shocker, 34-22 over second-ranked Bruning-Davenport/Shickley. The Eagles had won 21 in a row and 45 of their last 46 contests.
But Dylan Soule and Keaton Van Housen and Carson Watts had other ideas. Finally healthy — they had played parts of the year with up to four starters on the sideline — the newly formed StormDogs (5-4) put one all together.
"We are really proud of our team for putting a complete game together," Nielsen said. "We have had some ups and downs throughout the season while battling injuries and had a hard time putting together four full quarters of football."
And, then, see you learn about the lessons. The game those boys won't ever forget.
"From start to finish our kids played a great physical football game to knock off a tremendous BDS program," Nielsen added. "In the end, like most playoff football, it came down to winning the turnover battle and limiting mistakes.
"We have such a young team and we continue to play more disciplined each week. Our kids will be excited to prepare this week."
Up next for the StormDogs is high flying Lutheran High Northeast. They haven't scored less than 50 points all season and most outside of Polk and Merrick County give OHP little shot. Oh well.
These games are for the underdogs.
Let's Rewind
You can check out all the stories and game recaps over at our nebpreps.com Playoff Pages. Trust us, you'll be glad you did.
Future Cast
A whole bunch of great football, some small stuff on Halloween, and the 11-man and 6-man variety on Friday night. A few we are most looking forward to:
-Riverside at Kenesaw. Can the three-time 6-man champs knock off the unbeaten Blue Devils?
Garden County at Mullen. A week three rematch that went to Mullen the first time, 35-16. But what did Garden County do in round one? Beat Medicine Valley 50-8, after losing 46-30 in week seven.
-Fullerton at Exeter-Milligan/Friend. Can the Warriors — back at full strength — pull an upset? They might have players to do it.
McCool Junction at Wilcox-Hildreth. The second-ranked Falcons scores 100 in an opening round win over Creek Valley. The Mustangs have one of the stingiest defenses in D6, only giving up 30 points once all season.
-Sutton at Aquinas. Big boy football. That's about all you need to say about this one.
-Pierce at Bishop Neumann. Repeat No. 5.
-Grand Island at Millard South. In a set of intriguing quarterfinals in Class A, this one could top the list. Neither team was expected to be in the semifinals two weeks ago. That's why they play the games.