OMAHA — If you made it through all of Friday — day one — of the 2017 Nebraska State Track Meet give yourself a pat on the back.
And then go throw your clothes in the dryer.
Now, if you were competing and winning championships on this cold, rain-soaked day, where at 5:30 PM every mile of I-80 — from Omaha to Kimball — was covered in rain, you have our full admiration.
Mayson Conner didn't seem to mind, even though he came up just short of his all-class gold medal goal in the high jump.
"I'd rather do 6-9 outside in 50 degrees and raining than have to move inside," the York junior said after winning Class B in a steady rain over Ogallala's Jakob Estrada.
Conner wasn't alone in his pursuit of excellence on Friday, despite the conditions. In all, nine Striv athletes brought home gold on Friday. Big and small. Repeat and first time winners.
The small showed the most resolve early on Friday in the form of Millard West standout Seth Hirsch and Aurora's Jonna Bart.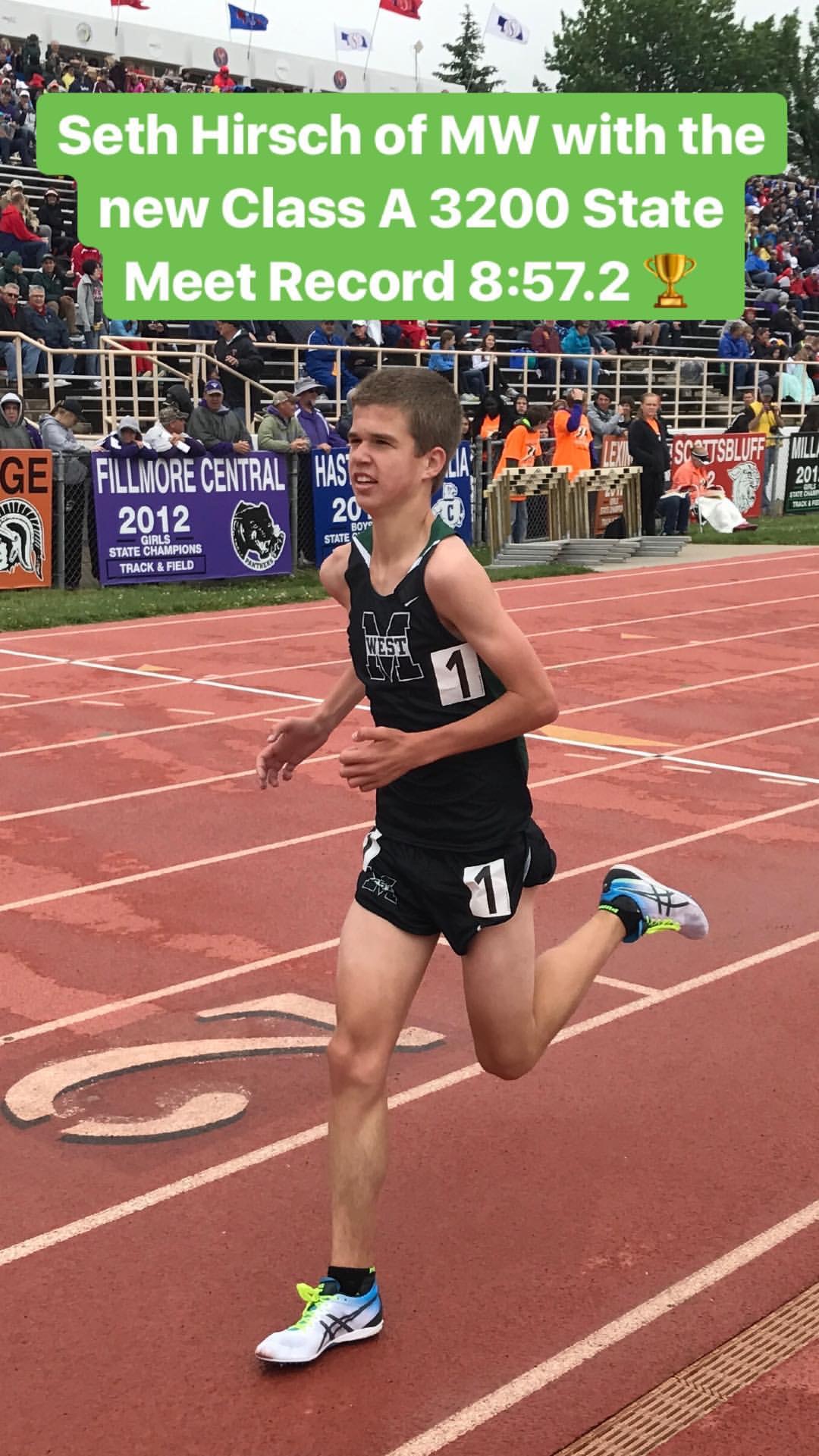 Hirsch, a Wisconsin recruit, turned his duel with Omaha Westside standout Milo Grieder into a one-sided affair after about 1,200 meters. In the process, he set a Class A and all-class meet record with a time of 8:57.19.
"It feels great (to set the state meet record)," Hirsch said after the race. "We knew after running 8:54 at Metros that we could get the state meet record."
Hirsch was out quick and wore out Grieder in the back half of the race. Now a showdown awaits Saturday in the mile and Hirsch knows it's a big test.
"I think he conserved some energy after I got the big lead," Hirsch said. "I'll have to get out fast in the first 1,200 tomorrow."
Bart, the Aurora senior was given a lead in the last leg of the girl's Class B 3,200 meter relay. Then she gave it up, and got it all back, her late kick giving the Huskies 10 valuable points in the team race when she edged Taylor Caba of Plattsmouth.
The Huskies time of 9:33.64 was just three seconds off the Class B record.
"We worked hard together all year, I couldn't let my teammates down," Bart said. "I knew I just had to finish strong."
With temperatures barely reaching 50 degrees and a stress rain most of the day the athletes battled conditions not likely ever seen at the meet since it has been hosted at Burke.
Other Striv champions included: Ella Godfrey (Kearney, A discus), Luke Stuckey (York, B 3,200 run), Karsen Sears (Northwest, B long jump), Miles Griffith (St. Paul, C high jump), Thayer Central (C boys 3,200 relay), Sara Czarnik (Twin River, long jump), Jordan Paup (Central City, shot put), Trystan Brandt (Exeter-Milligan, long jump).