HEBRON — You might think — if you weren't from this track town near the Nebraska, Kansas border — that a trip to the 2017 Nebraska State Track Meet this weekend with only four runners might be a fun vacation for the Thayer Central track team.
The Titans are participating in just four events. So this weekend might be a nice little chance to celebrate the end of a pretty good season.
But, see, you aren't from Hebron and so you'd think wrong. These Titans have bigger goals on their mind.
"When I was an 8th grader and a freshman, Thayer Central won state," senior Connor Mumm said. "We fight. When someone pushes us, we want to push right back and keep fighting until the end of a race."
Last year, the Titans were second in the Class C team race scoring 55 points and finishing 15 points short of champion Bishop Neumann. And now, with four runners they might try for the same?
Titan coach Bryan Solomon knows it's a tall task, but one worth chasing.
"You look at these numbers and it looks like it could be a real dogfight," Solomon said, attempting to handicap a wide open team race. "Norfolk Catholic, Bridgeport and Heartland all could score a bunch of points.
"But our kids have high expectations."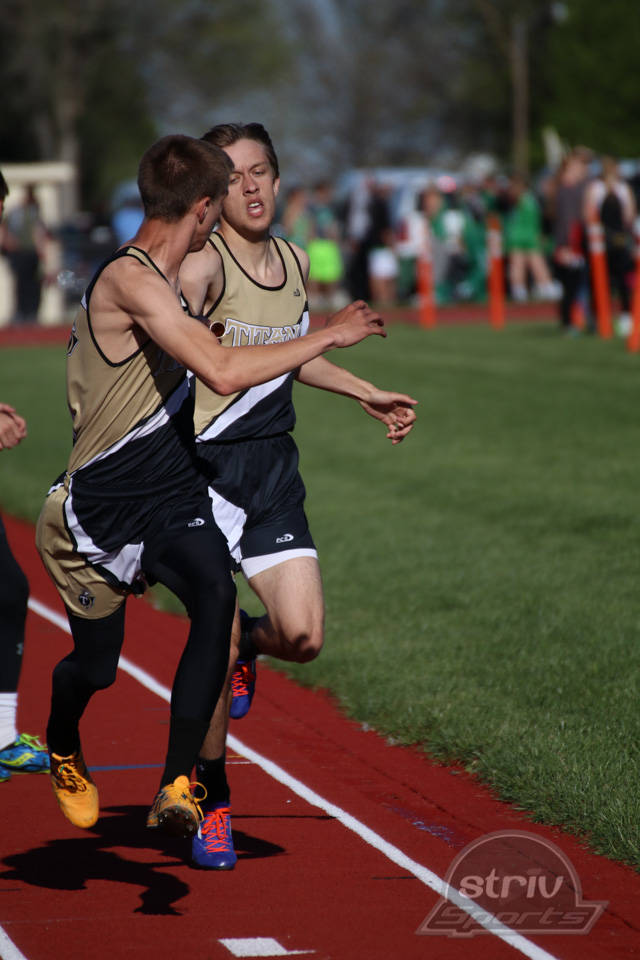 The Titan four — Mumm, fellow senior Evan Fuglestad, junior Aubrey Fangmeier and sophomore Zachary Koss — will run two relays (the 1,600 and 3,200) and have Fuglestad in the 400 and the other three in 800.
That's it.
At last week's C-4 district, Fangmeier led the 800 trio at 1:58.4 seconds. They all went under two minutes, better than any other district times in the state. Points will be crucial and at a premium.
But it is Mumm's favorite race that will set the tone. The 3,200 relay opens Friday's events on the track. TC's district time of 8:11.7 was less than a second off of Bridgeport's state leading time.
Solomon thinks his crew's best race is ahead of them, as they have held back Fuglestad all season due to how close the race is when compared to his 400. What is normally a 30-40 minute break in season will be nearly 90 minutes before his prelim race on Friday morning.
"We just think the sky's the limit if the weather holds out," Solomon said. "For three of our guys that is all they will run on Friday. We are going to ask Evan to lay it all out there and he can really go."
Mumm said this race, when they won it at the Waverly Invitational against Class A and B competition, spurned even more confidence in the group that finished fifth in Class C last year.
"The relays are my favorite races," Mumm said. "When I look back to Waverly and you get to compete against Class A schools that was fun to see where we stacked up."
With a leading time in the 1,600 relay as well, you can see why the Titans — even with just those four runners — have lofty goals. Why they can have them, at a school that has won eight state track titles.
"They love to be out there and to push each other," Solomon said. "But, they walk the halls here, too. They see the pictures on the walls and know about the tradition and culture. In a race when someone gets next to them, these kids never back down."
But it is something else about his small crew that he loves even more.
"They are great kids," he said. "The younger kids we have look up to them, from elementary and junior high, and they come to our meets and they want to be like them someday."
A proud tradition that carries on in Hebron at Thayer Central. Whether the number is big or small.