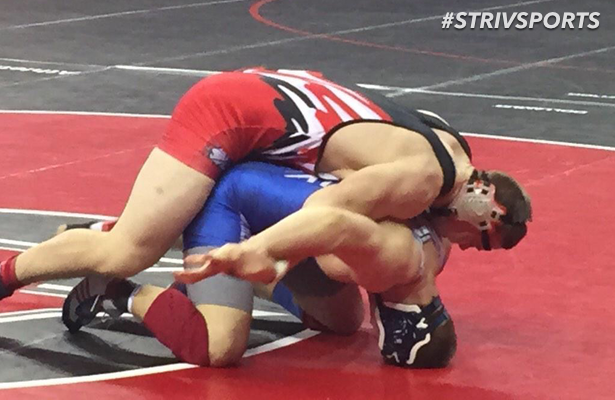 OMAHA — The lights shine brightest on Friday night at the state wrestling championships. For the first time all weekend, all classes are on mats at the same time in the semifinals and heartbreak round of consolations. When it's all said on done, the 336 wrestlers who where medals home will be known.
In all, 17 Striv wrestlers will grapple for gold medals on Saturday afternoon when the finals begin at 3:00. They will be broadcast and streamed live by NET. Give yourself a hand, NSAA. There is little arguing the atmosphere at state wrestling — especially Friday night — is truly unlike any other championship that is contested in Nebraska.
The set up on Friday night included this and the introduction of the 32 teams who qualified for the State Dual Tournament next week in Kearney. Six Striv schools will participate: York, Northwest, Wilber-Clatonia, Central City, Creighton and Friend.
Oh, and there was wrestling, too. Especially for Friend.
The Bulldogs put three in the semifinals: Clay Dickinson, Zemua Baptista and Patrick Dempsey. They all advanced to Saturday's finals to give the Bulldogs — who qualified seven of eight team wrestlers — a grasp on the second place in the Class D race. They have a 9.5 lead over Oakland-Craig for the team runner-up trophy.
"Our goal was to get the runner-up title and we talked about it," Friend coach Ben Dempsey said. "We knew Amherst was going to do what they do, because they just have more horses. They just have a good team, good individuals, great tradition, and great coaches.  We wanted to be realistic and a State Runner-up is within our grasp."
To see his son finish with one more win would be icing on the cake for coach Dempsey.
"It means so much to me as his dad and coach," coach Dempsey said. "He has had a rough time at State. His Freshman year he had a bum knee, he lost by 2 his Sophomore year and got runner-up. Last year he got sick during the state tourney.  This year he is 41-1 and everything seams to be clicking for him and we are expecting big things and hopefully he will be at the top of the podium."
The Other Finalists
A170 — Millard West's Doug Vawter predicted his future and got a pin in 3:57 over South Sioux City's Sean Holgate. He'll likely be an underdog to Grand Island's Billy Thompson who pinned defending champion Markell Vaughn of Omaha North in the match of the tournament.
I want this more than any one can imagine. I will be in this state finals tomorrow

— Doug Vawter (@doug_vawter)
February 20, 2015
A195 — Omaha Central's Kolbie Foster also earned an Islander in the finals. His 5:57 pin of Alex Kerr of Lincoln Pius X has him in the finals against Grand Island's Edgar Silva (22-2).
B103 — Syracuse's Max Hughes isn't a freshman anymore. The little guy advanced to 39-3 with an 8-2 win over Jorgen Johnson of Alliance and he'll face Omaha Skutt freshman Van Schmidt for the B title.
B152 — They pull at our heart strings at B152 as Cozad's Brian Messersmith will wrestle Syracuse's Ty Snyder in the final. Messersmith defeated Omaha Skutt's Curt Randall and Snyder outlasted Northwest's Austin Cooper.
B285 — The words are all done for Matt Clark. It's pin number 71 in a row in the semifinals. He has wrestled 2:31 in three matches. The South Dakota State football recruit will go for his second straight title tomorrow.
C132 — Another all Striv final here and rematch of the finals in C3 as Sutton's Tyler Bailey (42-0) will wrestle Central City's Jeremiah Dickinson (40-3). Bailey took a 6-0 win over Michael Varela of David City, while Dickinson escaped Jacob Tegels of Fort Calhoun, 6-5.
C145 — Three-time champion Doyle Trout's practice partner is Steven Bader. After losing in the semifinals last year and finishing sixth, he'll be in the finals with his wrestling room mate this year. And, he'll be up quick — the third match of the finals since Trout will wrestle last at 126. Bader, a late 6-4 winner over Ben Metzler of Tekamah-Herman will have Valentine's Jacob Hand in the finals.
C195 — Cross County/Osceola's Kelly Cliffords earned a 3-0 decision over Sargent-Burwell's Lane Helgoth to advance to the finals. He earns a date with undefeated Alexander Reimers (38-0) in the finals.
C285 — Fillmore Central's Jarrod Hinrichs continues his pursuit of perfection as he took a 5-0 decision from Nick Hines of North Bend Central. He'll face Aaron Hoff (32-9) from Norfolk Catholic in the finals. Hoff finished fourth in his district.
D120 — Creighton's Garrett Zimmerer (38-5) advanced to the 120 final in D with a 12-7 win over Sutherland junior Keith Helm. He'll face Sandhills/Thedford's Dillon Micheel in the final.
D138 — Nebraska Christian's Jaydon Elge moved to 36-0 with his third pin of the state meet over Thayer Central's Tyler Hergott in 2:44. He'll meet Randolph's Dylan Roberg in the finals.
C126 — Like tomorrow's finals, we save Doyle Trout for last. The Wyoming wrestling recruit will bid to be just the 25th wrestler in Nebraska history to win four state titles. He'll have done it at four different weights: 106, 113 and 120. The Centennial senior has just one loss to a Nebraska wrestler this year when he moved up to wrestle his friend Bailey of Sutton.
Full Bracket Coverage: Class A | Class B | Class C | Class D