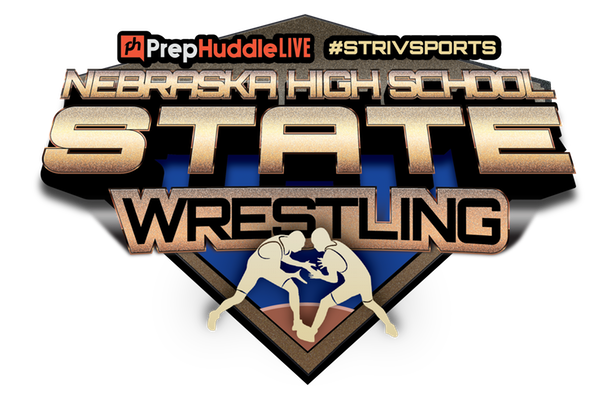 OMAHA — Survive and advance. That's generally the motto on Day One of the State Wrestling Tournament at CenturyLink Center.
For Grand Island Northwest, they took a little different approach.
Surprise and advance.
The Vikings — with only eight wrestlers at the state meet — won six first round matches and will send two wrestlers into Friday night's 5:00 semifinals. Northwest sits a solid fifth in the team standings with 34.5 points. Omaha Skutt, which forfeited matches in two weight classes because of suspension, leads Plattsmouth in the B race 50-49.
At 152, Austin Cooper (41-5) pinned his way to a semifinal match with Ty Snyder (32-2) from Syracuse. He got Nebraska City's Jake Faris in 1:59 in the opening round Lexington's Moises Garcia in 4:38 in the quarterfinals.
Maybe Huskermat's Ross Halford described it best.
Austin Cooper of GINW just pinned Moises Garcia in a headlock. Those NW boys are dangerous!

— Huskermat™ (@Huskermat) February 20, 2015
Cooper is part of a loaded Striv class at 152. Syracuse's Snyder also advanced to Friday night with a pair of falls. He defeated Seward's Logan Craig in 2:52 and Gothenburg's Jayden Miller in 1:57 to advance. They'll face-off in one semifinal while Cozad's top-ranked Brian Messersmith will wrestle Omaha Skutt's Curt Randall on the top-half of the bracket.
Top-ranked Ty Johnson (43-3) bounced back from a third place finish at the district meet with a 7-5 win over Thaddeus Easton of Norris and a 3-1 win over Skutt's Brendon Wheeler. His semifinal opponent is Chadron's Willie Codgill (39-2).
Six other semifinalists from Striv schools advanced, including Syracuse's Matt Clark. The 285-pounder recorded consecutive pins 70 and 71 today advance to the semifinals. The pin streak is second nationally all-time.
Perfection in C
Sutton's Tyler Bailey advanced to 44-0 and into the semifinals with a 1:09 pin of Jackson Beatty from Malcolm and an 8-2 decision over Joe Marvin of O'Neill. He'll face David City's Michael Varela in the semifinals with a possible district final rematch with Central City's Jeremiah Dickinson awaiting in the finals.
At 285, Fillmore Central's Jarrod Hinrichs moved to 51-0 with a pair of pins at 3:40 and 5:14 over Thomas Hughes of Sargent-Burwell and Aron Reynaga of Madison. He'll face North Bend Central's Nick Hines (32-9) in the semifinals.
Trout's Chase
Centennial's Doyle Trout continued his quest for four state championships with a pair of pins on Thursday. He defeated Joe Hervert of Arcadia-Loup City in 5:25 and made quick work of Quinten O'Neel of Ord in the quarterfinals at 2:17. He'll face Drew Gilliand of Mitchell (42-1) in the semifinals. Trout was a champion at 106 as a freshman and 113 and 120 the past two seasons.
What's better? He wrestling room partner Steven Bader is also into the semifinals at 44-6. He'll face Ben Metzler (38-11) of Tekamah-Herman on Friday. We profiled the friends here.
Eight more Striv wrestlers — 12 total — advanced to the Class C semifinals.
Friend's Big Reversal
Last year, Friend had just three wrestlers out for the sport. On Friday? The Bulldogs finished with 33.5 points and sit in second place although well behind five-time defending champion Amherst. From three wrestlers to a state runner-up finish would be quite the turnaround. The Bulldogs sent seven of eight wrestlers to state.
Three will be in the semifinals on Friday: Clay Dickinson (145), Zemua Baptisa (152) and Patrick Dempsey (170). Dempsey and Baptisa are combined 80-2 on the season.
Three in A
In Class A, three Striv wrestlers advanced to Friday night.
For Omaha Central, Dax Galloway (33-10) advanced with a pair of decisions — 10-5 and 4-3 — over Nolan Koehler of Bellevue West and Ashton Arrants of Kearney. Kolbie Foster (195) advanced with a pair of pins.
At 170, Millard West's Doug Vawter scored a pair of victories to move on to Friday night. He won by fall over Ryan Plambeck of Bellevue West in 3:42 and took a 16-8 major decision over Columbus' Kyle Schulz.
Friday Focus
Wrestle backs in Class A and D will begin tomorrow at 9:30, with B and C going at 12:30 before the semifinals get underway in all classes at 5:00.
Full Results: Class A | Class B | Class C | Class D