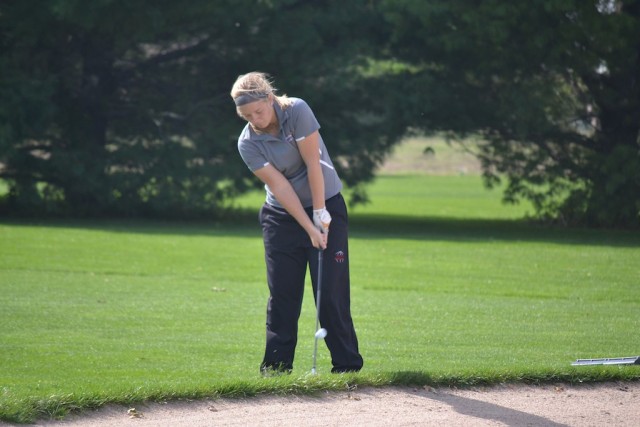 Paige Mestl has been golfing as long as she can remember. "My whole family golfs, so we would always go together," said Mestl. As the oldest of three children, Paige recalls a great amount of time spent on the golf course with her dad, Jim. "He's definitely the person I've golfed with the most," commented Paige. A shared interest in the sport has even given them the opportunity to do many tournaments together.
This year Mestl steps on the course as a standout senior golfer at Heartland Community Schools. While she's had a notable high school golf career, her skills have been many years in the making. "I started golfing when I was very little and always participated in the kids camps in Henderson," said Mestl. In addition, she would play in the annual Community Days Tournament with her dad. Paige also participated in many junior tours in Nebraska including Kearney, North Platte, and Grand Island.
All of this experience has culminated into three trips to the NSAA State Golf Tournament for Mestl. Her freshman year, Paige placed 20th at the tournament, her sophomore year she landed in 18th, and last year she claimed 10th place. "Being on the Heartland golf team, we like to have fun while also taking our game seriously," said Paige. This often means mixing in friendly competition elements to practice. At Heartland, Mestl was under the coaching of Jon Baehr for the first two years and has had Susan Mazour for the remainder.
Even with all of her competitive success, Paige is just fond of the game. "I've always enjoyed that I get to meet new people through it," she said. Another great aspect for her is that while she gets to play with others, she is also competing individually. Learning this life-long sport has also given her opportunities to golf with various family members. "I recently played with my grandpa who just turned 81," shared Paige.
As the golf season is just about to tee off, Mestl has her sights set on making it to state again and grabbing a top three finish. "I also want to play consistently at every meet throughout the season," mentioned Mestl. Beyond this season, she is unsure of her plans, but is interested in possibly continuing her golf game in college.
Good luck to Paige as she begins her final high school golf season!
Written by Alyssa Bartek