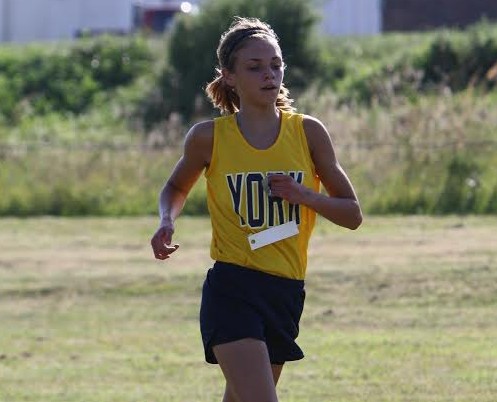 Most everyday at my house, I hear about what a struggle it is to be the middle child. I had one brother, I didn't even know they existed until I got married.
My wife, Kerry, is a "middle" as is her mom. And — our little runner — Olivia is one as well. She is in second grade. Stubborn. Ornery. Funny.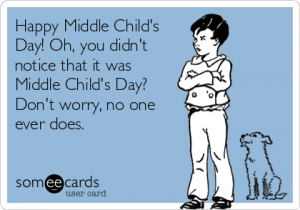 Those are middle children characteristics. Oh, and don't forget, "no one notices us, anyway." I even got to see this little gem on the right on Kerry's Facebook page last week.
We were celebrating Liv's 8th birthday on Thursday when I got the final piece of this story — that picture you see of Erin Lee (above). Middle child. And, best I can tell from communicating with her this week: stubborn, ornery and funny. Look no further than her Twitter handle — @runnnin_erins.
"We were talking about clever Twitter names in math class one day," Lee admitted. "My friend came up with it."
And, while middle children can go unnoticed, people are noticing what the York High School runner has done. If they haven't maybe their eyes are closed. Lee begins her quest for a third straight Class B state cross country title on September 5th when the Dukes travel to Albion for the Boone Central meet.
Class B has seen it's share of dominant runners — a win by Lee would make her the sixth three-time champion in the class — since the sport was sanctioned for girls in 1980. That list includes former York and University of Nebraska runner Nora Shepherd. Only one runner, Geneva's Amber Fairbanks, has been a four-time winner at the state cross country meet.
But, it's first things first for Lee.
"I have set some goals this year, big and small, and another state championship is definitely on the list," she told me earlier this week. "That is obviously the big goal that I have, but I just want to take everything one step at a time, whether that be a race or practice. I want to focus on the little things that may not seem that important but could make a huge difference by the end of the season."
A state team title — with older sister Josie and little sister Julia on the team — could also be in the works, too. The Dukes return everyone from last year's team that finished seventh at the state meet in Kearney.
"A team state championship is definitely on the list for everyone and I truly think that it is possible and that we have as good of a shot as anyone else at that state title," Lee said. "All of us running cross country and track this year will be a blast. I'm really excited to see how it goes."
Lee is quick to credit her family for her success, both in cross country and track. On the spring oval, she has won six gold medals in eight overall in state meet events helping the York girls to a fifth place finish in 2012 and a runner-up finish in 2013. Lee's mom, Rose Suddarth, still holds three schools records at North Bend Central.
"I didn't really start running until fifth grade when my mom signed me up for a Girls on the Run 5K road race," she said. "We would practice a few times a week after school and I enjoyed it, but I didn't really think much about running at the time. I was kind of just there to be doing something after school and to hang out with my friends."
She started doing Hershey Track meets later that year, but didn't fall in love with running until she went out for middle school track. Cross country, thanks to her big sister, came a year later.
"I honestly didn't even know what cross country was until I went to Josie's first meet when she was a freshman and I was in eighth grade," Lee said. "Every meet that I went to, I absolutely loved watching her and all of the other girls run and I realized that cross country was something that I really wanted to do."
And, while cross country can sometimes be seen as individual sport, Lee said the camaraderie of being on a team is what she enjoys most.
"If I have a bad day at school, once I get to practice, I feel 100 times better, even if we have the hardest workout of the year that day," Lee said. "Just being with them makes long, hard practices bearable because we're all going through the same thing. We have all become a family and there's just a special bond we all have."
One thing is for certain. Plenty of eyes will be on the cross country team in York this fall. And, Erin Lee wants you to notice her and her teammates. It's what middle children do — make you take notice, any way they can.