LINCOLN — This raucous, crazy 2017 girls state tournament will long be remembered for all of the upsets and great games that played out over the weekend. For the lessons learned, the friendships discovered and memories made.
Sports, as long has been the case, especially basketball, teach something that you can't often learn in science class or English class or math class.
It was evident in wins and losses. In joy and despair.
Maybe none other than the "man, that was a great game" look that DCS coach Nathan Behlke had on his face after his team gave top-ranked Guardian Angels Central Catholic all they could handle in a 53-50 double overtime loss in the finals.
"Double overtime, that's tough," Behlke said. "Everything is going, going. Someone takes the lead and the other team takes it back. It's just up and down. It was a fun game. How else would you want to play in the state championship game?"
It was too bad the colors of the medals and trophies were different.
This one had everything. Eight girls played over 37 minutes — remember a regulation game is 32 — four on each side. GACC led 8-7 after the first quarter, 21-19 at halftime. DCS tied the game at 31 after three, then 40 after regulation.
To do so, they held the Bluejays scoreless over the last 4:18 of regulation.
"I would have felt good about my chances (of winning)," Behlke said, given the fact after the game. "They are such a good team. They can score, they can do everything. I think any coach that plays in the state championship would take that."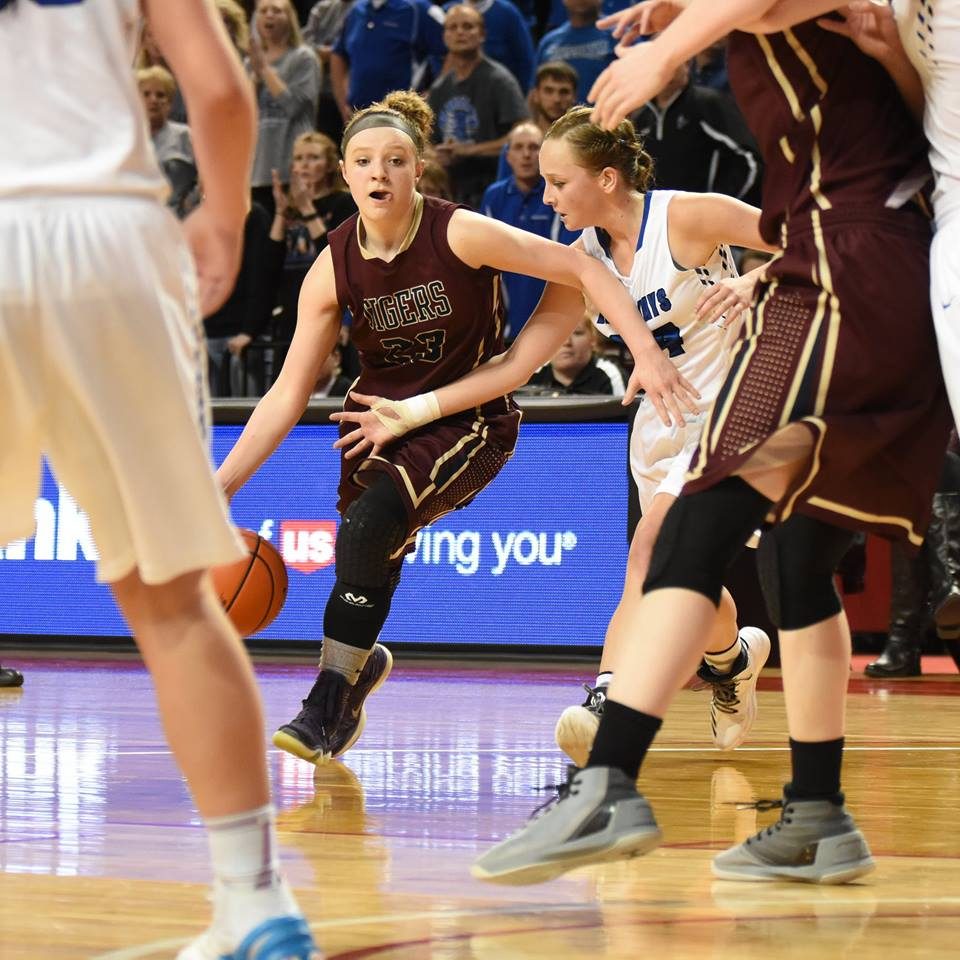 But, for DCS, it wasn't quite enough.
Sophomore Kami Porter — she scored 20 points in the final — had a 10-foot runner to win it in the first overtime, but when Lexis Haase made a 3-point basket with just over a minute left in the second overtime to give a GACC a 53-47 lead the mountain was a little too high for DCS.
"I don't know if I could have made it through one more," Haase said.
It was a good show. One that will be remembered for a long time. Clearly, one that Behlke could put into perspective.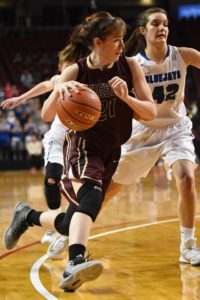 "Two good teams that just kept battling," Behlke said. "The girls were so tired after four quarters, I thought we were done then, but they kept in it. Some pretty darn good kids.
"We are in a small school," he continued. "I'll go back Monday and I'll teach my agriculture class. We got 800 plants that came in the day we left (for state) and Aubrey Frederick is in my horticulture class so we'll plant some begonias and petunias and we have all kinds of work to do. They'll go back and go to their FBLA events and FFA events and speech meets.
"They are great kids from great families. And, this is just a game. It's great to be second place."
So, it ended for these five seniors at DCS — Madison Lambley, Hally Waters, Emily Jones, Frederick and Payton Zarkowski — with a record of 103-8 and two trips to the state finals. No gold medal, but certainly a story that was filled with memories and hard work, which is the ultimate lesson of life.
For his part, Behlke was glad he got to share it with them.
"I'm just a passenger on their bus," he said, "they have taken me for a heck of a ride."
Shot Clock Talk
The shot clock talk hit Twitter near the end of the Class A game with Millard South and Lincoln Southwest. The Patriots held the ball — with the game tied at 47-all for the final 2:07 of the championship game.
The plan backfired for Millard South. They didn't get a shot off and LSW prevailed in overtime 56-51.
Let's just leave this here: I'm not a fan of either, stalling or the shot clock. If you trust a team to get to a championship game, like Millard South did, you should be able to trust them to take a good shot in the final two minutes. As a coach, I'd want my team to play basketball.
Don't count the guy who got stalled on to want a shot clock anytime soon, either.
"I personally am not in favor of a shot clock," Southwest coach Jeff Rump said. "Basketball, especially high school basketball, is still a game where coaches can game plan, kids can execute and you can beat the big team."
Execution and trust, shot clock or not, will almost always lead to winning basketball.
Championship Feeling
The new look post-game for media by the Nebraska School Activities Association did something you'd never get in the old format of talking to whoever you want in the Pinnacle Bank Arena tunnel.
Assistant Director Jeff Stauss, set up a post game media room where the student-athletes and coaches all met the media in front of an NSAA backdrop with longtime Omaha World-Herald prep writer Stu Pospisil leading the interviews.
It got the best of Lincoln Christian guard Ashtyn Power, and maybe even her coach.
"It's special," she said. "I am just very thankful for my four years, my four years with Coach O and with these girls…"
She trailed off in tears. But waiting, was a big hug from her teammates Chloe Dworak and Taytem Coleman. Something never possible in the old format.
We should always look for ways to do things just a little better for our student athletes. The NSAA got this one right.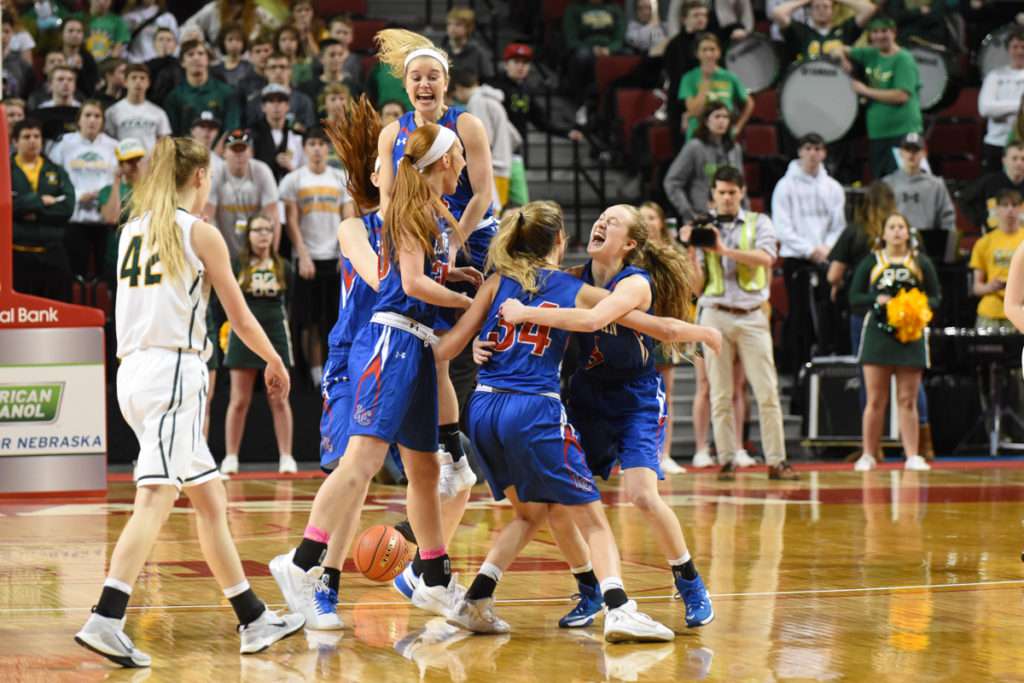 Friendships and Lessons Passed On
This week made me wonder what would have happened if Pete Ferguson would have never said "hello" in the fall of 1993.
The former Lincoln East basketball standout was a starting forward for Hastings College back then and assigned to give me, just a kid from Hampton who couldn't start for his high school team, a tour of the campus. It didn't seem like a bad place. We had lunch, two guys who probably couldn't be more different.
A few weeks later, I returned with my parents and brother to take in the homecoming football game there. Behind the stands, shortly after halftime when Pete had been named homecoming king, we met again in passing. "Hello, how are you doing," he said.
To me? The kid from the small town? Why did Pete Ferguson remember me then. I don't know, but it's the reason I picked Hastings College. The next fall, he helped me move into Weyer Hall. That winter I cheered on one of the best basketball teams in Bronco history.
The next winter, I was the manager for all my buddies who played on that team. We had a blast. Pete knocked me out one night at practice when his elbow missed the football dummy I was hitting him with in a drill and connected with my forehead.
So, yeah, I wonder if Pete wouldn't have said "hello". I wouldn't have met my wife. Wouldn't have ever met some of my best friends. Probably wouldn't have ever had the chance to take two of my girls to the state tournament to watch some games on championship Saturday. Wouldn't have go to pen this thank you note.
On Friday night, I shared a headset with our student broadcasters for the Lincoln Southwest, Lincoln Northeast semifinal. The Rockets, top-ranked all season, had defeated LSW twice in the regular season, 67-41 and 52-35.
But, we watched and talked, as Lincoln Southwest kept fighting, kept battling. Down 50-45 and with the Rockets looking for a knockout punch, Jaden Ferguson drove to the basket to keep LSW alive. 50-47. On the next trip down, she made two free throws. 50-49.
She wouldn't score the rest of the game, but every time Northeast missed a shot, Jaden Ferguson was there to get the rebound. Just like her dad did when I watched him. Six free throws in the final seconds sealed a 65-61 upset win.
Amid the commotion of the post game, I found Pete in the hallway.
We chatted a few times this weekend, me and the guy who said "hello" but didn't really need to. He's got a perspective that all parents could use with a daughter who is a heck of an athlete but a level head on her shoulders.
"This game won't define any of them," he told me when we saw each other on the concourse during the early session on Saturday.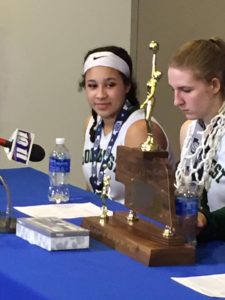 Six hours or so later, Jaden Ferguson went to the free throw line at Pinnacle Bank Arena. Her Lincoln Southwest Silverhawks were on the verge of a state championship. Her dad was sitting by his college basketball coach.
Southwest led second-ranked Millard South 54-51 in overtime with just over 10 seconds left. Ferguson had scored 15 points, and was 7-for-9 from the free throw line (she didn't learn how to shoot those from her old man). So, she went and made two more, finished with 17 points and the Silverhawks beat the Patriots 56-51 for their first state girls basketball championship in school history.
The result didn't matter last night, but the lessons did.
"It feels really amazing to be state champs," Jaden told the media. "I am glad I got to do it with this group of girls."
That will always be what these two weeks in Lincoln should be about. It makes it even better when you can catch up with an old friend.