LINCOLN — March 11, 2016 will forever be remembered at Elmwood-Murdock High School. They will remember it like that 2008 championship team and like the ones before them in 2001 who also advanced to the state championship game.
It's a funny thing, high school basketball. How it can form relationships for the rest of your life, how it can bring together communities, alumni and families like never before. That one night. It will be forever etched in stone for what a group of kids — who no one really gave a chance — did.
Elmwood-Murdock 54, Winnebago 49.
That Winnebago. Of the 50-game winning streak. Of the 57 wins in 58 games. The defending Class C-1 champions. With that David Wingett, who scored 28 points, and finished the season with sixth best scoring total in Nebraska prep history.
"We know there were 7,000 people here to watch them," Knight coach Matt Shelsta said after the game in a back hallway of the Bob Devaney Sports Center. In all, that paid attendance on Friday night was 8,949 — nearly 1,300 more than the Class A session provided at Pinnacle Bank Arena.
Wingett set social media on fire Friday night in the Class C-2 semifinals. He was still at it on Saturday, and Sunday, and Monday and Tuesday. His highlight reel still making the rounds.
And, it was well deserved. His off the backboard, two-handed slam in the first quarter nearly blew the roof off the place. It gave Bago — when he flipped that ball past freshman Wesley Dreamer — a 10-4 lead in first quarter.
So, here they came.
10/11 Sports anchor Ryan Mix, posted video on Twitter soon after the dunk. It had 373 retweets and 395 favorites my mid-morning on Saturday.
The same went for the Omaha World-Herald who had 70 retweets and 83 favorites by mid-morning of the Wingett dunk as well. Some were tagging the video with #SCTop10.
Shelsta knows the power of the social media tool.
"You check Twitter all the time and you might see Winnebago is down," Shelsta said. "And, they win by 15 or 20. You kind of wonder if you have enough gas in the tank to keep going."
What social media didn't get much of was Dreamer — in a tag team match with big brother Brady — hounding Wingett for the rest of the night. That his 28 points was well earned. That nobody else from Winnebago could get loose for more than nine points when they had four averaging double figures.
They won't see Wesley Dreamer's big second half that saw him score eight of his 10 points. Or how Zach Rust came off the bench for 19. Or, how Tyler Oehlerking flipped a 30-foot shot in at the buzzer to give E-M a 17-14 lead after one quarter. Or, how Brady Dreamer got bottled up most of the night, but scored in the paint late to give the Knights a 52-46 lead.
Or, how Zach Dwyer wouldn't be intimated in the first quarter and early after halftime scoring his six points when the Knights needed them most. Or, how Blake Lutz scored six of his 12 points on driving buckets in the third quarter that kept Bago just far enough away to frustrate them.
Yeah, it took everybody; a super-human team effort from Elmwood-Murdock. Not one that will get retweeted or liked or shared or favorited. But, it's pretty fun in that locker room. What If we all thought that way? About the team first.
"We try to tell our guys, you have your own talent," Shelsta said. "Don't try to do too much outside your talent, if you do that bad things are going to happen."
So, that's what they did, the Elmwood-Murdock Knights last Friday.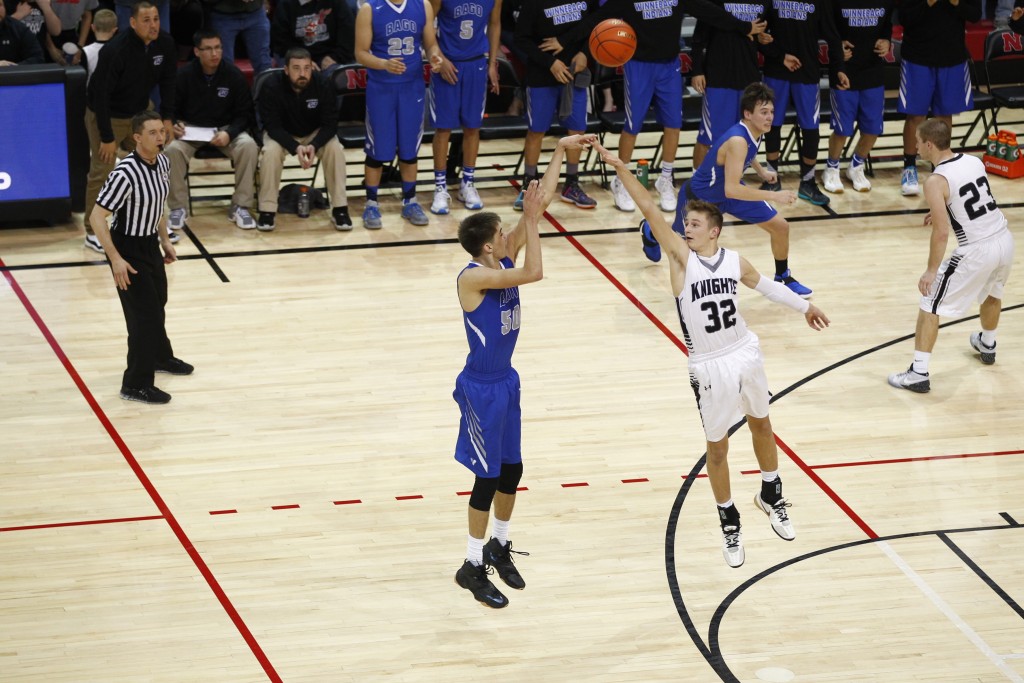 They gave everybody a lesson on teamwork. On what five guys and a bench and coaching staff can do when they set their mind to something. Some of those lessons we lose sight of sometimes.
"Honestly, we are just trying to take one game at a time and let's beat who is in front of us, or at least try and give it our best shot," Shelsta said in the aftermath. "We knew they were good all over and if we could get everybody frustrated, which is hard to do, then it's a big deal."
It matters not what happened on Saturday night. When a once in a generation Hastings St. Cecilia team finished off consecutive crowns with a championship win.
Friday night was a big deal. For some kids who someday might be a doctor, or a lawyer, or a coach, or a dad who will remember March 11, 2016 for what it was. A night that they learned you can do anything you set your mind to if you believe in each other.