AURORA — Bill Holliday has a story to tell. Or, 10. Heck, maybe, more than that.
So does Kirk Penner.
This week — state tournament week — is the perfect time to tell them. So, they came out Tuesday night, here at the little ranch house on G Street on the east end of town. Forty years worth, give or a take a few, and Hunter Holliday, Bill's grandson, and Henry Penner, Kirk's son, were happy to listen.
Maybe, as Hunter and Henry venture to Lincoln this week with their 2016 Aurora High School basketball teammates, they'll get to share a few. Or learn something about the value of a team. About friendship. Yes, a story or two that they could pry out of those old nets and trophies that reside near the gym they call home.
"I've heard all his stories since I was a little kid," Hunter said of the relationship he has with his grandfather, who was Aurora's head coach from 1971 to 1983. "The one thing that always stuck out was his work ethic. He played basketball for four hours a day growing up; that's all they had in small-town Wilsonville."
Yes, Wilsonville.
Where, as a prep athlete, Bill Holliday set the Nebraska state record for points scored in a career with 2,748 total points when he graduated in 1960. Only 13 others have topped 2,000 points in their career; nobody else is within 300 points. Holliday played in two state tournaments before starring at McCook Junior College and, later, Kearney State College.
There was nothing else to do after college but teach basketball for Bill Holliday. So off he went, to Stamford, then Thedford and one year at Hebron. Then, in the spring of 1971, he was called to interview at Aurora.
Under Bill Kropp, the Huskies broke a 40-year streak of missing the state tournament. They lost in the first round in 1967 and in the state semifinals in 1971.
Then, Holliday came and built his program with patience. In 1972, 1973 and 1974 they lost to eventual state finalists in district play.
"My very first year here, we went down to districts at Doane College," coach Holliday recalled. "We had six ranked teams in our district. The next year, we got beat by the state champion again. In 1974, we got moved to Kearney and had four rated teams and Lexington beat us in the finals. They got runner-up at state."
In 1975, his Huskies advanced to Lincoln but lost to Minden in the first round and eureka hit in 1976. When Aurora played Holdrege in the Class B final, they hadn't even got bleachers set up on the floor of the brand new Nebraska Sports Center. Most will know it by its current name, the Bob Devaney Sports Center.
"It was exciting," the coach remembered. "We played our first game in the Coliseum against Crete. There was only four classes back then. The atmosphere was great. Joe Ernst hit two free throws with about 12 seconds left and Holdrege had a great look at the end but missed it."
Aurora 53, Holdrege 52. The school's first state championship since 1920.
A young Aurora fan was there and remembered that game. His name was Kirk Penner.
"You have an amazing memory," Kirk Penner remarked to the coach. "I was at that game and was in kindergarten. We moved the next year to Aurora."
Eleven years later, there were bleachers on the floor of that same arena. Kirk Penner and his Husky teammates had grown up watching and learning from Holliday, before he moved to Kearney after the 1983 season. Now, under coach Stan Greenfield the Huskies were among the favorites to win Class B.
They advanced to the state finals in football and during basketball season relied on future Nebraska quarterback Tom Haase, Mike Boss (who starred at Nebraska-Kearney) and Penner, who would be an all-conference selection at Nebraska Wesleyan.
"Much like these guys, we had a good football season and advanced to the state finals," Kirk Penner said. "We went further in football than anyone thought we would. Then we had a week of practice and hit the basketball season."
Aurora was 19-3 entering the 1987 tournament and squeaked by Boys Town 68-65 in the first round before a 10-point win over Broken Bow in the semifinals and 67-56 win over Lincoln Pius X in the finals. Like the 1976 team, they won a district final at Grand Island Senior High.
"We were probably lucky to win that game against Boys Town," the elder Penner said. "We were down most of the game and got a steal from Jay Nachitgal late in the game to seal it. Seward got upset in the first round and we had struggled with them. Then, Pius pulled an upset as well.
"It was quite an experience to be a part of that team."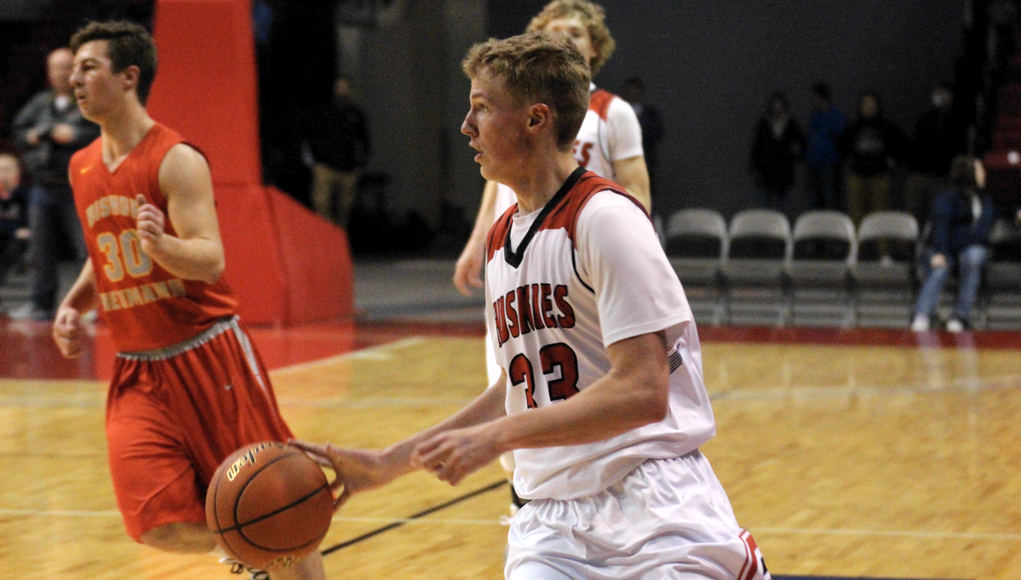 Henry Penner has seen the VHS tape. "The first three quarters," he joked. "It cuts out after that."
Almost 30 years removed from that last state championship, the lessons from the past still teach these 24-1 Aurora Huskies, the fourth seed in Class B. They'll play Sidney at 8:45 on Thursday night— some of those bleachers gone again from the Devaney Center like they were in 1976. And, the lessons are passed on.
"Anytime you are in a team sport, you learn to work together," Kirk Penner said. "To be on time. Drive and determination. Heart and effort. And, you remember the friendships."
So, the next generation of Penners and Hollidays know they are lucky.
"My dad has been real important," Henry Penner said. "Starting in fifth grade, he took me to play summer basketball which has been a huge help to developing my game. He cared enough to take me to Lincoln twice a week to practice. And, even before that, he taught me how to shoot and the basics of the game."
Penner — a sophomore, who wears his dad's number 33 — averages 7.5 points and is second on the team at 4.9 rebounds per contest for the Huskies, whose lone loss is to Gretna. Hunter, a junior who works in a four-man bench attack, averages 2.6 points per game. Led by post Austin Allen (15.9 points) and guard Tommy Leininger (12.3 points and 4.1 assists), Aurora averages 61.1 points per game.
They have a fan in the state's all-time leading scorer.
"They are so deep athletically," Bill Holliday said. "I think this team is a coach's dream. They have great shooters. Great height. Youth and experience. If they play like they have been playing, it will take a great team to beat them."
So, when Thursday hits, two kids with links to Aurora's past basketball success would love to help their teammates add to this story of legacy. The Huskies have won just one game in Lincoln since the 1987 championship game.
"We hope it's the start of something for us," Hunter Holliday said. "We'd like to be in the mix."
"We want to do something while we are down there," Henry Penner said. "That's important to us because of the hours we put in this summer. The support we have from this community is amazing."
But, they will also heed some advice from someone who has done it before.
"Remember to have fun at what you are doing," Kirk Penner said, matter of factly. "But go out there and compete. You only get one shot at this — you may or may not get back to the state tournament ever again. Win a game, be a part of it and see what happens.
"It takes a lot of luck to win a state tournament."
So, there Henry Penner and Hunter Holliday sat around that table in the living room listening intently. To a story (or two) from the past that they might pass on. Share with their teammates. One that might help them create their own story from this weekend.
These stories from March are the best kind. Stories of teamwork and hustle. Community spirit and pride. Stories of leadership and determination. But, the best ones are the one you get to create on your own. The one you made. The one they hope to make in Aurora this week.