LINCOLN — It's near 3:00 on Saturday afternoon and things are bleak for the York Duke basketball team.
The Dukes have never led in the Class B final with top-ranked Omaha Skutt Catholic.
The Skyhawk student section is chanting Brady Danielson's name at him every time he steps to the free throw line in a game where he and his teammates have struggled mightily.
York trailed 29-23 entering the fourth quarter. It's worse now — 40-31 and only 1:21 left. York hasn't scored in over four minutes.
"Brady! Brady! Brady!" the chants come from the south end of Pinnacle Bank Arena.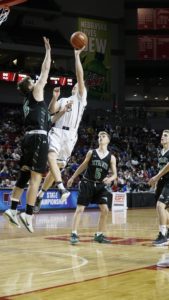 Danielson misses a free throw, but gets the rebound then steps back and swishes a 3. Now, the entire town of York gives it back during a 30-second Scott Lamberty timeout.
"Brady! Brady! Brady!"
Later, Danielson will smile about it. "That was an awkward moment," he said.
But, now, he still has work to do.
"I felt like that gave us a little momentum," Brady said. "We really were able to get in passing lanes and get some steals. We could get in a groove again."
When the press doesn't work on the next possession, the Dukes foul Austin Ash with 1:03 left. York needs help and Ash gives it to them. Nick Weskamp rebounds a miss and 14 seconds later, Danielson scores off a pass from Reid Hoffman.
"Brady! Brady! Brady!"
The Dukes use their last timeout at 48 seconds left, still down 40-36. Still in need of a miracle. And Brady Danielson still has work to do.
The point man on the Duke press that has worked just barely against Skutt, York ramps up the pressure now.
"The kids just amped up the pressure," Lamberty said. "They flat out said they had to get it done."
On the next inbound, Danielson steals the ball from Ash, scores and is fouled. After the free throw, Danielson has scored eight points in 36 seconds. Now, York trails 40-39.
Over the next six seconds — it feels like an eternity — the energy is zapped out of the Dukes. Danielson fouls Tyson Gordon who makes a free throw and misses the second, but Andrew Merfield steals Garrett Snodgrass' outlet pass.
At 32 seconds left, Jackson Gordon gives the Skyhawks a two possession lead at 43-39.
The Dukes scramble. Hoffmann misses a 3-point shot, but Danielson rebounds and is fouled. With 20 seconds left, the Dukes are again down just two points.
For a few minutes now, Lamberty has been subbing defense for offense. The defenders are glue guys. Seniors — Simon Otte, Bryce Danielson, Weskamp — who knew their role from the beginning. Hold us together; make us better.
Weskamp has already secured a big rebound. Bryce Danielson has tipped a ball that led to a steal. Now, Otte and Brady Danielson finally make that trap work. With 16 seconds left, Jackson Gordon travels.
It's as loud as the whole town of York can make it inside of Pinnacle Bank Arena now. With 13 seconds left, Brady Danielson is fouled again and ties the game. Skutt's final shot bounces off.
*****
Championships aren't generally made in the moment. They are made when no one is watching.
In the weight room. In an empty gym. In a driveway. Watching film when nobody else is doing it.
In York — and other Class B towns — it takes even a little more work. And community support. And pride. The Dukes enrollment of 350 is 240 less than the Skyhawks, who pull from an Omaha metro area that exceeds 400,000 in population.
"It's such a great community," Lamberty said. "We have seen it build up over the years. We had success in football. But, also speech and one-act (play). Tennis. Track. And (the community) supported everybody.
"What a great place to live and raise your family."
So, all the Dukes asked for was a chance. And, to put in the work and see where they end up.
"Every summer since going into fifth grade, we've been lifting together," Otte says, a gold medal hanging around his neck. "Then building off that. Going to football and basketball camps together. Our greatest strength is we trust in each other.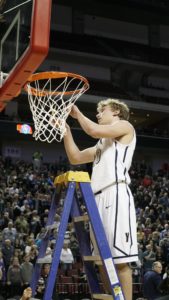 "Some of my best memories of high school are getting up at 6:00 a.m. and lifting weights with all my friends."
Lamberty has seen them all work.
"Most of them are asking for the keys to the gym or out shooting on the 'gun' on their own," he said. "We have to kick them out of the gym. They have worked so hard at it and they have earned it."
This Duke double — they won Class B football in the fall over Omaha Skutt — came when no one was watching.
*****
Four more minutes produced five points for each team, so the Class B final has turned into a college game — 40 minutes. The Dukes second of the tournament.
Now, the whole state is watching.
After the Skyhawks score first Jeb Lucas drills a 3-point shot. The Dukes won't trail again.
Hoffmann adds to the lead — he'll score seven of his 10 points in the second overtime — and when Brady Danielson fouls out with 1:49 left he's at his best, drawing a foul for an old-fashioned 3-point play and a five point lead.
"My teammates just put me in position to make plays," he said.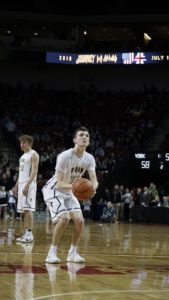 The lead balloons to seven, then eight before Skutt knocks down a three with 25 seconds left. Then, in a last gasp flurry, they attempt three long shots in the next 20 seconds and the Dukes can't get a rebound.
Finally, Otte — the football star who played in the state playoffs with a broken arm — hauls down the last Skutt miss. York 61, Omaha Skutt 56.
His football buddies are in the student section.
"Just like football! Just like football!"
The Dukes have turned York into Titletown.
"Winning state football and basketball," Otte said, "that's such a great feeling. It's a great group of guys. A bunch of competitors. Just like tonight we never say die."
Down the hall in the interview room three juniors — Snodgrass, Hoffmann, and Brady Danielson — sat with their coach. What might they do to top this next year?
Snodgrass, almost with a wink in his eye, wasn't about to think that far ahead.
"Track starts soon," he said.
In Titletown, there is no time to rest.
---