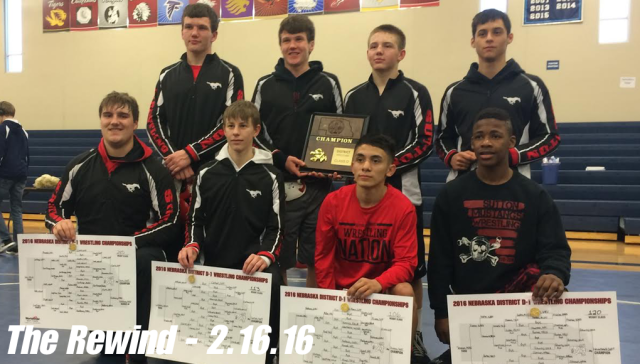 Sutton wrestling coach Ron Gerber picked a bad time to get sick. So much so, that he missed a day of school on Monday to keep his wrestlers healthy.
"I didn't want to bring any germs to practice," he joked Tuesday morning.
He certainly like the mood in his wrestling room after the Mustangs defeated High Plains 178.5-113 to win the Class D, District – title last weekend and qualify eight wrestlers for the state meet in Omaha. Wrestling begins Thursday morning at CenturyLink Center Omaha and runs through Saturday's medal rounds.
The Mustangs will bring the second most wrestlers of any school to the state meet, trailing only six-time defending champion Amherst. Sutherland also brings eight qualifiers to state.
Gerber, however, tempered expectations for Omaha despite his team being seeded second for next week's State Dual Tournament in Kearney. The Mustangs are deep with a full team but only have two ranked wrestlers in the NSWCA rankings.
"We have performed pretty well all season," Gerber said. "We hope to performed well at state and see what happens. You know we looked back on the district and we had almost every match go our way."
That result left Gerber with a team that hopes to wrestle well in the head-to-head dual format at Nebraska-Kearney next weekend.
"We know that wrestling in mostly an individual sport," he added. "But, we teach the team aspect as well. All of our kids have contributed well during this season."
The Mustangs are especially strong in the lighter weights, with district champs Ignacio Garcia (106), Anton Carlson (113) and Cameron Kleinschmidt (120) leading the way. Garcia is a senior and top-ranked at 106. He missed a medal last year, losing in the heartbreak round.
"He might be even better than his 32-5 record," Gerber said. "He has had some losses to kids in upper classes that he has beat before and that's been disappointing to him.
"With Ignacio, we just have to get him to wrestle. If he wrestles to win instead of to not get beat, he'll be in good shape."
Carlson, a sophomore, and Kleinschmidt, a freshman are first time qualifiers. "We think all those guys really make each other better," Gerber said.
Sophomore Chandler Stone (132), senior Armando Oschner (138) and freshman James Griess (145) all qualified for the first time as well. The coach especially loves Oschner's story, as he won just four matches his freshman year and will take a 25-20 record to Omaha.
"I think we sometimes get caught up in having instant success in athletics," Gerber said. "Armando won four times as a freshman and he just kept working. We are excited for him."
Seniors Garrett Stone (24-7) and Garrett Clark (13-6) round out the Mustang right. Stone is ranked fifth at 182 after wrestling at 195 last year. Clark, at 285, is out for the first time in his high school career and won his district. Both have battled through the season after football injuries, Gerber said.
"Garrett Stone was slow to start the season," Gerber said. "He had a concussion at the end of the season. We just really started to get him back.
"And, Garrett Clark didn't really get going until after Christmas. We think he played half a football game on a broken foot, so he had to get ready. And, he missed the last two meets before districts. I kind of called him a sandbagger. He did some things in districts that were pretty impressive."
Full coverage of state wrestling will begin tomorrow with a special PrepHuddle Live preview show and our state tournament page will be updated throughout the weekend.