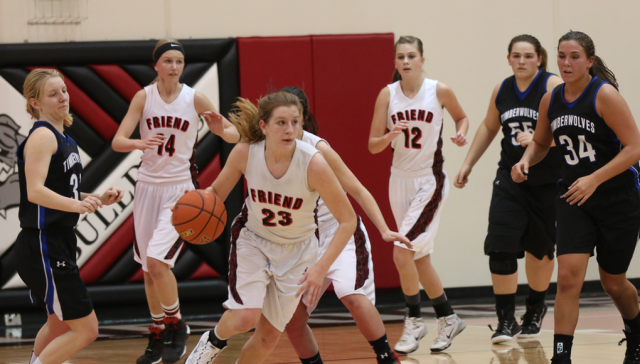 FRIEND — Scott Kraus minces few words about why his Friend girls basketball team has been successful during his two seasons since coming from Lewiston.
And it's nothing he did.
"To be honest, Andy Imus just built a real love of basketball in these girls," Kraus said. "And, we just have a great community that supports our kids. And a great staff as well.
"We have built a culture that really loves the game of basketball."
Imus, who left after a 2014 state championship to coach at his alma mater Boone Central, led the Bulldogs to state tournaments his final three season. In 2012, Friend finished third in Class D-1.
Kraus has kept things going. With a new set of faces last year, the Bulldogs gave eventual champion O'Neill St. Mary's their closest game of the tournament before falling 75-73. It is the highest scoring game in girls D-1 tournament history.
And, the Bulldogs have used it as motivation for an 11-2 start to this season heading into tonight's game with Dorchester. They are third on the Omaha World-Herald rankings and second in the NSAA point standings.
After playing three ranked teams to start the season (Sutton, Sterling and Falls City Sacred Heart) and going 1-2, the Bulldogs have rattled off ten straight, including wins at the Nebraska Wesleyan Holiday Tournament and last weekend at then Class C2, No. 8 Freeman, 58-38.
"I feel like defensively, we've played really well all season," the coach said. "But, we have been played playing much better on offense the past few weeks. At Freeman, we've played about as well as we have played all year.
"We have not really talked about (the game with St. Mary's last year) specifically. But, we use it weekly as a basis for the things we need to improve on to get back to the state tournament."
Against the Falcons, they raced out to a 32-13 lead by halftime and got 24 points and 10 rebounds from sophomore Raliegh Menke. The Bulldogs were 18-for-32 from the field.
Just a sophomore, Kraus said that the 5-foot, 10-inch Menke is a leader for his team.
"She is a go-getter," he said. "She leads us in scoring and she is over four steals a game. We can put her on the other team's best player and with her height can cause problems."
But, she is far from a one-person show, Kraus said of his two senior, two sophomore, one junior starting five.
With Menke leading the team at 16.3 points, senior post Lexi Ryan averages 10.4 points and 5.3 rebounds. Junior Brooke Baugh averages seven points and leads the team with a 6.8 rebounds/game average.
"Lexi has been a really consistent leader for us," Kraus said. "Early in the year, we leaned on her quite a bit. I think Brooke really came out of her shell this summer. She played great at state last year and has really worked hard on her game."
In the backcourt, the Bulldogs rely on sophomore point guard Claire Kubicek (5.1 points, 2.7 rebounds and 3.1 assists/game) and senior Sidney Due (5.1 points, 3.8 rebounds and 2.5 assists/game).
"Sidney was a part-time starter last year and she does a really good job for us defensively," Kraus said. "Claire is coming around and has just started shooting the ball a little better which really opens up the floor for us."
The Bulldog bench, Kraus added, has started developing as well getting good minutes from junior Isabel Eberspacher, sophomore Madison Zumpfe and freshman Bridgette Baugh.
They'll need them all as the schedule heats up near the end up the month when Class C-2, No. 3 Hastings St. Cecilia visits on the 22nd and the Bulldogs then enter the Pioneer Conference tournament the first week of February.
"We think we have played a good schedule so far and we will have some big games coming up," he said. "In our conference tournament you can't take a night off at all.
"But, that is what prepares us for the postseason."
Let's Rewind
Hoops Rankings: OWH boys | OWH girls | LJS boys | LJS girls
Millard West, Omaha Central both pull upsets of No. 2 Millard South
Fullerton outlasts Nebraska Christian in battle of unbeatens
Bridgeport wins conference wrestling title; Bison own invitational