NEBRASKA 97 AND ROAD 2204 — It was a history making fall last year in Mullen for Coach Belinda Coble's volleyball program.
Yes, they qualified for the state tournament for the 8th time in school history and 7th in Coble's tenure. But for the first time in school history they won a match — beating CWC in the opening round — and then added to the history with a second win in the third place match over Wynot. A school record 29-4 season.
"We feel like last year was a long time coming," Coble said earlier this week as the Broncos prepare for the 2019 season. "We had been there six times and just never been able to get past the first round.
"But I think the new sub-state format helped us a bunch and playing a game like that before state helped our confidence."
They hope for more of the same when it comes to this fall. Three talented players return — Brooke McCulley, Sam Moore and Madison Jones — and they must replace five seniors; three of them are playing college volleyball.
And they have worked hard to improve, just not in all the normal ways you think. There is no summer club volleyball, no million dollar training facilities, no personal strength coaches in Hooker County.
So they learn hard work and being a great teammate outside of school at an unlikely place, just a few miles off Highway 97 at Road 2204.
At the famous Sand Hills Golf Club.
The boss there, he wouldn't have it any other way. Kyle Hegland grew up in southwest Wisconsin, is a diehard Michigan State fan, went to turf school in East Lansing and now is in his 13th year at the golf course superintendent here. 
But his favorite thing to do is recruiting good Mullen Broncos to come work for him in the summer. He tends to gravitate toward athletes.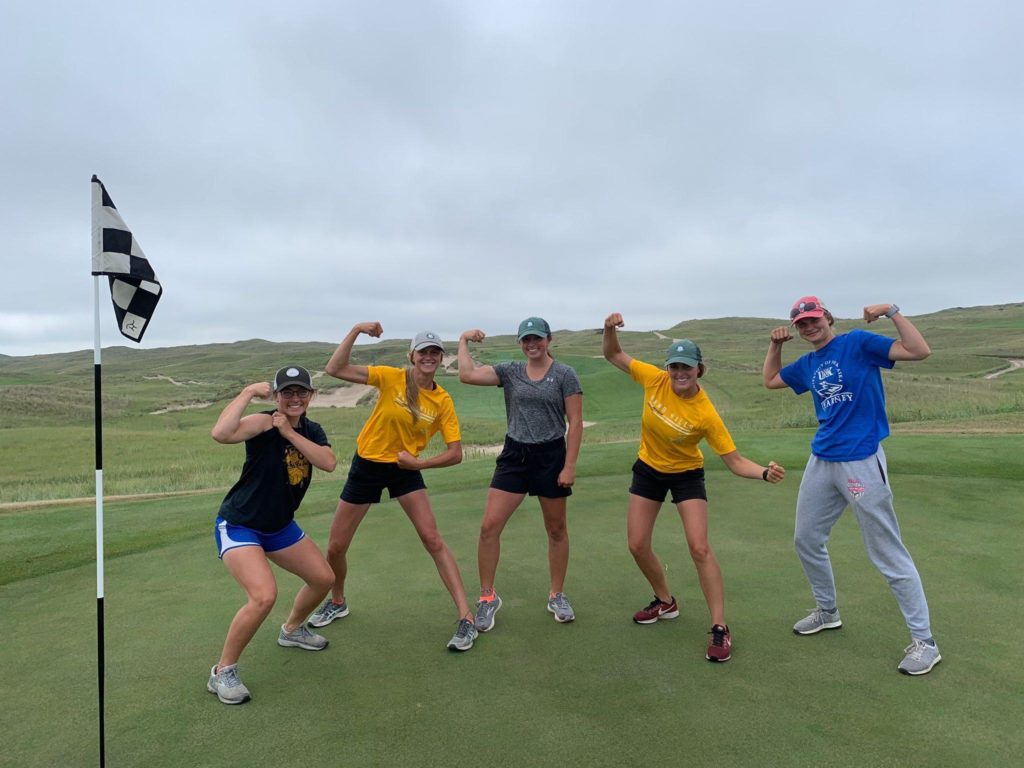 "In the last few years we have had a lot of girls out here working for us (on the grounds crew)," Hegland says from his office with a view of what most golfers just call Heaven. "And let's be honest, our field does not have many females in it."
But in Brook and Sam and Madison (and older sisters Britt McCulley and Haley Jones), Hegland found a sort of Dream Team. He could count on them to do most anything.
Hegland is quick to list off the traits that make this group special for his grounds team. All things that likely make them better volleyball players for coach Coble and good students in the Mullen hallways.
"Hard workers. Meticulous. Very detailed oriented," Hegland is rattling them off like they are his daughters, too. "Very responsible. They can mow the fairways and the greens and we don't miss a beat.
"And they get here at 5:00 in the morning and are ready to go."
Championship qualities.
Coble sees it too. In those three returners and here whole team, really.
"Our kids just seem to have a different kind of work ethic, I think," she said. "Most of them come from ranch or ag families and they aren't afraid of hard work. A lot of our success also revolves around kids doing other things.
"But they just don't ever worry about extra time or extra work to get better. And they give all our effort until the last play is done."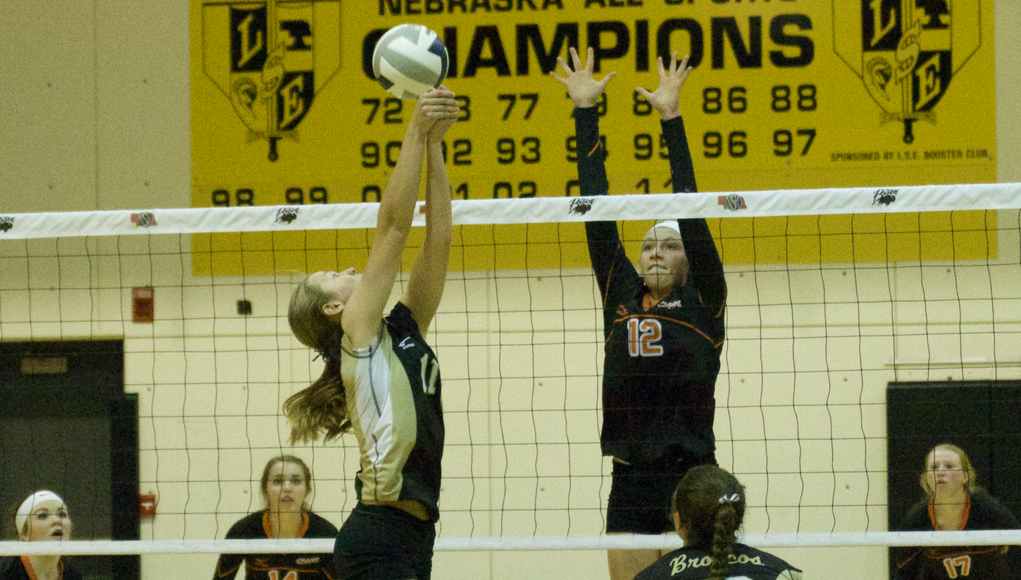 Both Haley and Britt — two key players for Coble last year — are at Chadron State playing volleyball and basketball. Moore, just a junior, has committed to play basketball at Nebraska-Kearney. Brooke McCulley is one of the top ropers on the Nebraska High School Rodeo circuit.
Coble feels like this year's version of Bronco volleyball has a chance to end there season in Lincoln again.
"I think the girls feel like we have a chance to do some good things this year," Coble said. "Right now, we feel like we have 10 girls who can play for us and it will really be about find the right combinations in the court."
Coble beefed up the schedule a little bit as well, to help prepare her team for the postseason, adding Class C-1 teams Broken Bow and Valentine. Three classes up from Mullen if you are counting at home.
"We think our strength of schedule could help us in November as well," she said.
Athletic success and the success of Coble's volleyball program has been the result of a culture built on hard work in Mullen. One that Sand Hills has tried to help foster since Dick Youngscap founded the club in 1995.
Even the coach enjoys it. She works part-time at the club, as does assistant Lauren Hollenbeck who works on the bag room. Current players Jayden Chasek and Lyndey Coble help in the kitchen.
Both Hegland and Coble say there are "too many names to count over the years" that have been impacted by the opportunity to work at the club.
"The impact Mr. Youngscap had on the community happened long before I got here," Hegland said. "But the fact is this, we don't exist without the community of Mullen. You'd be hard pressed to find kids who have not worked for us in some way."
The club funds scholarships to many local students who work for the club in most any capacity whether it's the kitchen, bag room or on the grounds crew.
"It is just a great group of leaders out at the club," Coble noted. "They have helped the community in so many ways."
Hegland said the feeling is reciprocal. His children ages 10 and 7, he said, will always be Broncos. And, he enjoys keeping basketball stats in the winter when golf work is a little slower. The Broncos won the 2017 Class D-2 boys state title as well.
"The people out here know the value of hard work," he said. "This has been a wonderful place to live and raise a family."
That hard work has also been a happy recipe for success. One that makes the volleyball coach of a small high school and the green keeper of a world class golf course come together to make everyone better.
And in a world where we specialize and focus on ourselves sometimes all too much, the volleyball team in Mullen chalks success up to doing everything that makes you happy and working hard no matter the event.
It's often been called the Mullen way. One that creates championship teams, special places and people that know exactly what makes there part of the world unique.