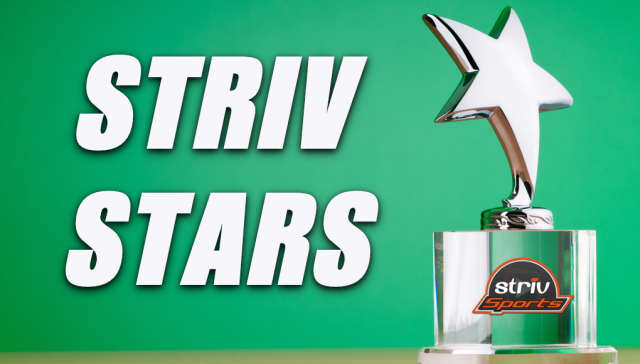 The Stars sure did shine bright this past week. Here's some of the brightest from 9.24-9.30.
Dundy Co-Stratton girls golf team: Set a school record 372 in winning the Sutherland Invitational on Monday. The Tigers qualified for state as a team last year. FayLee Sanford, Madison Haines, Hally Waters and Payton Zarkowski.
Madison Lambley – Dundy Co-Stratton: Lambley won the UNK Invitational on Monday at the state tournament course at Kearney Country Club. Her time of 19:41.3 was over a minute faster than runner-up Katie Cumpston of Nebraska Christian.
Ty Lasco – Milford: The three-time defending Class C cross country champ also won the UNK Invitational with a time of 16:42.7. The Eagles team also won Class C and has won the past three state championships.
Kiley Hixson – Aurora: The senior South Dakota recruit had 22 kills, 15 digs and four ace serves as the Huskies topped Class A, No. 10 Pius 3-1 on Tuesday. On the season, she has 229 kills for the 15-3 Huskies who also won their home invitational on Saturday.
Kobe Paprocki and Bradley Bunner – Clarkson-Leigh: in a big win for the Patriots over Howells-Dodge, Paprocki carried 11 times for 174 yards, and scored on runs of 12, 36, 32, and 31 yards. For good measure, he also was 5-of-7 passing for 140 yards and another score. Bunner added 154 yards on 14 carries and had scoring runs of 55 and 44 yards, but most impressive were his 24 tackles and interception on defense.
Cam Carritt – Milford-Dorchester – Had himself a football game in the Eagles 41-6 win over Fairbury. He scored five touchdowns on runs of 3, 8, 92 and 14 yards and added a 21-yard interception return in the second half. The Eagle defense also limited explosive sophomore Jacob Johnson to 49 yards on 12 carries.
Sam Zeleny and Sean Maxon – Exeter-Milligan: The two combined for 48 carries for 228 yards in the Timberwolves 16-14 win over Giltner. Zeleny, the junior quarterback, ran for 110 yards on 26 carries, and scored on TD runs of 1 and 2 yards. His junior teammate Sean Maxon, added 108 yards on 22 totes as Exeter-Milligan improved to 3-0 on the year. Another big test this week for E-M as they host No. 9 Lawrence-Nelson.
Christian Ellsworth and Brook Brown – Grand Island Northwest: Ellsworth did it all offensively in Northwest's 38-35 win over No. 7 Scottsbluff. He ran 32 times for 170 yards and two scores and added three touchdowns through the air while completing 19-of-29 passes for 220 yards. Brown was a monster on defense, recording 16 tackles including a big sack of Bearcat quarterback Tracton Halley with Scottsbluff driving for a winning score in the final two minutes.
Jake Kennedy and Noah Valasek – Riverside: In the Battle for the Paddle, the two all-staters shined at the Chargers beat St. Edward 67-22. Kennedy ran 10 times for 106 yards and had touchdown runs of 4, 4, and 36 yards. Jake also caught an 8 yard TD pass from Noah Valasek. Valasek ended the night with 167 yards on 15 carries and 2 TDs, plus making 10 tackles on defense.
If you have a Striv Star nomination, tweet us @strivsports or email Tony Chapman, tony@striv.tv