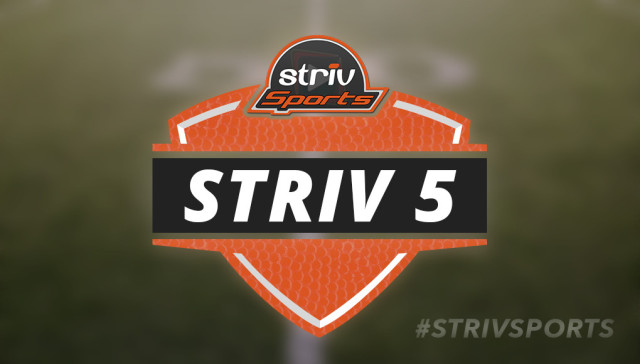 5 Games you won't want to miss on their respective Striv Channels.
5. Bridgeport (3-2) at C2, No. 9 North Platte St Pat's (4-1): Bridgeport takes their wishbone rushing attack to North Platte for a date with the Irish. Wyatt Pankowski (637 yards) and Jerrod Fedorchik (627 yards) lead the Bulldogs. The Irish are have won four straight after an opening loss to Doniphan-Trumbull. WATCH: Bridgeport Striv Channel
4. Howells-Dodge (2-2) at Nebraska Christian (3-1): The Jaguars look to bounce back after losses to No. 1 GACC and No. 9 Clarkson/Leigh and the Eagles look for their fourth win in a row after an opening loss to East Butler. Junior Andrew Winsterman has 600 all-purpose yards for NC. WATCH: Nebraska Christian Striv Channel
3. Southwest (3-1) at Wallace (3-1): The winner could crack the D2 rankings next week and put themselves in position for a home game in the playoffs. Josh May leads a young Wallace team. WATCH: Wallace Striv Channel
2. Fullerton (3-1) at D1, No. 9 Clarkson/Leigh (4-0): Big matchup for each team as Clarkson/Leigh entered the D1 rankings this week. Back Brad Bunner has 650 yards in four games for the Patriots while Fullerton has won three straight. WATCH: Clarkson/Leigh Striv Channel
1. C2, No. 7 Doniphan-Trumbull (4-1) at C2, No. 3 Sutton (5-0): The Cardinals look to bounce back from a loss to top-ranked Hastings St. Cecilia. Braden Schuppan is closing in on 1,000 yards for the D-T with 878 through five games. Sutton's Garrett Leach is equally good at 1,009 yards on 115 attempts in the Mustangs 5-0 start. WATCH: Sutton Striv Channel
See the list of all the games on the Striv Network by clicking on the Events Page.