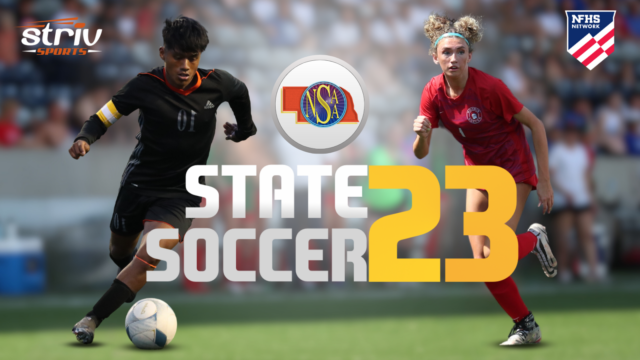 State Soccer is finally here! We have awesome games coming up and if you are unable to watch the action in person, you can watch it live on Striv.
Game one of the NSAA State Boys and Girls State Soccer tournament starts Monday, May 8th at 12pm. Striv will be streaming the boys' and girls' quarterfinal and semifinal games on Monday, May 8th through Saturday, May 13th.
Be sure to click the links below to watch on the NFHS Network produced by Striv Sports!
Teams from Class A and B will compete through Monday, May 15th for the title of 2023 State Champion produced by Nebraska Public Media.
Monday, May 8th — Creighton University, Morrison Stadium
Class A Boys Quarterfinals
 

#1 Gretna v. #8 Lincoln East — Gretna 8-1

 

#4 Lincoln SE v. #5 PLV South  — PLV South 5-2

 

 

#2 Lincoln SW v. #7 Columbus  — Lincoln SW 2-1 OT

 

 

#3 Omaha South v. #6 Creighton Prep — Creighton Prep 4-2
Tuesday, May 9th — Creighton University, Morrison Stadium
Class A Girls Quarterfinals
 

#1 Gretna v. #8 Papillion-LV — Gretna 6-0

 

 

#4 Omaha Marion v. #5 Omaha Westside  —

Omaha Westside 4
#2 Lincoln SW v. #7 Pius X  — Lincoln SW 1-0  SO

 

#3 Lincoln East v. #6 Millard West — Lincoln East 3-2 OT
Wednesday, May 10th — Creighton University, Morrison Stadium
Class B Boys Quarterfinals
#1 Bennington v. #8 Conestoga — Bennington 6-1

 

 

#4 Schuyler v. #5 South Sioux City  — Schuyler 2-1

 

 

#2 Skutt Catholic v. #7 Elkhorn North  — Skutt Catholic 9-0

 

#3 Lexington v. #6 Scotus CC — Lexington 3-2
Thursday, May 11th — Creighton University, Morrison Stadium
Class B Girls Quarterfinals
#1 Duchesne v. #8 Gross Catholic — Duchesne 3-0 

 

#4 Norris v. #5 Bennington — Norris 2-1 SO

 

#2 Skutt Catholic v. #7 Elkhorn North  — Omaha Skutt 4-1

 

#3 Scotus CC v. #6 Omaha Mercy — Omaha Mercy 2-1 OT
Friday, May 12th —  Creighton University, Morrison Stadium
Class A Boys Semifinals
#1 Gretna vs. #5 PLV South — Gretna 6-1

 

#2 Lincoln SW vs. #6 Creighton Prep — Creighton Prep 2-1

 
Class A Girls Semifinals
#1 Gretna vs. #5 Omaha Westside —

Gretna 1-0
#2 Lincoln SW vs #3 Lincoln East — Lincoln SW 2-1 OT

 
Saturday, May 13th — Creighton University, Morrison Stadium
Class B Girls Semifinals
#1 Duchesne vs. #4 Norris — Norris 1-0 SO

 

#2 Omaha Skutt vs. #6 Omaha Mercy — Omaha Skutt 4-0

 
Class B Boys Semifinals
#1 Bennington vs. #4 Schuyler —

Bennington 4-1

 

#2 Skutt Catholic vs. #3 Lexington — Omaha Skutt 2-1