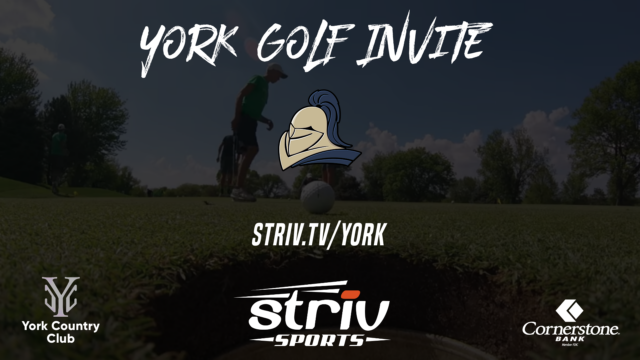 For over six years, Striv Sports joins the York Media Production class to broadcast the York Golf Invite presented by Cornerstone Bank.
The invitational will be hosted at the York Country Club with  nearly 80 students from 18 schools competing in the tournament.
Norris is the defending tournament champion; we're excited to see who will come out on top this year!
We will be capturing Holes 15-18 and the Awards Presentation following the Invite. If you can't make it out for another warm, windy tournament—you can watch the action here:
For access to the York Golf Invite live scoring you can download the GolfGenius app and enter code YORKINVITE23 or click the button below:
York Golf Invite Archives
Of the thousands of events that Striv Sports has produced, did you know this is the ONLY golf event we've ever streamed?
There's A LOT that happens behind the scenes to broadcast an event like this! Watch last year's video made by Dante Boelhower highlighting the great work of our student crew:
If you want to dig a little deeper into how Striv Sports came to helping broadcast this event or how it all comes together, you can read this NEBpreps article from 2021.
Learn all about the paint scaffolds, production tent, generators, and more that comes together to bring you the York Golf Invite year after year!