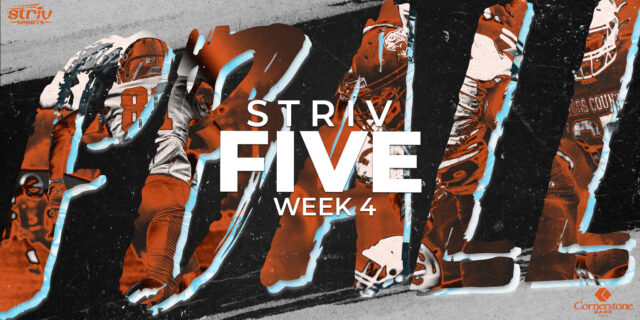 Back for week four and a load of the top games in the state are on the Striv Network. And we even have an interstate matchup tonight!! Remember, you can watch on Roku now, give us a download. All rankings from our partners at nebpreps.com. 

Class B, No. 4 Waverly  (2-1) at. No. 7 Northwest (2-1): Waverly has played an early, difficult schedule that includes a win that ended Omaha Skutt's 27-game winning streak bjt was followed with a defensive 13-7 loss to Elkhorn last week. Now they head west for the first meeting with the other Vikings in school history.
Class C-1, No. 4 Ashland-Greenwood (3-0) at No. 3 Wayne (3-0): Wayne has been taken to the brink twice in three games — last week escaping Lakeview 14-11 — and they get another big test this week with A-G and all-stater Cale Jacobsen.
Class C-1, No. 10 Columbus Lakeview (1-2) at Lincoln Christian (3-0): Lakeview has a dominating with and a pair of losses to Pierce and Wayne. Christian — winless for the last two years — is 3-0. The winner is ranked and the loser will have some more work to do.
Class D-1, Hitchcock County (3-0) at No. 3 Dundy County-Stratton (2-0): Two teams that are putting up big (huge??) numbers out west. Hitchcock County has scored 66, 78 and 58 in three games, while the Tigers 68 in both of their wins. DCS STRIV
Iowa Class 1A, No. 8 Logan-Magnolia (2-0) at Class C-2, No. 1 Oakland-Craig (3-0): With both teams sidelined by Covid opponents in quarantine, this one got put together yesterday to salvage homecoming in Oakland. Kudos to both schools!! O-C has won 16 straight while L-M owns an early season win against Council Bluffs St. Albert.