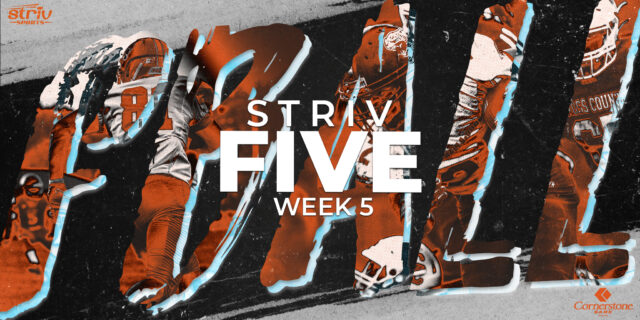 Back for week five and a load of the top games in the state are on the Striv Network. Big, big clashes of unbeatens in multiple classes. Remember, you can watch on Roku now, give us a download. All rankings from our partners at nebpreps.com. 

Class C-2, No. 3 Aquinas Catholic (4-0) at. No. 1 Oakland-Craig (4-0): Everybody has kind of been looking forward to this one. Defense will be key. Can Aquinas keep the ball away from O-C. Can the Knights make Aquinas play from behind. And, of course, will we see this game again in November?
Class C-1, No. 3 Ashland-Greenwood (4-0) at Raymond Central (4-0): A-G has not slowed down since the loss of Cale Jacobsen to an ankle injury that may sideline him a few more weeks. RC has surprised some, but this backyard brawl may be a little closer than you think.
Class C-1, Mitchell (4-0) at Chadron (4-0): Unranked unbeatens square off out west in a game that will go a long way toward determining playoff seeding for the winner and for the loser it could be an uphill climb to get in the field of 16. Mitchell running back Rylan Aguallo has ran 64 times for 710 yards. You do the match, maybe that's why the Tigers have only thrown it 29 times in four wins.
Class C-1, No. 10 Lincoln Christian (4-0) at No. 9 Auburn (3-1): Fresh into the ranking this week is Lincoln Christian. The Crusaders are a physical bunch that wants to keep it on the ground. They will have to slow down Auburn quarterback Brody Darnell who has 464 yards rushing and 569 passing in four games.
Class C-2 North Platte St. Pat's (2-1) at No. 9 Bridgeport (4-0): We get a better feel on the bottom of the top-10 this week, with this game and GICC playing at Gibbon. These four crossed paths last week as Bridgeport blanked Gibbon and GICC edged St. Pat's 20-13. The Bulldog defense has given up a single touchdown in Nebraska games and owns a 26-20 win over Goodland, KS (2-1).
BONUS NO. 1 TEAMS TO WATCH
Class B Seward at No. 1 HASTINGS
Class D-1 North Central at No. 1 BURWELL
Class D-2 Blue Hill at No. 1 BDS