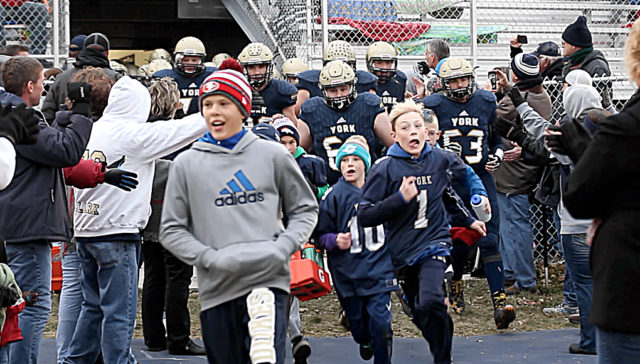 DOWN US HIGHWAY 81, FARM COUNTRY — BDS co-head coach Mark Rotter is a man of few words. His teams do most of their talking on the field.
In each year of their seven years of existence, Bruning-Davenport/Shickley football has been to the playoffs. They have won at least two playoff games in six of those seven seasons. Advanced to the state finals in 2014 and 2015 and lost a heartbreaker in the semifinals last year to champion Falls City Sacred Heart 16-12.
Over those seven seasons, that's 25 extra games. A 19-6 record. Say, maybe 100 practices. So, when a BDS freshman starts practice in the fall, he's a sophomore and then some by the time the corn is harvested in Thayer and Fillmore County.
Last Wednesday they were at it again, and ended another pretty good football team's season. BDS 50, Fullerton 16. The Warriors had their second best season in 30 years finishing 8-2 and they were a heck of a football team, one that will likely be ranked when the newspapers do their thing after Thanksgiving.
"That's a heck of a football team," Fullerton coach Ryan Haughton said. "Sometimes you run into a buzzsaw like that. It happens in high school football, college football and pro football.
"They have great depth, they got rolling."
Great depth? The Eagles, playing in Class D-2 where 20 to 25 players is pretty good, suit up 35 in the playoffs. I was told there were 37 boys total. The one thing that doesn't change is the last names.
When you face the 2017 Eagles, you think you are facing the 2014 Eagles. Or their dad's from the late 1980s. Stengel. Christensen. Holtzen. Norder. They are all there. Probably had to get up and help harvest this weekend before a practice as they prepare for Wynot on Tuesday.
"We have a great thing going and the kids want to be a part of it," Rotter said.
Up Highway 81
On Friday night, 30ish miles north of Bruning, the York Dukes were at it again. The message from our sports director, Eric Allgood, came in at 8:46 PM.
"York could have scored 50."
Instead coach Glen Snodgrass and the Dukes settled for a 35-20 win over No. 6 Scottsbluff after jumping to a 35-0 lead.
"We were eager to come out here tonight and show what York football is all about," senior all-stater Simon Otte told the Lincoln Journal-Star after rushing for 177 yards on 17 carries.
Now, the third-ranked Dukes are out to break the Elkhorn curse with a trip to play second-ranked Elkhorn South on Friday in the semifinals. The Storm have beat York in three straight games including a 10-7 loss in the 2015 quarterfinals.
Embracing the finish
Northwest coach Kevin Stein was on his way back from — guess what — a football game on Sunday afternoon. A little sixth-grade football for son Joe. He'd had a some time to reflect on the season that ended at home on Friday when top-ranked Gretna beat the Vikings, 39-19.
"It hits you when the kids are in tears after the game, because the season was over," Stein said. "And, it's not because they didn't give it their all, man, they left everything on the field. They really loved playing with each other."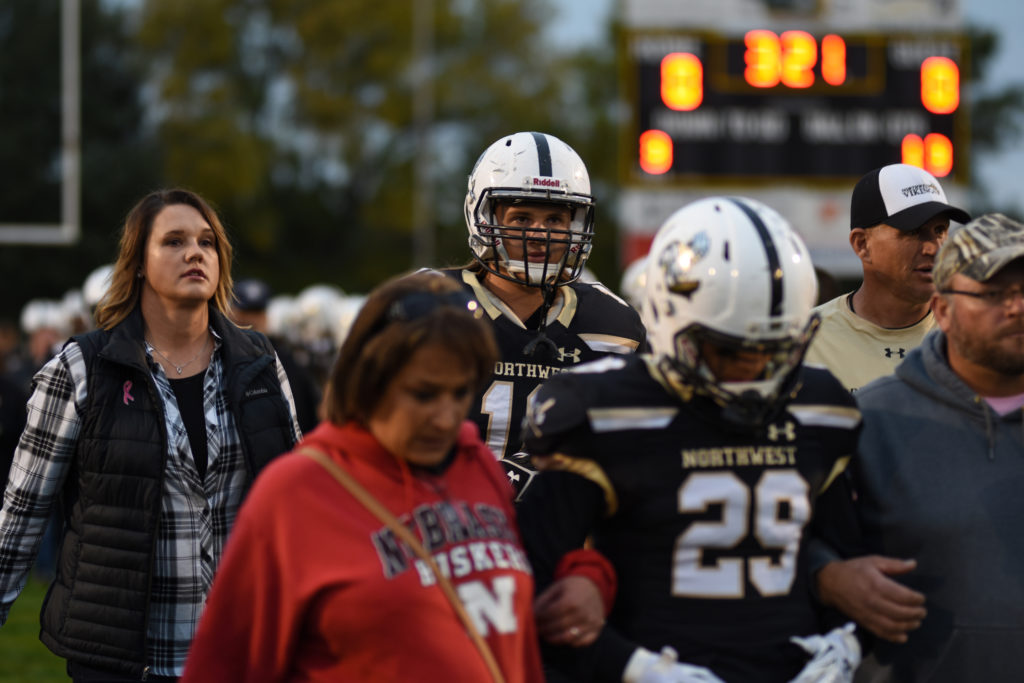 Those are the hardest interviews this time of the season. And, all but seven coaches have to give them.
West Point-Beemer coach Troy Schlueter had to do it. His Cadets had a dream season, finishing 9-2 with both losses to teams still playing, top-ranked Norfolk Catholic and Pierce who beat them 54-34 in the quarterfinals. They defeated Pierce in overtime 35-28 in the regular season.
"I love these kids," he told Tom Behmer of the Norfolk Daily News. "I'm going to miss going to practice with them. I'm proud to be a part of this team, and I'll remember them forever."
That's what football is about this time of year.
---
#12 seed Yutan returns to semifinals

---

C2 #2 seed Centennial "One game away from the show."