GRAND ISLAND — The excitement that surrounded the 1,600 meter relay at the 2014 Class B State Track Meet in Omaha was off the charts.
Grand Island Northwest led York 51-41 in the team race with the Dukes favored heavily to take the race which they did. Northwest needed to place, which they did, for a state team championship. The Vikings finished eighth – scoring one team point – for a 52-51 win over the Dukes.
And, they say track and field is an individual sport.
Viking distance specialist Megan Billington remembers it well.
"When I think about state track from last year, I am still speechless," Billington said after a recent practice. "It was so close; one point. Anything could have been different.
"In the mile, I was in ninth place with 200 meters left and finished third. It was an exciting weekend."
It wasn't just Billington last year that added much needed points for the Vikings on close calls. The afore mentioned 1,600 relay placed by less than a second. Senior Erin Sorahan came from lane eight in the 100 meter dash to finish fourth. All of those little things, made a champion.
But, with just Billington and fellow senior Kayla Bachle as the lone upper class qualifiers returning this year coach Brandon Harrington wasn't sure what to expect this spring. He's been quietly surprised.
"We lost a group of really good girls as far as senior leadership," Harrington said. "But, with our group coming back, we had a good core of runners.
"As the season has gone on they have really picked up some of our young sprinters and middle distance runners. We really haven't skipped a beat."
Harrington has parlayed the leadership of Billington and Bachle with a young, talented group to keep the Vikings as one of the favorites in the Class B team race.
Billington's season best 11:15.69 leads Class B in the 3,200 (and is second in the state) and her 5:13.45 time in the 1,600 – a recent school record – is second behind York's Erin Lee who is the defending champion in both events.
"There is a lot of motivation running in this area," the University of South Dakota recruit said. "Most of the time in the distance races, we run against the top runners in the state, not just Class B.
"I use that as motivation to run in Division I next year."
Bachle, who placed sixth in the 300 hurdles last year at state, adds a school record 15.47 on the 100 hurdles that leads B and her 47.34 in the 300 hurdles is third in the class.
"She is such a great athlete," Harrington said of Bachle. "She has just been phenomenal in her workouts and working with our younger girls and really being a leader for our team.
"I am excited to see what the rest of the season holds for her."
As conference and district meets approach, the Vikings begins a big stretch Thursday with their home meet, the Dave Gee Invitational, and the Central Nebraska Track Meet featuring area leaders and sponsored by The Grand Island Independent on Monday.
The Vikings will send multiple athletes to that event including all three relays and, notably, freshman Karsen Sears who has the fastest 100 meter time for B competitors and Madi Bahe who is a top area runner in the 400 and 800 meters.
A reflective Harrington likes what his team has done and feels they are ready for more competition that includes York, Holdrege (third last year at state) and Aurora on an almost weekly basis. The Vikings won the Aurora and Central City Invite already this season.
"I think we see some of the best competition in the state week in and week out," Harrington said. "We see Holdrege, we see York, we see Aurora. Our girls have competed really hard and have seen success that brings another level of confidence."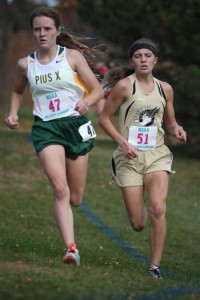 For Billington it's hard to see her running at home come to a close, but she has a few miles left to go as she readies for college competition where she may try her hand at the 5,000 and 10,000 meters for the Coyotes.
"It's crazy to think already in the next week, it will be the last time I race on my home track," said Billington, who has seven state medals from cross country and track in her high school career. "It should be fun; the central Nebraska meet is always one of my favorite events of the year."
One that Billington hopes can prepare her and her teammates for another big May weekend in Omaha.