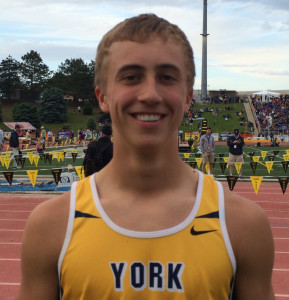 OMAHA — There was a little magic in the sand for York triple jumper Trent Koehler early Friday evening at Burke Stadium. Or, maybe, it was on the board. Take your pick.
"This is the best feeling I've ever had," Koehler said after his mark of 44'11.75" topped Plattsmouth's Connor Dukes by three-fourths of an inch for the title. "There are hardly any words to describe it."
Even by his own admission, Koehler was an afterthought in the Class B field. He came in with the tenth best district jump, but a personal best by more than a foot turned him into a state champion.
"It was a little unexpected," Koehler said with a smile, whose previous best jump was 43'9". "The venue here is amazing with the people cheering, it gets you really pumped up."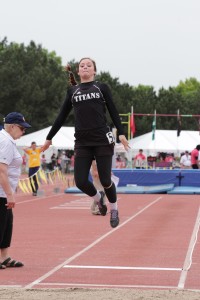 Koehler wasn't the only Striv athlete who had success in the jump pits on Friday before the overflow crowd. On the girls side, Twin River's Sara Czarnick started the day with a win in Class C on a prelim jump of 16'8.75" that topped Sutton's Delaney Lemkau for the title. Later, Riverside's Karen Schmeits shocked herself with a win in Class D.
"I sure didn't come in here thinking I would get first," the Charger junior said of her 17'1" jump. "It was crazy."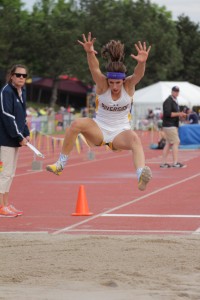 Schmeits, who excels in the sprints and advanced to the finals of both the 100 and 200 on Friday, just started long jumping this year after participating in the triple jump as a freshman and sophomore. She had jumped 16'10" earlier in the season, but came to Omaha off a jump of 16'4.75" at the district meet.
"I hadn't come close to 16'10" since early in the season," she added.
One win in hand, she hopes for a good night's rest to keep the Chargers in the title hunt. Her 10 points has Riverside in fifth place in the team race through six events.
"Just have to get some rest, stay focused and eat right," Schmeits joked. "I felt good warming up and it worked out."
Class B Thoroughbreds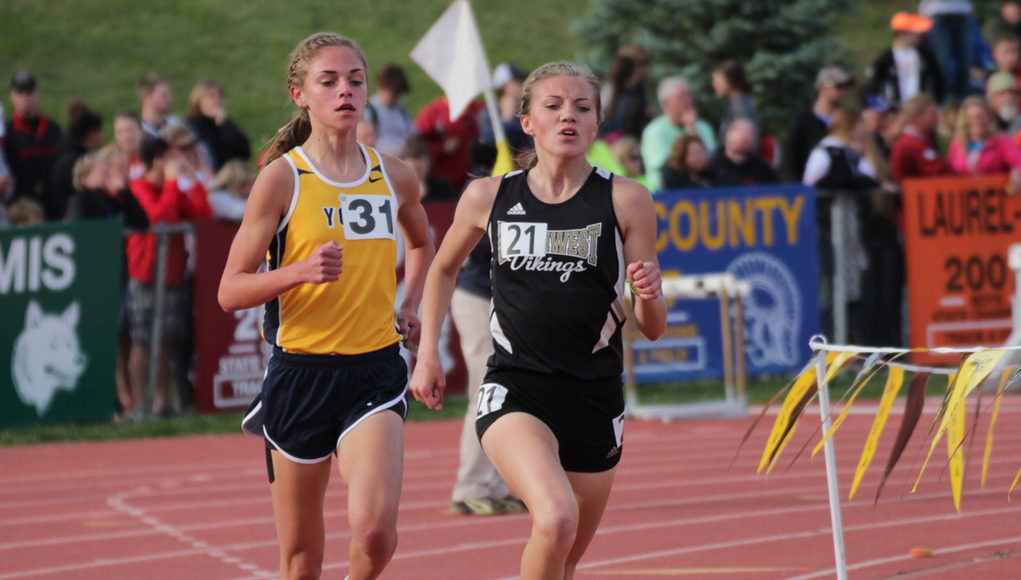 York's Erin Lee and Grand Island Northwest's Megan Billington have battled all season and their 3,200 meter run didn't disappoint anyone at Burke Stadium as the evening settled upon the crowd.
Lee — the Duke junior who earlier this year won the 800 meters at the Kansas Relays — used a late kick to take the race in 10:51.96, while Billington bettered her previous mark by nearly 15 seconds with a time of 10:56.10. Billington's time lowered her school record mark for the third time this season. It left them second and fourth, respectively, on the all-class gold medal comparisons.
"I really just wanted to stick with Megan until about the last 500 or 600 meters," Lee said. "Then I wanted to try to kick in and widen the gap. I just wanted to see how the race was going and then take it at the end. I knew I had an advantage with my foot speed."
Both runners left the field early to set the pace. Gretna freshman Mazie Larsen was 34 seconds behind Billington for third place. Billington knew she'd need a lead to hold off Lee, but found little to complain about her opening day.
"I wanted to get a fast start and then pick up the pace in laps six and seven," Billington said. "And, then, see if I could hold Erin off. She just has the 400 speed that I don't have. I've been working it, but I'll take a 20 second (improvement) on my PR."
The race capped a productive day for Billington, who will run cross country and track at the University of South Dakota next year. She teamed with sisters Madison and Rylie Bahe and Sierra Holliday to finish second in the 3200 relay with a school record time of 9:37.38.
That finish coupled with Kayla Bachle's second place finish in the long jump has Northwest in second place in the team race and in position to defend their 2014 title.
Jumping Jacob
Syracuse sophomore Jacob Heitkamp will take his Class B high jump title, but his 6'6" performance wasn't quite the kind of day he was hoping for at Omaha Burke.
"My day just didn't really go as I had planned," said Hietkamp, who didn't even medal in last year's event after qualifying. "I felt good over the lower heights, but when it came up to 6'8" I just couldn't control my adrenaline and was jumping into the bar."
The bar, though, is now set with two more years to come back and defend his title after jumping just 6'2" at last year's state meet.
"There is a little bit of excitement," he said, "but I am more interested in beating myself. You have to have high standards if you want to be great. My best so far has been 6'9" and I was hoping for 6'10" today."
Plenty of time left for the Rocket to improve. And, defend.
Full results from day one can be found at the NSAA State Meet home page.