AURORA — Aurora volleyball coach Lois Hixson would like for her volleyball team to put her in a quandary on Friday with a first round win over Elkhorn South at the NSAA State Volleyball Tournament that begins today at five sites in Lincoln.
"I'm not sure we'd have anybody left to drive the bus to Lincoln," Hixson joked after a final practice for the tournament on Wednesday. "But, that would be a great problem to have. I have never driven the bus before."
The problem arises because the undefeated Husky football team will be 232 miles away in McCook gearing up for a 7:00 semifinal with the Bison. A win tonight at 7:30 for the 29-6 volleyball team would put them in a 7:30 semifinal at Pinnacle Bank Arena.
Yep, those are the problems they deal with in Aurora, where the expectations are high every fall. Hixson said, though, it's better than the other way around.
"I think the community here has high expectations for all of our programs," she said. "But, the great thing is, they love to get out and support us."
Hixson's volleyball program has held up their end of the bargain, making their third straight state tournament appearance in 2015 led by University of South Dakota Kylie Hixson – the coaches daughter. The senior has 447 kills, 42 ace serves, 33 blocks and 390 digs on the season.
But, the Huskies are not a one-trick pony. Lois Hixson said good back row defense has been a staple most of the season. Libero Adyson Narber has 505 digs and sophomore Brooke Williams has 403 to go with 143 kills and she leads the team with 50 ace serves.
"I think for Kylie this year it has been about being a smarter attacker and not just hitting as hard as she can every time," the coach said. "But, I think our back row has just done a phenomenal job all season. We have done a great handling the ball."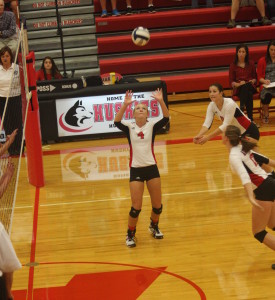 Junior setter Keri Oswald has directed the offense well, Lois Hixson said, and has 888 set assists heading into the state tournament. Besides Williams, junior Jasa Scheierman (171 kills) and sophomore Corrie Schnieder (146) all have over 100 kills on the season.
Coach Hixson said that Elkhorn South will present many challenges for her Huskies.
"They are a big team," she said of the 25-10 Storm who will go 6-1, 6-1 and 5-11 on the front line. "I think they struggled a little early in the season with some injuries, but they will be a great opponent. We'll have to play great defense behind their big girls. I think that's something we will be ready to do."
The Storm, who have 474 kills from Sarah Swanson and 282 from Kelsey Green, lost to Gretna in the first round of the loaded B3 District, but bounced back to sweep Norris in the sub-state match. All four teams from the district — Omaha Skutt, Gretna and Elkhorn — will be at state with the Storm, while Grand Island Northwest's entry with Aurora from the B6 means six of the eight teams in the tournament are from just two districts.
It's a win for the fans, Hixson said, of the sub-state format that Class B has used for the past few years.
"I think you truly get the best eight teams down to Lincoln," Hixson said. "We were happy to be able to get back on the court last Saturday and host Sidney in our match. After the loss to Northwest (in the district final), we played really well. I think that format has been great for Class B volleyball."