Very few would argue that when volleyball coaches from the smaller classes in Nebraska put in the new sub-state format that it would prove to be a success.
No one seems to be complaining either, even though there were just three upsets in the 32 small class matches last Saturday and two of those were 8, 9 games.
The exception to the rule was eighth-seeded Freeman in Class C-2 who took a hard-fought 3-1 win over Doniphan-Trumbull at Cross County High School. After two years away from state, Falcon coach Scott Anderson said his team is happy to be back in Lincoln.
"It was just a great match by both teams," Anderson said of the match with the Cardinals. "We matched up really well with them. Both teams had a lot of experience so that played into the match. I think our serving was the difference. We had 15 aces in the match.
"But if we played 10 times, it might be 5-5 for each team."
The eighth-seeded Falcons (21-11) reward at state is a first round match with top-seeded and defending champion Superior (29-2) who is led by 6-3 Nebraska recruit Kalynn Meyer (447 kills) who is just a junior.
And, while the Wildcats are young, they are experienced having been in the atmosphere before. Anderson hopes the Falcons can counter with a cohesive group that includes seven seniors, all who see the floor and have differing roles.
"They work really well together," Anderson said. "Sometimes a team is just happy to get to (Lincoln). The state tournament is a tremendous atmosphere. The girls now have the mentality that they'd like to win some games at state."
The Falcons are led in that senior group by 6-foot outside hitter Kayla Haynes. She leads the teams 448 kills and 57 ace serves on the season and is second on the team with 53 ace blocks.
"She is an all-state type player," her coach said.
But her teammates bring a bunch of balance and help to the Falcons, who have won eight of the last 10 matches heading into Lincoln, including four in a row.
After Haynes, the Falcons do most of their damage in middle. Emma Alberts (145 kills) and Macy Holland (115 kills) are next in line for swings from setter Brooklyn Ideus. The sophomore has 553 set assists.
It was a mid-season switch to Ideus alone at setter that helped spark the falcons as well. Senior Rachel Buehker, who had been also playing setter in a 6-2 offense, moved back to her libero position full time. She now leads Freeman in digs at 279.
"Rachel really took that move to heart for us," Anderson said. "She played their last year and when we switched her back there full time it really helped us."
The Freeman, Superior will be the third match of the day in Class C-2 at Lincoln Southwest. Approximate first serve is at 5:30.
A Full Rotation: Breaking down each Striv school qualifier
Class A | Millard West (21-9): The fourth-seeded Wildcats have the nightcap with Gretna in Class A at Pinnacle Bank Arena. Started the season 5-5, but have won 11 of last 14 matches. Hailey Pedereon and Gabriel Nordaker each have 228 kills for the Cats.
Class B | Elkhorn South (29-8): A dominant season for coach Briana Janda's Storm as all eight losses are to Class A opponents. They defeated state qualifiers Elkhorn and Omaha Skutt in district play and swept North Platte to advance to Lincoln. 6-foot-4 sophomore Rylee Gray has 320 kills and four more players are over 200 with freshman setter Madison Wooden at 1,127 assists on the year.
Class B | Elkhorn (21-15): Antlers played one of the most difficult schedules in the state as 14 of their 15 losses are to state qualifiers in Class A or B. Abigail Wolfe has 297 kills for Coach Addy da Silva.
Class B | Northwest (21-14): First year coach Lindsay Harders leads the Vikings to state for the 18th year in a row. Vikings have won 18 of 23 matches after a 3-9 start including a 3-2 win at Sidney in the district final. Whitney Jensen has 350 kills to lead Northwest and six rotation player Whitney Brown does a little of everything — 472 assists, 329 digs, 135 kills and 44 aces.
Class C-1 | Wahoo (32-2): The defending champs look ready in a class loaded from top to bottom. Mya Larson (385 kills), Kyla Swanson (316), and Elly Larson (282) form a formidable front line that takes sets from 6-footer Elle Glock (992 on the season). Warriors have dropped just six sets all season.
Class C-1 | Lincoln Lutheran (32-3): The only C-1 team to beat Wahoo, the Warriors are led by Class C-1's all-time kill leader Marriah Buss who has 551 this season. Hope Leinbach has 879 set assists and senior libero Erin Williams has 431 digs.
Class C-1 | St. Paul (33-1): A lone loss this year to Fremont Bergan, but coach Matt Koehn-Fairbanks squad has now rattled off 16 straight matches and have lost just seven sets all season. Senior Hayley Fox has 489 kills and junior Brooke Poppert has 228.
Class C-1 | GICC (30-4): Back at state for the 31st time under Coach Sharon Zavala, the Crusaders are led by one of the most versatile players in the state in Megan Woods. The 5-10 Omaha recruit has 463 kills and 394 digs in the season with plenty of balance to help. Twin juniors Avery and Allison Kalvoda have combined for 469 kills and setter Katie Maser has 1,020 assists.
Class C-1 | Syracuse (26-3): How deep is Class C-1 volleyball? The Rockets have 23 sweeps on the season and could only manage the sixth seed. Coach Courtney VanGroningen — the Class D-2 all-time kills leader at Sterling — has a balanced attack. Meredith Clark, Jessica Moss and Lauren Meyer all have over 245 kills on the season.
Class C-2 | Superior (29-2): The defending champions haven't really missed a beat and are now winners of 18 straight matches after surviving a 5-set scare on sub-state against Crofton. Everyone knows about Nebraska recent Kalyn Meyer (447 kills), but freshman sister Shayla has added 239 kills and 56 aces for the Wildcats who have 239 ace serves as a team on the season.
Class C-2 | Thayer Central (26-6): After a 15-0 start the Titans were challenge by there schedule late. All six losses were to district finalists with five to state qualifiers: Superior (three times), Blue Hill and Wahoo. Coach Cody Dunlap has senior Emily Welch with 464 kills on the season.
Class D-1 | Johnson-Brock (29-3): The three-time defending champions will be challenge by Fremont Bergan (30-4), a Class C-2 qualifier last season. The Eagles have won 15 in a row since a mid-season loss to Bergan. Nebraska walk-on recruit Fallon Stutheit ends an illustrious career in Lincoln. Her 1,801 career kills is the all-time D-1 record.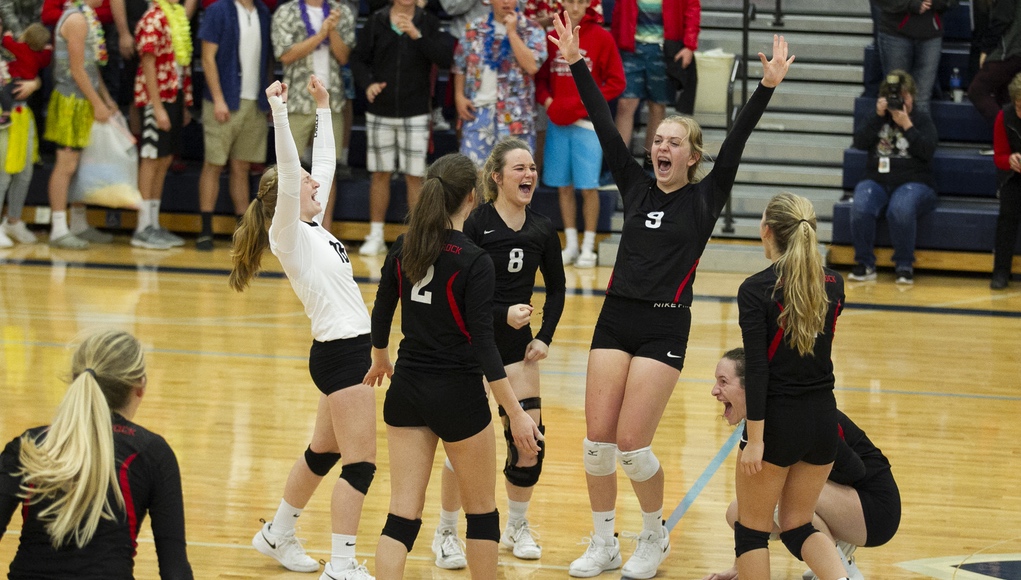 Class D-1 | Pleasanton (31-2): The Bulldogs and coach Shane Nordby have run roughshod through Class D competition so far, with their only losses to GICC and Hershey. Three players are over 200 kills led by Katelyn Linder with 284. Setter McKenna Siegel has 836 set assists.
Class D-1 | Cambridge (25-5): Back at state for the first time since 2008, the Trojans have won 16 of their last 18 matches. Junior Korynn Clason leads the Trojan atttack work 375 kills and 349 digs. Senior setter Kaelie Tomlin has 664 assists.
Class D-2 | BDS (27-4): The 27-4 Eagles have overcome a mid season three match losing streak to win 15 in a row while advancing to Lincoln. In the sub-district final, they took down Exeter-Milligan 3-1; their third win of the season over the fifth seed Timberwolves. Jadyn Kleinschmidt and Regan Alfs have 288 and 243 kills respectively. Alfs (318 assists) shares setting duties with Jordan Bolte (364 assists).
Class D-2 | Mullen (27-3): The Broncos have won 15 in a row and bring a balanced attack to Lincoln with four players at 179 kills for more. Senior Alyson Daniels leads the team with 232 kills, with 6-foot sophomore Samantha Moore adding 210.
Class D-2 | Exeter-Milligan (23-8): The Timberwolves know their way around Lincoln and are the defending Class D-2 champions that go with other titles in 2009, 2010, 2012 and 2015. Senior Katherine White has 437 kills and classmate Kate Jansky has 329 to lead coach Darcy White's team.