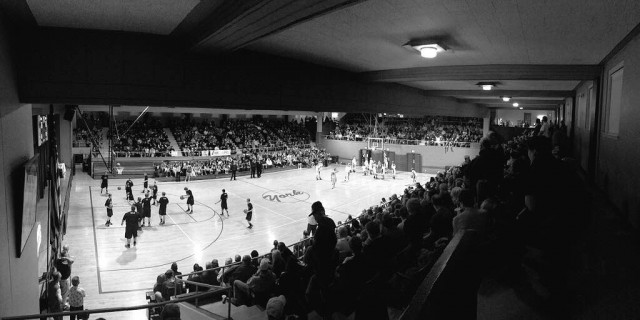 Can a building tell a story? Or does it just hold them in and wait for them to come out?
The York City Auditorium is 75 years old this year. Built as the United States was just coming out of the Great Depression, it was one of FDR's New Deal projects to rebuild the economy. When it opened Pearl Harbor was still two years away.
Since 1951, it's hosted the Crossroads Conference tournament. It meant something if you survived that thing. In the 1980s, a team from the conference played for a state title eight times; two of those teams didn't win the tournament.
So, when the announcer before the finals, says, "Welcome to championship night of the Crossroads Conference tournament — the best conference tournament in the state of Nebraska" you know it might be true.
The city of York notes that the auditorium can host 1,502 people — 952 'balcony' seats and 550 'bleacher' seats — which generally means about 1,600 folks are there on championship night. Last night, it was close. Memories were made, or stories held in, maybe for the last time this way.
*******
Fifty years ago, it hosted a classic Class B district final between Geneva and Aurora. Paul Farmer was a point guard on that team that would win the Class B state title a week later. My grandpa was his coach. He chuckled Saturday when he was asked about the auditorium that night.
"Was it full," the owner of Farmer and Son Funeral Home in Geneva said rhetorically. "There were people on the stage and all along the baseline. There were people in the halls that could not get in who took turns looking in. The place was packed."
Twenty years later, Archie Chapman's son took the football job at Hampton. Looking back, he must have not realized what he was getting into. Marquette and Giltner had won the state football title the previous two seasons. And, Hampton shot buckets anyway. Football was almost an afterthought. Girls basketball and social studies were also part of the gig.
His first game there was the same day the Challenger exploded in 1986. In fourth grade, I was learning who my heroes and villains were. In general, the heroes wore purple and the villains were guys like Ryan Ruhl, Steve Hendricks and Troy Thomas. From 1985-1994, the CRC was in a Class D state final in 1985, 1986, 1987, 1988, 1989, 1990 and 1994. Survival of the fittest.
Slowly, Frank Chapman built his programs. Two state playoff football teams came in the late 1980s. In 1990, a quarter century after his dad had won in the old barn, his Hampton Hawk girls, en route to a state title of their own, defeated Benedict 44-40 for the conference title. We didn't know then, how long it would be until the school would do it again.
Last night, little had changed in those 25 years. The floor is a bit newer, the old Y that was center circle and was placed on the court vertically, not horizontally, now hangs on the northeast wall by the stage.
The little kids still congregate in the west balcony — small-town kids looking for heroes — a rare opportunity to get a view from behind the basket. The administrators still solve the world's problems in the little basement kitchen behind the home team bench. The media still controls the stage and York radio station KTMX owns a first row seat in the south balcony at center court.
*******
Jerry Eickhoff came to Hampton in 1969 and coached in 40 CRC tournaments. His teams played in 22 title games and won 17. When he left in 2009, he was the all-time winningest coach in Nebraska high school history. The floorboards in the barn can tell some stories about his teams.
That was never much good for the girls program at Hampton, though. Friday night, was the first time since 2010 they were in the finals and only the fifth overall since the girls version started in 1977. They had not won since the title team in 1990. Coach Margo LaBrie had been there for most of that time.
She came to Hampton in the fall of 1993 and has coached the girls off and on for many years. She's fought cancer. Earlier this year she notched her 100th career win and these seventh-ranked Hawks are probably the best bunch in purple since 1990.
So, when fifth-ranked Giltner came back and forced overtime at 45-45 and the Hawks didn't execute very well on a last second shot, Labrie remembered something Eickhoff was prone to teach: the team that usually scores first in overtime will win.
She asked her team to close their eyes and think about winning and scoring the first points in the extra session. What did Brittany Dose do just 20 seconds into overtime? She made a 3-point shot from the right wing — on the west end of the court, where, in the balcony, a little girl might have found a hero — and then she and Tristan Mason hounded the Hornet backcourt.
The Hawks did their coach one better. They forced two quick turnovers and scored seven points in the first 1:15 of the extra four minutes. Then, they hung on and beat Giltner 57-51. Nets were cut down. Pictures were taken and Dose, surely got a special one with her dad — one of those late 1980s heroes that wore purple in this same barn.
Labrie and her champions watched the boys game from high atop the auditorium. They did things that some have never done there — took selfies, checked Twitter, sent a picture of their team to someone far away or maybe held up their medals for a Snapchat picture.
"You know what it's like to play for Coach Eickhoff," she said. "I told them down there, we had to score first and we did."
Just a few more memories for the barn to store up and put in the archives.
*******
Andrew Adelson was one of those kids in the west balcony a few years ago. In a different time, when all those CRC teams were the best in the state, so was his coach Cameron Hudson. His heroes, generally, wore blue and red. Polk-Hordville had won some of those CRC titles, but never High Plains (that's just Polk-Hordville merging with Clarks) where Hudson has coached since graduating from Nebraska Wesleyan.
"We used to come here and watch the championship games all the time in middle school," Adelson admitted after the title game last night.
He and his teammates have been to the state tournament for all three of their high school seasons. Made it to the Class D-2 finals last year. But, they were beat in the finals at the old barn twice and, as sophomores, they finished third. Always there on Friday, but never with a net around their neck. This year they came back, unbeaten and top-ranked in Class D-1.
Adelson, generally, is just that kid on the bench. Hudson calls on him for positive minutes — maybe 8-10 a game — to give his starters a rest. He averages just under four points per contest. The ultimate teammate, Hudson says, who scored a 30 on his ACT.
But, there was Andrew Adelson on Friday night, three towns rooting for him, coming off the bench as Class D-2 No. 4 Exeter-Milligan — the ornery foe who beat them here last season — dared him to shoot so they could wrangle in the three-headed all-tournament team of Cole Klingsporn, Thomas Young and Cale Harless.
And, the baskets went in. And went in again. And, again. Adelson, a curly-haired blond was becoming a hero in the first half. If not a hero, certainly, a guy these 75 year old walls will remember. He scored 10 points and kept his buddies in it. They were down 30-28 at the break but it could have been worse.
"You talk about a moment that a team — a town — will remember," Hudson said afterwards. "They challenged him, they didn't guard him and he said, 'I'm fine.' At halftime, he was my guy. I just told everybody to play like Andrew."
Everybody listened to the coach.
A 29-9 third quarter was spearheaded by the three-headed monster, but they wouldn't have got their without Adelson. By the time he scored a free throw on the back end of an old-fashioned 3-point play — one right out of 1965 or 1990, you pick — he had 13 points. It was near the end of the quarter and High Plains could see to the end of a 70-53 win. A conference title. When he left for good with just under a minute left if you wore blue or red or white you were standing up and Adelson was getting high fives.
"As many talented kids as we have," Hudson said, the smile still fresh, "he's the last one out of the gym. He loves to play and he loves to be around these kids. He deserves it. All those days, all those practices, all that time. There it was."
He's probably not quite sure how fun it was yet. Someday he'll know.
"Coach just says if you are open, shoot it, so I shot it," Adelson said. "It was great. We'd never won until this year. It was fun and it was loud."
It was, quite frankly, the old barn holding in another story to share down the road.
*******
Progress is, unfortunately, inevitable, but at the York Auditorium about two things have changed in all these years — the floor is new and the fine folks from St. Joseph's Catholic Church in York who put on the tournament as a fundraiser now serve Pepsi instead of RC Cola.
But, someone said recently, they might take those floor bleachers out. All 550 of them, to make way for 'progress' like being able to hold two courts for a weekend basketball tournament or something like that.
"Like tonight," said Hudson, one of few players to play and coach in the tournament, "everybody has to take a picture of tonight and realize what this tournament is all about. This is what you revolve your January around in towns around here. I don't know, sometimes you don't need to change what doesn't need to be fixed."
And, so if they 'fix' it, the barn will still hold the stories. Of old district games. Of the greatest little tournament in the state and whatever else you can think of. Proof that this place is special can be found in memory banks and in the wood of that New Deal building that was built for so many generations 75 years ago.
There is a picture to prove it.