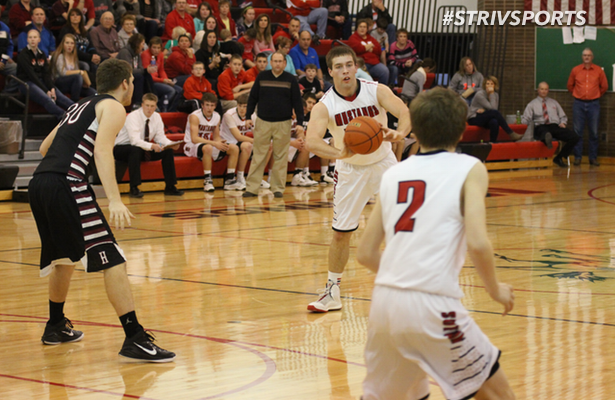 For the Sutton boys basketball team and coach Jon Ladehoff, much like last year, it's been nice to flip the calendar. After a brutal December, the Mustangs won eight of their nine outings in January and have entered this week's Omaha World-Herald rankings at 10th in Class C-2.
The scene is familiar to last year when the Mustangs, in Ladehoff's first year, were 3-6 in December before finishing 17-10 and earning a berth in the state tournament after a 43-39 double overtime upset of Doniphan-Trumbull in the district finals.
"It's seems like deja vu, I guess," Ladehoff said. "We have scheduled tough like that for quite sometime. It's been challenging, but that the same time we hope it prepares us for this time of year as well."
Now 11-6, the Mustangs enter this week's Southern Nebraska Conference tournament as the third seed. Class D-1 No. 5 Heartland is the top seed and the Mustangs only loss since Christmas. The Huskies took a 54-52 double overtime win in Sutton on January 24th. But, Ladehoff likes the progress his team has made including a win at perennial power Ravenna two weeks ago.
"We aren't a team that is going to blow anyone out," Ladehoff said. "I think January has been good for us in that it taught us how to win some games. We don't do anything really flashy, but that Ravenna game was a game where I think our kids really started believing and buying in that they can win some games like that."
The Mustangs have got balanced scoring and leadership from three seniors, including leading scorer Andrew Pawlowski who is averaging just over 12 points per contest to lead Sutton. Nebraska walk-on football recruit Noah Johnson averages eight points and eight rebounds per contest. Fellow senior Nicholas Hohensee has averaged about five points per game while generally guarding the opponents top scorer.
"Andrew has done a good job of really being our scorer," Ladehoff noted. "He's our best free throw shooter and he gets to the line as well as anyone we have. We've kind of moved Noah out away from the basket a little bit this year, so for him to still give us close to eight rebounds a game has been good for us."
Ladehoff said the work of Hohensee is not unnoticed. He's guarded all-state players Cole Klingsporn (High Plains), Jordan Heinrichs (Heartland) and Isaac Frerichs (Freeman) this season. "We kind of joke with him that when the all-state teams come out, he'll have guarded everybody on it."
Two underclassmen, junior post Tristan Sheridan and sophomore point guard Tanner Peterson, round out the Mustang five. Peterson is in his first year at the point, but had a leadership role on the Mustang football team as the quarterback as well.
Ladehoff, who took over for long-time coach Steve Spongberg last season, said there hasn't been much change in the program. Ladehoff came to Sutton in 1994 and was on the sideline for nine state tournament appearances and three state finals including the Mustangs 2003 state championship.
"He is still around our program a lot, since his daughter is still in the girls program here," Ladehoff said. "But, we haven't really changed much. I think the one thing we try to make sure we do is adapt as well as we can to the personnel that we have here. Our kids have really progressed nicely this year."
Let's Rewind
Few surprise in boys conference tournaments
Storm boys, Hampton girls win CRC titles
Seward clamps down en route to Central Conference title
Links hope to get back to normal