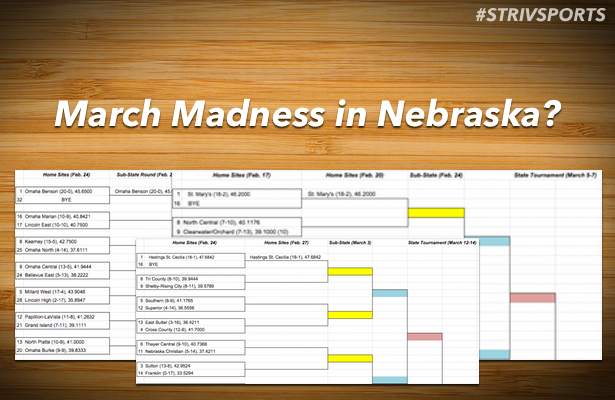 There comes a disclaimer with this opinion that the Nebraska School Activities Association and its member schools do a fantastic job of promoting high school sports and activities in our state. It is vast — nearly 8 ½ hours and 552 miles from Falls City to Chadron — so creating the perfect state championship is a difficult task.
How is it, then, that Nebraska could spice up its basketball tournaments? Create some March Madness if you will. It's a supremely difficult question. You might even ask if it is broke now. Maybe, maybe not. It depends on your view of sports and what they should teach.
So, with the pairings for the girls sub-district basketball tournaments being released today, it's a fine to time look at how Nebraska could make their tournaments better. The high view here, is the state should first move to five — if not four — classes. Stu Pospisil's fine research is submitted here as Exhibit A. The committee on classification will meet this spring and its findings will be quite interesting.
It's fun to consider a few facts about classifications, before diving into the tournament. In 1976, Nebraska was a four class system: A (32 teams), B (64 teams), C (128 teams) and D (143 teams). You couldn't lose because there was no wild card. Today? Six classes and fewer schools, 283 total to be exact. You can lose and still be a champion. Class D (combined) has 110 schools in 2015. Two will be champions; four will go to Lincoln after they lose.
To qualify for the state tournament in Class D in 1976, Nelson had to win a 10 team district and then a regional game to advance to Lincoln. They needed overtime to beat No. 2 Ruskin in the DISTRICT final; they had to come back from a halftime deficit to beat future Husker All-American Derrie Nelson and Fairmont in the REGIONAL final. At state, they won by 6, 12 and 6 points. In the final, they were up by 18 in the first half. In their district final they were down eight early in the fourth quarter.
Is one way better than the other? We can have this debate until we are blue in the face. And, quite frankly, it's a fun one to have. Seasons, generally, tell us who the best team is; tournaments, as is the American way, define who is a champion, who has the mental toughness to advance through a bracket. It's funny, we remember those teams. Not necessarily the best seasons. The key in high school sports is whether you learned something along the journey.
So, what do we do? Is there a way to make Nebraska's system better? The debate will linger on and that's ok. If somebody learned just a little bit in the process, maybe this was worth it. Let it also be said here, that Nebraska is better than Kansas (343 schools and EIGHT classes; with the tournament in eight separate locations) and better than South Dakota (with classes spread across the state as well). But, March, could be great and hopefully this will make it even better.
The proposal here rewards the best teams and eliminates the wild card because of the rewards. It sets a road to the championship from the beginning. There is no re-seeding. In the small classes it takes geography into consideration. The time frame is shrunk because of the elimination of bunny bracket games in sub-districts.
Class A
The class that sees the fewest changes is Class A. In this year's scenario with 29 teams in the class, the top three teams receive a bye into the round of 16. All other games are seeded with seeds 4-16 hosting home games. In the second round, the high seed would host — though there could be excellent thought to moving these games (girls on Friday and boys on Monday or Tuesday) — to neutral sites like Ralston Arena, UNO's new fieldhouse and Bob Devaney Sports Center. The eight teams to advance are in the state tournament. (Edit: the boys Class A bracket has been updated to show the final point standings.)
Class A Boys Bracket (full view)
Class A Girls Bracket (full view)
Class B
In some respects, Class B is the most difficult; with travel playing a major factor in the process. That said, this bracket was seeded 1-32 throughout the high classes. The top-16 teams were not moved in the bracket, protecting them to host home games. Teams 17-32, however, can moved up or down the bracket up to two spots to protect travel.
A note here as well. Most districts are three-night events with 4-5 play-in games to the tournament. This move would eliminate the third night of play as you can get to the state tournament in just two rounds of play.
In the girls bracket, Alliance (seed 30) would have played at Norris and Ralston (seed 31) would have played at York. Alliance and Ralston were switched to save travel. Still too much? Consider the trip from Alliance to York is only 80 more miles than the trip the Bulldogs will already make to McCook for district play. It's understood that Gering's trip to Beatrice is a bit much. A few rules could be put in that would force neutral site games IF  the teams are not able to be moved in the bracket.
In the boys bracket, eight teams (four pairs) were swapped to protect travel. (Edit: the boys and girls Class B brackets have been updated to show the final point standings.)
Class B Boys Bracket (full view)
Class B Girls Bracket (full view)
Classes C1 to D2 (Update from original post)
The smaller classes presented the most challenge, but also the most opportunity for more fun and a really neat bracket. Again, one night of competition is eliminated. Two nights, not three, are needed to get to the round of sixteen. We did a few other things:
1. The state was divided into four regions based on current sub-districts and geography, with the regions numbered 1-4. Teams were seeded within their region with each region having 13-14 teams.
2. Each region, is then divided into two districts based on overall seed. One district will have seeds 1, 4, 5, 8, 9, 12, 13. The other district would be seeds 2, 3, 6, 7, 10, 11, 14. The top-four team in each district are guaranteed one home game in the tournament.
3. After the eight districts are set, the teams are bracketed based on their overall seed in the class. As an example in C1, the top seeds in each district are overall seeds 1, 2, 3, 4, 5, 6, 8, 16. So the tournament is bracketed such that the 1-seed would play 16-seed at state, 2-seed would play 8, etc.
4. After two rounds, each region will have four teams remaining. They will play on the same night at a neutral site. The winners advance to the state tournament, though those teams would not necessarily play each other at state. (Edit: only the C1 boys bracket has been updated to show this change. Other brackets show a previous version of the story. We hope to update all other boys brackets soon!)
Class C1 Boys Bracket (full view)
Class C1 Girls Bracket (full view)
Class C2 Boys Bracket (full view)
Class C2 Girls Bracket (full view)
Class D1 Boys Bracket (full view)
Class D1 Girls Bracket (full view)
Class D2 Boys Bracket (full view)
Class D2 Girls Bracket (full view)
One tournament. No wild cards. One champion. Now, have away. We'd love to hear your feedback on Facebook and Twitter. But, most of all, let's enjoy March; no matter the format.