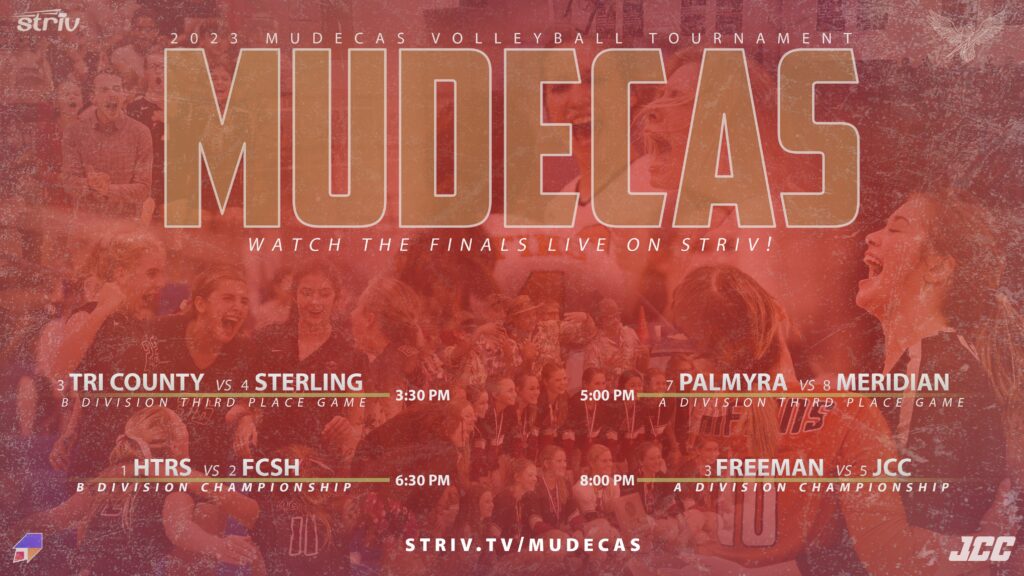 The brackets have been released for the 2023 MUDECAS Volleyball Tournament. This year's tournament will be again played at the Beatrice High School and the Truman Center at SCC-Beatrice, starting on Monday, September 11th, 2023. 
The JCC Striv Crew plans on livestreaming the Third Place & Championship Games live from the Truman Center on Thursday. MUDECAS Volleyball action will seen for the seventh year on Striv TV, as the Johnson County Central Striv crew, along with Director of Productions Eric Allgood, bring you Thursday action from Southeast Community College in Beatrice.
Third Place and Championship matches for the B and A Divisions will be broadcasted on Thursday, September 14th, with the 3rd Place B Division game starting around 3:30 pm.
Click here for the full bracket (PDF)
***
SCHEDULE/RESULTS: 
Monday, Sept 11th: 
A Division (SCC)
4:30 PM – Freeman def. Exeter-Milligan/Friend 2-0 (25-17, 25-13)
5:45 PM – Palmyra def Diller-Odell 2-0 (25-21, 25-18)
7:00 PM – Meridian def BDS 2-1 (24-26, 25-16, 25-11)
8:15 PM – JCC def Johnson-Brock 2-1 (25-23, 26-28, 25-15)
B Division (Beatrice HS)
4:30 PM – Tri County def Southern 2-0 (25-12, 25-10)
5:45 PM – Falls City Sacred Heart def Parkview Christian 2-0 (25-11, 25-5)
7:00 PM – Humboldt-Table Rock-Steinauer def Lewiston 2-0 (25-9, 25-7)
8:15 PM – Sterling def Pawnee City 2-0 (25-17,25-21)
---
Tuesday, Sept 12th: 
A Division (SCC)
4:30 PM – Johnson-Brock def BDS, 2-0 (25-21, 25-18)
5:45 PM – Diller-Odell def EMF, 2-0 (25-20, 25-13)
7:00 PM – Semifinal – JCC def Meridian, 2-1 (25-17, 18-25, 25-19)
8:15 PM – Semifinal – Freeman def Palmyra, 2-1 (25-21, 22-25, 25-17)
B Division (Beatrice HS)
4:30 PM – Pawnee City def Lewiston, 2-0 (25-19, 25-15)
5:45 PM – Parkview Christian def Southern, 2-1 (25-22, 20-25, 25-23)
7:00 PM – Semifinal – HTRS def Sterling, 2-1 (25-27, 25-15, 25-16)
8:15 PM – Semifinal – FCSH def Tri County, 2-0 (28-26, 25-18)
---
Thursday, Sept 14th: 
All Thursday Games at SCC
1:00 PM – Pawnee City def Parkview Christian, 2-1 (25-18, 27-29, 25-10)
2:00 PM – Johnson-Brock def Diller-Odell, 2-0 (25-15, 25-20)
3:30 PM – B Division Third Place Game – Tri County def Sterling, 2-1 (22-25, 25-15, 25-18)
5:00 PM – A Division Third Place Game – Meridian def Palmyra, 2-0 (25-19, 25-17)
6:30 PM – B Division Championship – FCSH def HTRS, 2-0 (25-23, 26-24)
8:00 PM – A Division Championship – Freeman def JCC, 2-0 (25-22, 27-25)
---
2023 MUDECAS Volleyball Jane White All Tournament Teams
A Division First Team: 
Alicia Johansen, Freeman
Ashley Beethe, JCC
Arely Cabrales, JCC
Ruby Hindera, Freeman
Rilyn Otto, Freeman
Jaala Stewart, Meridian
A Division Honorable Mention: 
Sunnie Rother, JCC
Ruby Goes, Freeman
Natalie Knippelmyer, Johnson-Brock
Haylie Vollman, Palmyra
Taryn Ottemann, Johnson-Brock
Jaylee Sobotka, Meridian
Rylie Walter, Palmyra
Baileigh Vilda, Diller-Odell
Savann Krupicka, EMF
Hayley Silva, BDS
B Division First Team: 
Jentry Lechtenberg, FCSH
Avery Dierberger, HTRS
MaKinley Scholl, FCSH
Laramie Glathar, HTRS
Dayee Witt, FCSH
Ella Clark, Tri County
B Division Honorable Mention: 
Jaylie McNealy, HTRS
Lexi Brewer, FCSH
Ellie Lafferty, Sterling
Lauren Harms, Sterling
Adrian deKoning, Pawnee City
Alaina Kopf, Tri County
Madi Fender, Pawnee City
Jada Smith, Parkview Christian
Jenna Farney, Southern
Leah Christian, Lewiston