DAVID CITY — You may think this time of year would bring a little stress for David City wrestling coach Tahner Thiem.
With the state wrestling tournament this weekend in Omaha and the state wrestling dual next week in Kearney, his Scouts will have plenty of pressure as the defending Class C champions in both events.
But, you get the sense by chatting with the sixth-year leader of the Scout wrestling program that he's more of "process" guy who will let the results fall where they may. He also knows that what he has built is about more than himself.
"For me to take credit for anything going on in our program would be disheartening to be honest," Thiem said. "We have a whole community that supports our program, my assistants are guys that think like I do, but will also give a different view point.
"It takes a lot of people."
One thing it almost always takes to build championship level programs is unwavering support. Thiem says that's never been an issue at David City, but was made more evident over the past few years when the Scouts partnered with NOVA Fitness Equipment to help them develop a new weight room for the school.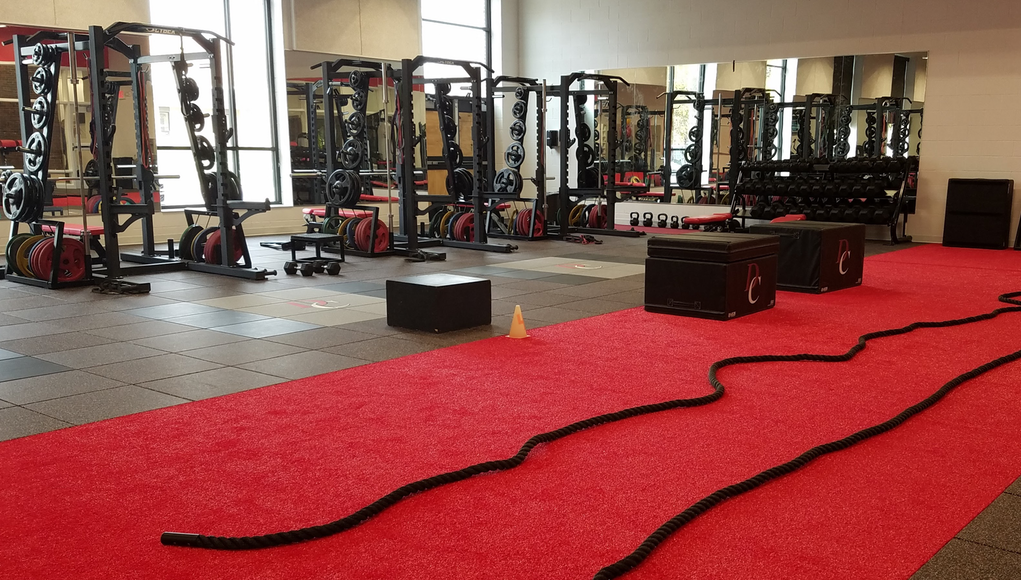 Worst to First
To hear the story from the beginning, you'd think Thiem might be speaking in fiction.
"Our kids walked outside a block in the cold to, basically, a garage with a space heater," the coach said. "It couldn't be above 55 degrees in there for four months out of the year."
So the Scouts coaches and their administration set out to build something that would set them apart. The new weight room would be part of an addition to the school that also included a new commons area.
"We had a superintendent (Chad Denker) with a vision," Thiem said, "and we had a board and other administrators that supported him."
To be a part of a blank slate from the beginning was unique for Dave King, the Nebraska high school specialist for NOVA Fitness Equipment in Omaha. NOVA works with some 160 high schools throughout the state — from Omaha to the panhandle.
"It's a pretty unique situation in David City," King said. "They literally went from worst to first, I don't think that is exaggerating. The project gave us a sense of freedom. To have a school ask us 'what size of weight room do you recommend' is kind of fun."
The final result, a 3,000 square foot space, saw very few changes from the time King came up with the concept when he was approached by the school nearly three years ago.
The room features CYBEX equipment throughout, red field turf down the center of the room for agility work and floor to ceiling tiles that help for both noise reduction and on the floor it's much easier on joints, King said.
The school never wavered in their commitment to having a first-class facility for their students and athletes.
"David City was ready to pick the top-of-the-line, most durable equipment all the way through," King said. "They wanted a top notch facility right from the start.
"I have no doubt that I could call an NFL team and they could come to David City and use this facility for years."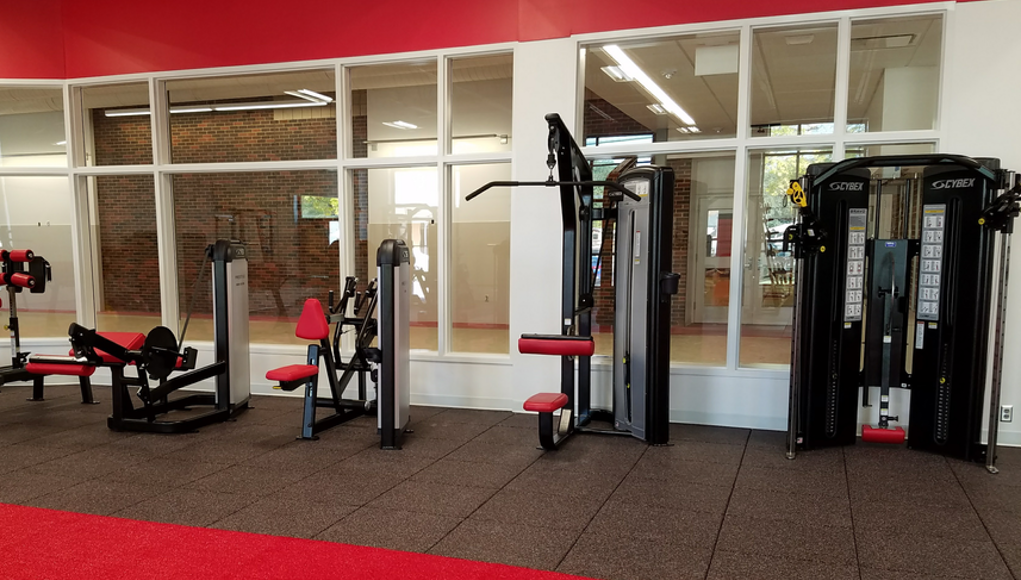 Success breeds success
Thiem didn't need the new weight room to put his program on the map.
They have won the last three Class C state dual championships and last season won the team title at the state meet in Omaha. They also won that event in 2014.
But, he said, it's made them more efficient in practice and it will be an integral part of the future of their program. The weight room was just completed in October.
"Before, we got out of school at 3:30 and I would be dealing with calls or discipline until around 4:00," he said. "We wouldn't let the kids go lift until I was done because the old room just wasn't as safe as we needed.
"Now, we have them going and lifting right away before practice. (Assistant coach) Travis Worm is our weights coach and he has them doing a wrestling specific program every day."
Thiem knows that the new weight room can only create continued success for his program. Teachers, he said, help him recruit younger students to wrestling because they know the rigors of the sports help foster better learners.
"Our teachers know that we need kids to be disciplined to be successful in our program," the coach said. "We have teachers, parents and a community that support our program. We think success breed success here.
"We have younger kids that want to be the next Trent Daro or Wyatt Phillips."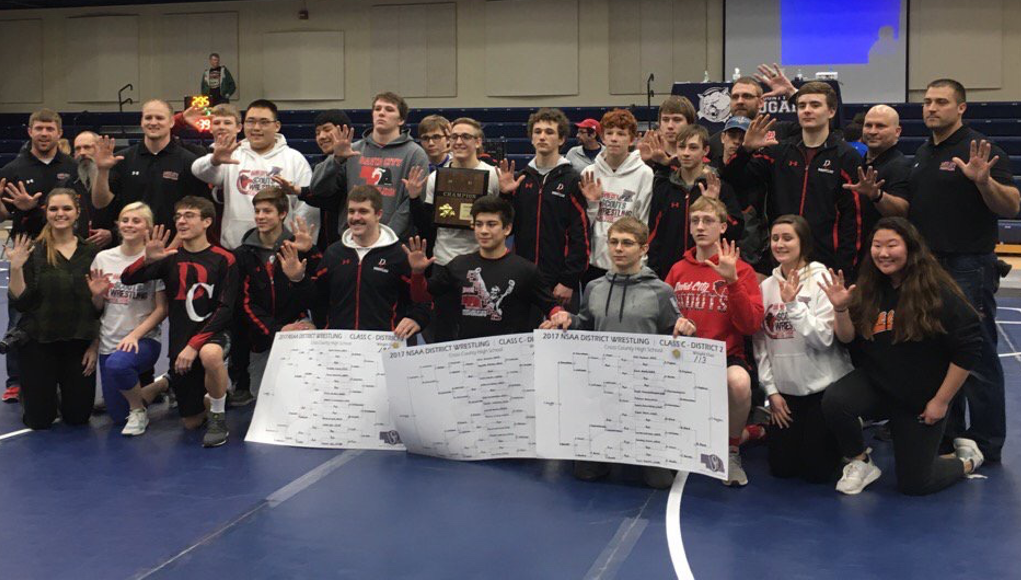 Exceeding Expectations
Most will remember Daro (champ at 120) and Phillips (champ at 126) as key components to the 2016 title run. Junior Melvin Hernandez also was a champion at 132 pounds last year.
But, Thiem said, last week's district championship performance at Cross County was a special one as the Scouts will send eight wrestlers to state this week.
"We absolutely exceeded my expectations," Thiem said. "We thought we had five good, solid kids who have been rated most of the year. To get eight kids qualified was beyond what we thought."
The story of Douglas Alvarado may be Thiem's favorite. He'll take a 3-5 record to the state meet at 182 after finishing fourth. He had been on a weight deceleration program since the beginning of the year after starting at 200 pounds.
He wrestled some at higher weights, but only two matches at 182 which could be counted for district seeding.
"We knew Doug was a good wrestler," Thiem said. "He just had a ton of patience this year. And he didn't get through some easy district. He beat a kid with 25 wins to get to state."
The Scouts got third place finishes from Lee Beltzen (132, 28-16) and Matthew Eilers (220, 33-15). The other five wrestlers, all ranked, were district finalists.
With the exception of Ryan Worm, ranked second at 195 with at 39-4, Eilers and Alvarado all of the Scout qualifiers are between 113 and 138 pounds.
They include: Seth Styskal (ranked 2nd at 113, 30-4), Noah Styskal (3rd at 120, 36-6), Justin White (2nd at 126, 41-5), Beltzen and Hernandez (1st at 138, 34-2). They get plenty of work together.
"Each practice for those guys is a scrap and a tangle every single day," Thiem said. "There is just no rest with any of those guys."
A process that Thiem hopes allows his team to exceed expectations for a couple of more weekends.
"I don't know that we have peaked yet," he said. "We aren't going to let the (championship) trophy leave David City without a fight.
One thing will be certain. The Scouts will fight. And scratch. And claw. And they will have a whole community of support behind them.