ANYTOWN WITH FOOTBALL, Nebraska — These Fridays in November are the most fun. They are also the hardest.
During win-or-go-home season, some coach has to think about what started in August. He has to reflect on getting beat and what happened, when it hadn't happened that much during the past few months. He faces a Saturday morning with no film to break down, no new opponent to scout.
If you don't think it's hard then you've not been through it before. You haven't been St. Paul football coach Rusty Fuller. Not for ten seconds, not for ten weeks, not for ten years.
See, No. 7 Yutan was 39-7 better than No. 9 St. Paul last night.
"I'm so proud of those guys," Fuller said of his senior footballers, the guys who will come back to town in five years and tell him how much 2016 meant. "The didn't have me their freshman year and then they had to transition to me their sophomore year. They only won two games my first year and only one last year.
"We didn't know what to expect. Our senior leadership was top notch. They really set the standard for the underclassmen. I told our underclassmen, they set the standard, you raise it."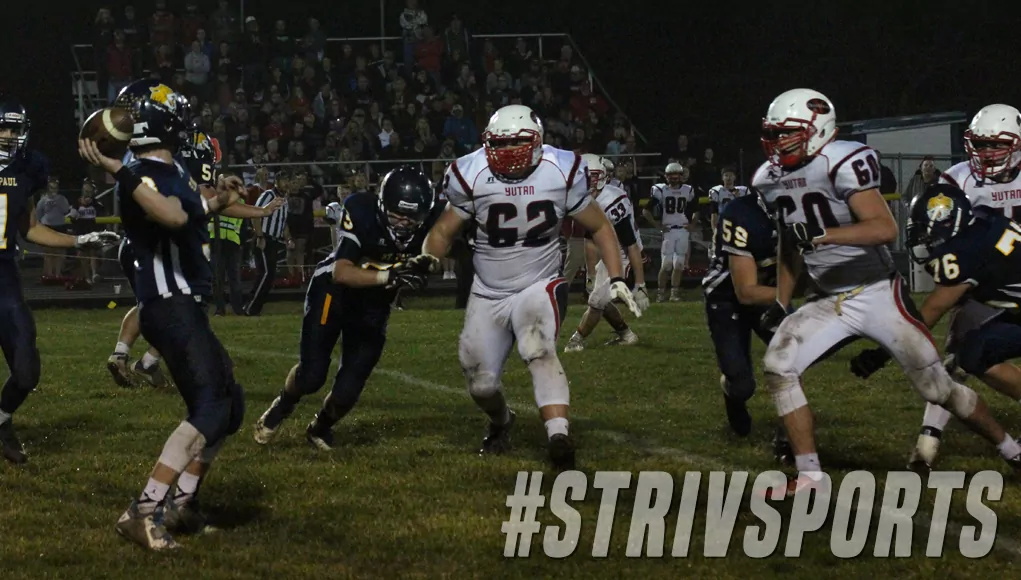 One the other side of the field was the fun stuff.
Senior captain Trevor Ziemba, who ran for 109 yards and had two touchdowns, couldn't wipe the grin off his face. After losing their first two games of the season, the Chieftains have won eight of their past nine outings. The only loss in that stretch was top-ranked Wilber-Clatonia, the team they'll host in next Friday's semifinals.
"This is crazy," he said. "I want another shot (at Wilber-Clatonia). We've made many strides since the beginning of the season. We've been hitting the weight room, working hard in practice, hustling. Doing what coach tells us to do."
Like most good teams in November, Yutan leans on their line anchored by juniors Jadyn Stuart and Colton Feist. The interior has Levi Kult, Devin Hinrichs and Cole Egr. Only Kult is a senior. In addition to Ziemba, the Chieftains use Parker Strand (89 yards and three scores) and speedster Bryland Menicucci (15 carries for 140 yards) at tailback.
"(St. Paul's) defensive line has motors, they are quick," Yutan coach Dan Krajicek said. "So we thought we'd be able to hit some traps early. Then they switched to a little different front and that hurt us inside, but we were able to run outside. Thankfully, we have enough speed and our lineman can get out there and block.
"Those three backs are so tough. But, they are all different runners. I kind of tell them we'll rotate as much as we can and go with the hot hand."
So, the 16-seed in Class C-2 is into the semifinals with wins by a combined score of 73-13. We'd say the slipper still fits for the Cinderella, but these two wins have not been upsets. Simply, the Chieftains have learned and got better. The ultimate lesson in high school sports.
Now, Krajicek gets one more week to teach and pull his hair out watching Wolverine film.
"That is a fantastic football team," Krajicek said of Wilber-Clatonia. "I am not looking forward to having to play that line again. Those guys look like a college line coming off the bus. We have our work cut out for us. See if we can keep it close in the fourth quarter and make a game of it."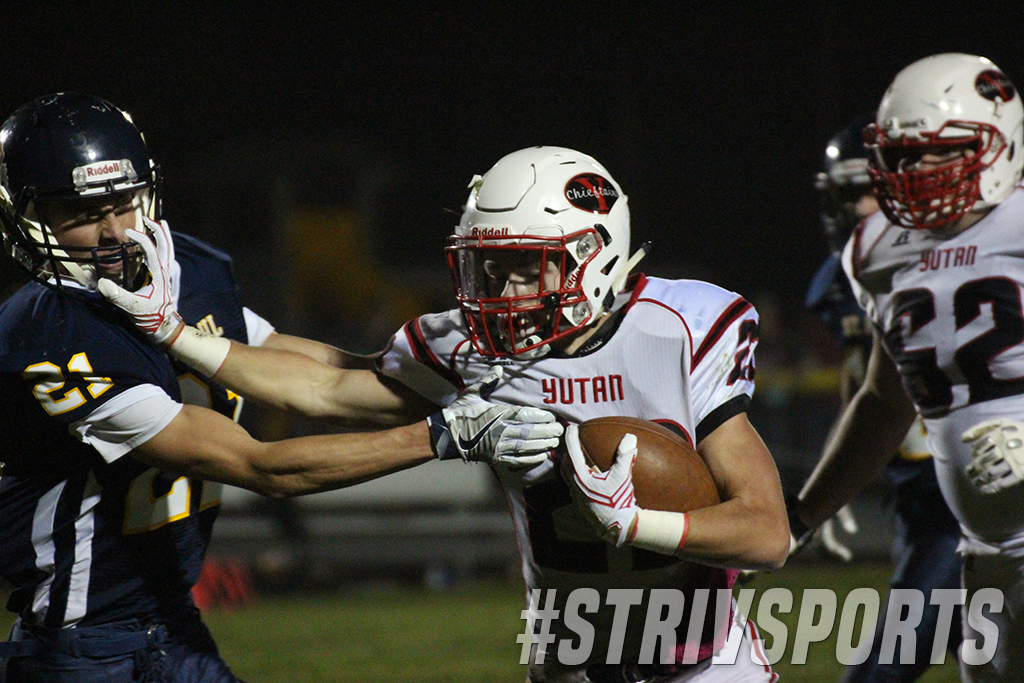 PS, This is Austin
His buddies just call him Stu.
Seems simple enough for a kid as humble and Heartland's Austin Stuhr. Class D 100 meter track champion as a junior, but who kept working over the summer. He wasn't satisfied with just going through the motions for his final rounds.
So, about that senior season. Well, the first one in football is still going. His Huskies were 70-42 winners in the round of 16 in the 8-man on Wednesday over East Butler. Their next stop is a date with top-ranked Guardian Angels Central Catholic. The team record is 9-1, all "Stu" care's about at this point.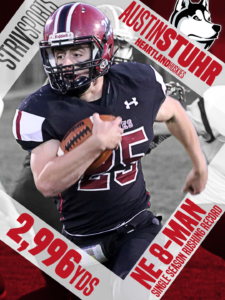 "It been fun to come this far with our team," he said after the East Butler win. "It's been amazing. I don't set numbers for myself. I know my whole team has been working hard in the summer and what we get is what we get. We've become a lot closer as a team. We are a solid team now."
See, in that win The Rewind (and Bobby Mills and Stu Pospisil and Ryly Jane Hambleton) saw Stuhr set the state 8-man record for yards in a season. Twelve more and he'll have the state record set two seasons ago by Omaha North's Calvin Strong.
He doesn't act like a record setter, he just plays like one. Couldn't we all learn from soaking in a little bit from Austin Stuhr.
"He's a workhorse. He's a workhorse in the weight room," his coach Matt Maltsberger said. "He has a desire to be successful. He has a desire to get to the football (on defense). He has passion. When you get athletic ability and hard work with it, that becomes pretty special.
"He's a special kid. But, we have a lot of special kids."
Kids that get to ride the bus one more time on Tuesday.
The Catch
They will be talking about Wyatt Liewer's catch in O'Neill for quite some time. The one that sent the Eagles to the semifinals with a 15-12 win over David City Aquinas on Friday night.
Nick Benes, Norfolk Daily News team and NCN Nebraska had nearly every angle covered.
But, it's was this quote from Liewer — about being the dreamer in a town where football hasn't always been a big deal — that caught us.
"I remember always playing football on the little field over there (pointing west of the field) and looking up at the scoreboard, and they were always getting their butts kicked," Liewer told Benes. "I don't ever remember us winning like this, so that's good."
The dream moves now to Boys Town for the Eagles, looking to make their first trip to the finals since 1982.
Full recaps of all the Wednesday 8-man game and last nights games on our Playoff Pages.