GREELEY COUNTY FAIRGROUNDS — Charger Right, 36 Option.
Do-everything Riverside star Noah Valasek broke this play down for me that is a staple in Joe Imus' 6-man playbook. I'm sure it would make his high school coach — Albion, Boone Central, Boone Central/Newman Grove legend Arnie Johnson — proud.
It's one that Valasek and his Riverside Charger football buddies — he says they are about a 50-50 split between Cedar Rapids and Spalding — like to execute to perfection. Little they do is wrong anyway. We watched them dismantle Deshler here yesterday 82-19 for their fifth win in as many tries.
No wonder the defending champions are ranked No. 1 in the six-man game. What with three returning all-staters from last year's team. Valasek is just a junior.
So, what of this Charger Right, 36 Option.
It's a tight formation for the six-man game. End, center, end bunched together on the line. Quarterback Ty Martinsen under center. Valasek about nine yards deep as a tailback. All-state linebacker Jake Kennedy is flanked to the right and just ahead of Valasek. Martinson simply takes the snap and pitches to Valasek.
"First we run a little bit of zone read with Jake and myself," Valasek said. "I can give it to him if the line comes crashing at me." Or, not.
Martinson, after his pitch spins around all the way behind Valasek as the first option takes place. "If I keep it, then we can run option with Ty," Noah continued to explain. "At that point, we really can do anything. I can keep or pitch depending on how the defense plays us. And…"
Oh yeah, the last option. Since Valasek generally gets all of this done when he is still behind the line of scrimmage, he has a final forward pass option to 6-5, 225 pound senior Tanner Hudson. The all-state end and one of the best basketball players in the state regardless of class."
"…if I see the linebackers coming up hard at us," Valasek says with a big smile, "then, I can just flip it to Tanner."
In a game where it's 1st-and-15 for a first down and the quarters are just 10 minutes long, the Chargers have little trouble moving the ball or scoring. They average 71.8 points per contest and give up just 15. In doing so, they beat St. Edward (4-1 and ranked fourth) and Hyannis (ranked third at the time of the game).
They'll watch for the best of the west — currently Wilcox-Hildreth and Wauneta-Palisade — for a possible date for the six-man final at Nebraska-Kearney. Whoever it is, they'll need to be ready for Charger Right, 36 Option.
Fighting on and Finishing
THE CORNER OF HIGHWAY 81 AND 66 — As you turn into the school at Cross County (a merger of the Stromsburg and Benedict school districts) here, the sign says is 10 miles to Polk — home to High Plains High School.
So, on the football field here Friday, most of the kids know each other. They play baseball together — some of their classmates are on a softball cooperative called the Polk County Slammers — or maybe even work the same job in the summer.
"I told our kids this morning, you don't get these very often anymore," High Plains principal/athletic director/basketball coach Cameron Hudson told our Eric Allgood at halftime. "You get dressed in your own locker room and get in the bus and go play. We used to do it all the time."
And, while Hudson waxed nostalgic of his days playing for Polk-Hordville (before they added Clarks to the district), he's, unfortunately, right. As Ollie said in "Hoosiers" over 30 years ago, school consolidation is 'progress.'
Progress on Friday night for the eighth-ranked Storm was finding a running back for the injured Garrett Lesiak and coach Greg Wood went to straight to his….line? He found, Josh Demers.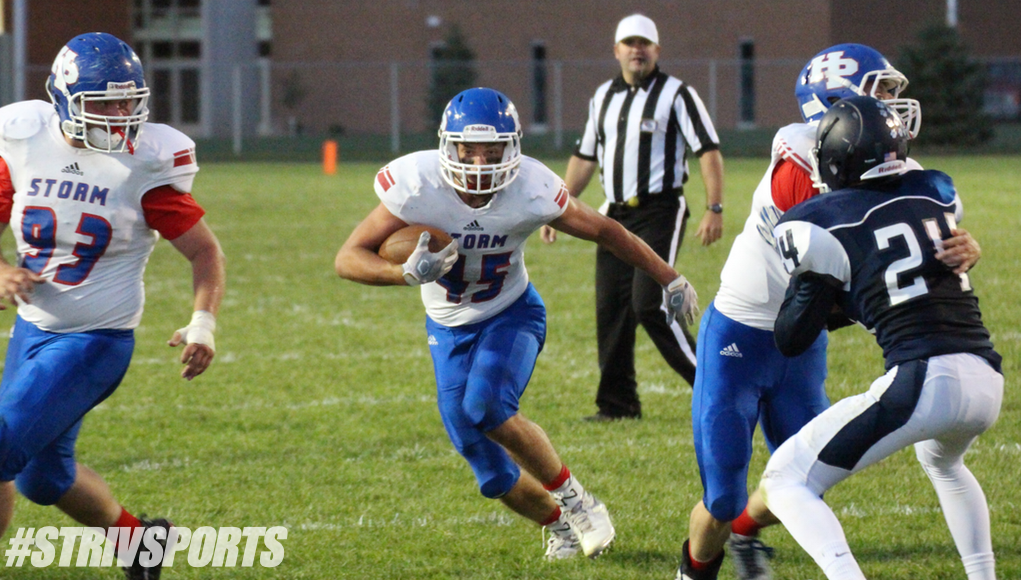 The 6-2, 210 pound senior is listed as an offensive lineman and linebacker on the High Plains roster. So it seems fitting that he carried 17 times for 186 yards and have five total touchdowns in the Storm's 51-14 win over the Cougars.
"He's been bugging me for four years to play running back," Wood said after the game. "We never told him he couldn't but that if he wanted to really do it, he'd have to work on some things and get a little bit faster."
Speed didn't seem to be an issue on Friday night for Demers. He ran away from defenders on his first score, a 42-yard pass from Thomas Young that was just out in the flat, and on his second, a 54-yard scamper that gave the Storm a 28-6 lead midway through the second quarter.
Now, the Storm is focused on health after facing a brutal opening stretch that included five playoff qualifiers from 2014 and the current No. 1 Guardian Angels Central Catholic and No. 4 BDS — the Storm's only losses.
"We feel pretty good about what we can do," Demers said. "We played right with some good teams. Now we just need to stay focused and hope we can finish 6-2 and go to the playoffs with momentum."

Let's Rewind
Class A
No. 1 Wildcat defense dominant, again | NebraskaHSFootball Report
No. 3 GISH rolls Fremont, stays unbeaten
No. 4 Central stays perfect in shutout of defending champs | NebraskaHSFootball Report
Norfolk stays unbeaten, Millard West next
Class B
Pius nearly pulls upset of No. 1 Omaha Skutt | NebraskaHSFootball Report
No. 6 Plattsmouth does, beats No. 3 Gretna, 50-49
McCook, Aurora win weather-shortened panhandle games
Class C-1
No. 2 Scotus has make of title contender, blanks No. 4 Neumann | Journal-Star Report
Second quarter spurt lifts BC/NG to upset of No. 3 Pierce | NebraskaHSFootball Report
Class C-2
No. 3 Mustangs upend Doniphan-Trumbull, 16-13
Aquinas takes down No. 9 Brownell-Talbot
Eight-Man
No. 8 Sandhills/Thedford stuns top-ranked A-M in D2