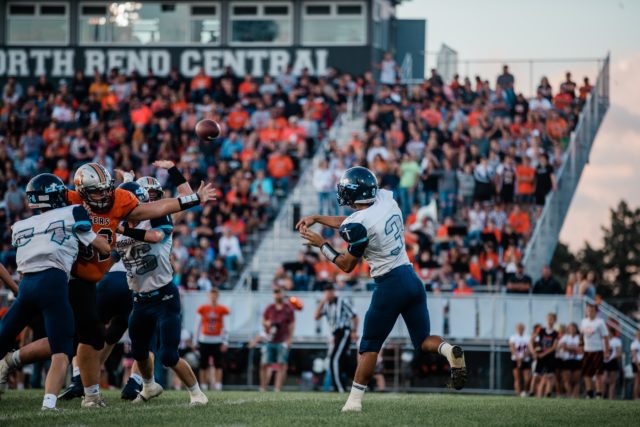 It's the first Friday of fall and hopefully it feels like it wherever you go on Friday night. Whether watching at home or taking us with you to a game, who the best teams are is starting to round into form. We'll know even more after Friday night's games. You can find all of the Striv games right here. Here are five more that will pit some of the best in the state.
Alma (3-0) at Class D-1, No. 4 Dundy County-Stratton (3-0): Something will give for these two who have each dominated opponents through three games. DCS is doing it all on the ground — literally — through three games, having rushed for 1,173 yards on 110 carries (yeah, that's a first down every time) and passing only 10 times. Alma quarterback Daylon Russell has ran for 193 yards and passed for 615 in three outings. DCS Striv.
Neligh-Oakdale (3-0) at Laurel-Concord/Coleridge (3-0): A pair of unranked, unbeatens square off in Laurel with a possible state ranking on the line. Both teams have high-powered offenses and the Bears have given up just 40 points in three contests — third best in the class. The big question surrounds each team's schedule. Their opponents so far have three wins total. LCC Striv.
Class C-1, No. 5 Wahoo Bishop Neumann (4-0) at Columbus Lakeview (3-1): The post Tim Turman era has started just fine for Bishop Neumann thank you. The Cavaliers are off to a promising 4-0 start and have given up just 33 points in four outings. Running back David Lilly has 509 yards rushing on the season. For the Vikings, the playoffs begin now as they play four straight ranked teams in an effort to make the playoffs after missing last year with a 6-3 record. Columbus Lakeview Striv.
Class C-1, No. 6 Ord (3-1) at Class C-1, No. 3 Adams Central (4-0): Two teams that could be right in the mix of things when November rolls around in the Class C-1 playoffs. The Chants have just a week three loss to second-ranked Pierce, while AC has navigated a difficult early schedule with wins over defending champion Aurora and eighth-ranked Gothenburg. Patriot signal-caller Evan Johnson is now within 600 yards of Scott Frost's Class C-1 career passing record. Adams Central Striv.
Overton (1-2) at Class D-2, No. 6 Pleasanton (3-0): A little bit of a mild surprise to the start of the season for Pleasanton, especially have defeated perennial power Kenesaw last week, 54-42. Now their attention turns to another power in the Eagles who have two close losses (one of them to Kenesaw). The Bulldogs have let it loose on offense with quarterback Jackson Keaschall throwing for 983 yards in his first three game. This one feels like a playoff preview. Pleasanton Striv.