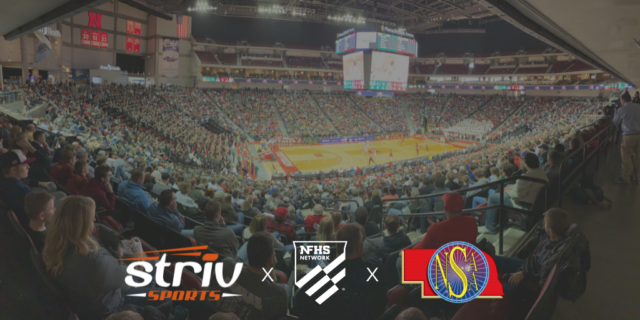 We are excited to announce that Striv Sports will be producing 48 first and second-round games from the 2022 NSAA State Basketball tournament, March 7-12 in Lincoln.
We are expecting over 100 hardworking teachers and students across the state to help out with the live production of these games.
"This is an incredible hands-on learning opportunity for these students. It's their state tournament too," said Eric Allgood, Director of Productions at Striv.
Follow @StrivSports and @Striv_Education on Twitter to follow the action and see the work the students are doing throughout the week.
You can go to NFHS Network and watch all of the girls and boys first-round and semifinal games next week.
The following games will be streamed by Striv and our talented student crews on the NFHS Network:
First-round games at Pinnacle Bank Arena – Monday, March 7th
9:00am – B Boys
10:45am – B Boys
1:30pm – A Girls
3:15pm – A Girls
6:00pm – A Girls
First-round games at Lincoln Northeast HS – Monday, March 7th
9:00am – D2 Girls
10:45am – D2 Girls
1:30pm – C2 Boys
3:15pm – C2 Boys
6:00pm – C2 Boys
7:45pm – C2 Boys
First-round games at Lincoln North Star HS – Monday, March 7th
9:00am – D1 Boys
10:45am – D1 Boys
1:30pm – D1 Boys
3:15pm – D1 Boys
6:00pm – D2 Girls
7:45pm – D2 Girls
***
First round games at Pinnacle Bank Arena – Tuesday, March 8th
9:00am – B Girls
10:45am – B Girls
1:30pm – A Boys
3:15pm – A Boys
6:00pm – A Boys
First-round games at Lincoln Southeast HS – Tuesday, March 8th
9:00am – D2 Boys
10:45am – D2 Boys
1:30pm – C2 Girls
3:15pm – C2 Girls
6:00pm – C2 Girls
7:45pm – C2 Girls
First-round games at Lincoln Southwest HS – Tuesday, March 8th
9:00am – D1 Girls
10:45am – D1 Girls
1:30pm – D1 Girls
3:15pm – D1 Girls
6:00pm – D2 Boys
7:45pm – D2 Boys
***
Semifinal games at the Devaney Center – Wednesday, March 9th
9:00am – D1 Boys
10:45am – D1 Boys
1:30pm – C2 Boys
3:15pm – C2 Boys
6:00pm – D2 Girls
7:45pm – D2 Girls
***
Semifinal games at the Devaney Center – Thursday, March 10th
9:00am – D1 Girls
10:45am – D1 Girls
1:30pm – C2 Girls
3:15pm – C2 Girls
6:00pm – D2 Boys
7:45pm – D2 Boys