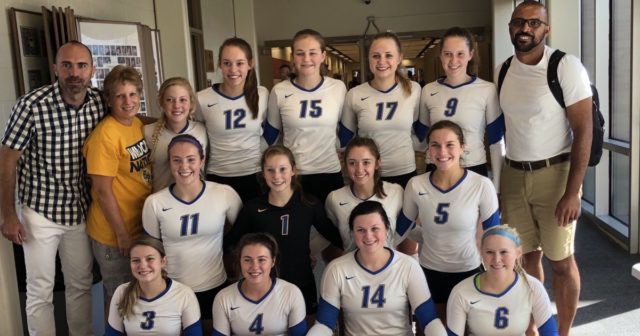 ON THE FARM, NEAR ST. PAUL — St. Paul volleyball coach Matt Koehn has a little time to chat while he's doing cattle chores — mainly filling up some water buckets — on a Wednesday night.
And we are grateful.
His team is 15-0. Ranked third in the most insanely competitive class in Nebraska prep volleyball — Class C-1. They've lost a single set all season and are fresh off a championship at the difficult Harvest Festival tournament in Gothenburg this past weekend.
"We just had our most difficult practice of the season," he says, always looking for a way to find that extra ounce of competition from his team. "We have had to work for a bunch of those sets and have played some really good competition. We know there are some 5-set matches in our future."
In St. Paul, Koehn has built a volleyball program that looks much like the town it represents: do the little things right (serve, defense, passing), work harder than everybody else, be a good teammate by helping those around you. It's not rocket science, but it's also not easy.
The Wildcats have been one of the most consistent teams in Class C-1 since coach arrived in 2007. They made it state in his first two years, but have only gone back once.
That is the rigor of volleyball when you are within an hour of Columbus Scotus, Grand Island Central Catholic and Kearney Catholic, who, for most of his tenure have ended the Wildcats season and then went and won a state title. Even when they went to state in 2016, they drew eventual champion Omaha Concordia in the first round.
You get the sense he has a little Tom Osborne in him, in that he doesn't lose sleep over it. He's more worried about who his players are after they leave, not that in three of the past five years they have been the "first team out" of NSAA wild card points for post-district volleyball.
Enough of the past, the 2018 Wildcats are good — very good.
Koehn thought they'd have a chance after going 26-7 last season with just two seniors. This year's group has four seniors, but only two juniors and is relying on freshmen and sophomores in the main rotation.
The coach talks about his seniors — Hayley Fox, Grace Jerabek, Alexis Sack and Bree Carlson — as if they are the four corner pieces that hold the puzzle together. Fox leads in kills (357), Sack in blocks (17, she's only 5-5), Jerabek shares setting duties with freshman Olivia Poppert and Carlson is a back row defensive specialist.
"Hayley is finally healthy and you could say she is the 'face' of our program," Koehn said. "She's in the best shape of her life. Grace went from being our only setter to sharing with Olivia and she has been great, they are best friends.
"Alexis is our brain. She knows where the ball is going to go, is our best communicator out there. And, Bree might be our best athlete. We move her around to get her as many plays as we can in the back row."
That's not even all the pieces. Add in returning starters Josie Jakubowski (283 kills) and Brooke Poppert (243 kills). Noel Roan and Teegan Hansel (100 kills) are newcomers to the rotation and Paige Lukasiewicz has been a consistent libero.
"They get along really well, sometimes we almost think they are too nice," Koehn chuckled. "We are looking for that one girl who might step up and be just a little more vocal. But, they have been focused."
Such is the consistency of Koehn's program which has been blessed to reload and not have many seasons, or reasons, to rebuild. He said the success is a combination of many factors, but mostly comes down to where he picked to live and teach and coach volleyball.
"We have a great town, great community support," Koehn said. "Awesome parents, a great student section. And, I think the girls know that I wouldn't trade them for anyone else. They know we have high expectations for them.
"If we have a day off from school, but have practice, everyone shows up 20 minutes early. Summer weights had 100% attendance; they all take a weightlifting class. They want to do things right. They do two or three sports. They know that we push them and they are ready to be pushed."
It is the Wildcat Way.
Six Rotations
This is the third in our new weekly feature called Six Rotations, which we hope will bring six different volleyball stories each week. If you have a good one hit us up in our Twitter DMs at either @strivsports or @tony_chapman76. Volleyball in this state is awesome and we need to promote it the best we can.
Rotation Two: Not just the 'Cats | St. Paul is one of four Striv schools in the Neprepzone top five in Class C-1. They join top-ranked defending champion Wahoo, second-ranked Lincoln Lutheran and fifth-ranked Grand Island Central Catholic.
Rotation Three: Riding the Buss | Do-everything Lincoln Lutheran star Marriah Buss had 47 kills in a triangular sweep of Wahoo Neumann and Fremont Bergan on Tuesday night. The three teams entered the night with a combined record of 37-1.
Rotation Four: Efficient | Four Striv athletes are in the top-10 in the state in hitting efficiency neary the halfway mark of the season. Wahoo's Kyla Swanson (.531) leads the way, with Buss sixth, Elkhorn South's Rylee Gray 7th and Johnson-Brock's Fallon Stutheit tenth. Full stats.
Rotation Five: Bad Bracket | You really should pay to unlock Berk Brown's "Big Bad Bracket" over on Nebraska Prep Volleyball. But, don't tell him I told you to do that. He'll let it go to his head.
Rotation Six: Tune In | There will alway be a special spot down here for some big games. Tonight you can catch these ranked teams: unbeaten Thayer Central travels to Milford, Grand Island Central Catholic takes on Adams Central and Cambridge hosts a triangular with Eustis-Farnam and Arapahoe.