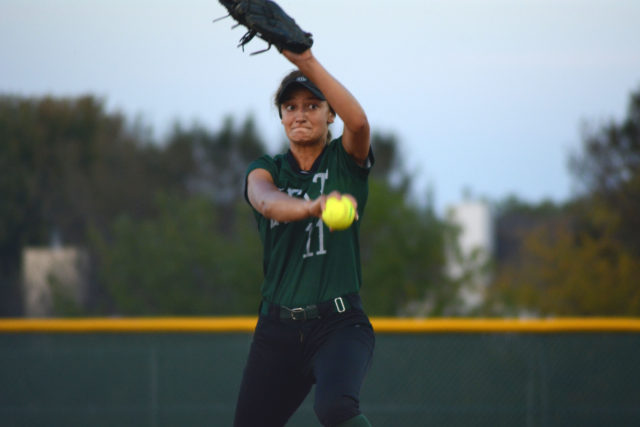 Across Nebraska, the dream chasing is underway. On a cool blustery morning, today, softball districts began. Earlier in the week, girls golf districts got the state tournament post-season started across the state.
This week's On the Sideline will try to catch you up — a round up if you will — of the girls golf performances that caught our eye and some softball previews as the district season rolls around before heading to one of the great state tournament atmospheres in the state next week in Hastings at the Smith Softball Complex.
In Kearney, the Bearcats got a district golf title from senior Madeline Murray who shot a 76 at Meadowlark Hills to beat Millard South's Grace Rasmussen by three shots. Murray will take her teammates with her to Norfolk Country Club as Kearney won the team title with 352 on a cloudy, windy Monday. They have shot season best scores in each of their last two meets.
"We like the way we are trending," Kearney coach J.D. Carson told the Kearney Hub. "We've got to remember what got us here, and its the work. We've got a week left to get some more work in, and hopefully take some more strokes off down in Norfolk."
They will be joined in Class A by Millard West, who shot a 377 at Columbus' Elks Golf Club to finish second in the A-2 District behind Elkhorn South. Gabrielle Wakefield and Izzabelle Puk both medaled for coach Kent Speer.
In Class B, Aurora took the Class B-3 team title at York Country Club behind a solid showing from freshman Danica Badura. Her third place individual score of 81 and Tiffany Conrad's eighth place 96 helped the Huskies to the team crown with a team score of 381, four shots ahead of second place York who also qualified for the B tournament in Columbus at Quail Run Golf Course.
"We thought we could be in the top three at districts," Aurora head coach Rick Bell said to the Grand Island Independent. "We started playing and won a few meets and got second in a few meets. That was kind of our goal to be in the top three and the girls really thought they could win this."
At Quail Run in the C-2 district, West Point-Beemer senior Lacie Fox ran away with the district title posting a 73 to win by 15 shots. You read that correctly. Also at the C-2, Shelby-Rising City qualified as a team.
State golf begins at three sites: Norfolk Country Club (A), Quail Run in Columbus (B) and Lake Maloney in North Platte (C) on Monday. Play will be 36 holes concluding on Tuesday.
Softball in final week
Softball districts opened play today, with three Striv schools in the neprepzone.com All-Class Top-Ten, and an additional five schools in the three class rankings. In Class C, Twin River in the No. 1 team in a district with sixth-ranked Central City.
While Class A determines districts based on season long play (seeding each district with no pre-set geography rules), the other two classes still use geography. The result can mean some loaded districts, especially this year in Class B. Year after year, it seems, the World-Herald's Steve Beideck comes up with a reasonable solution. Maybe the schools might consider some new options moving forward.
One of those loaded Class B districts is in Beatrice at the B-4, where the host Orange are 17-12, once ranked and the seventh seed. The seventh seed. Also included are No. 4 York, No. 5 Pius X, No. 8 Waverly. Crete, ranked most of the season is the third seed.
The Cards are led by one the top pitchers in the state, Camry Moore, who this week committed to the University of Sioux Falls. The Lincoln Journal-Star profiled Moore earlier this week and her catcher; freshman cousin Morgan Maly.
Striv Standouts
SOFTBALL: Sydni Kunc, Wilber-Clatonia. Struck out 22 batters in the Southern Nebraska Conference tournament as the Wolverines defeated Milford for the championship.
VOLLEYBALL: Jaela Zimmerman, Malcolm. Had 30 kills for the Clippers as they defeated North Bend Central in four sets.
FOOTBALL: Derek Sis, Perkins County. In the Channel Seed Game-of-the-Week, Sis had 267 yards on 32 carries as they No. 2 Plainsmen defeated Dundy County-Stratton 66-26.
FOOTBALL: Kale Kleinschmidt, BDS. Ho-hum game for Kale with 203 yards from scrimmage and five touchdowns as the Eagles remained unbeaten on the season. No. 2 gets No. 3 Falls City Sacred Heart on Friday in Bruning. A likely district title on the line.