AMHERST — Part "something in the water" and part "getting kids to play when they are young" is how Bill Giffin and Chase Klingelhoefer describe the winter success in this farm town near Kearney.
You could probably add hard-working kids and excellent coaches to the list for these Broncos who, somehow, sport the top-ranked Class D wrestling team and the third-ranked boys basketball team in Class C-2 this week.
With an enrollment of just 85 students, one great team certainly seems possible. But two? That's what the Broncos have managed.
*****
Klingelhoefer was there when the wrestling dynasty in Amherst moved to the next level. They have always loved the sport here; consider that they have had one wrestler in the state finals every year since 1994.
Since he was a sophomore in 2006, the Broncos have been in the top-two in the Class D team race ever since. They have won seven straight state championships.
Now, after long-time coach Tyler Herman took an administrative position at Kearney, he is leading the troops. There has been no stepping off the gas pedal, though he admits some early nerves.
"I think maybe this summer there was more pressure than when the season started," Klingelhoefer said. "Once we got through camps and knew where kids were going to fit, it's gone well."
He returned just seven wrestlers off last year's title team and only three medalists, but the train has moved down the track just fine. Seven wrestlers are in this week's state rankings and the Broncos will compete in 12 of 14 weight classes at districts.
"We feel like our depth is key for us," Klingelhoefer said. "We might not dominate every weight class, but we have all of our guys who can score points for us. And we have four or five guys who are really our glue guys that lead the team."
The top of that list is the coaches cousin, Kalen Klingelhoefer. The senior is top-ranked at 170 pounds and 31-0 on the season after finishing third at last year's state meet.
"He's just been lights out for us," his coach said.
Dane Bogard is top-ranked at 195 after defeating the then third and top-ranked wrestlers at Plainview last weekend. He was in the finals last year. The Broncos other returning medalist is junior Trace Baasch (145) who is just outside the rankings.
Other ranked wrestlers are: Isaiah Shields (106), Sal Aguirre (113), Breidyn Cumpston (120), Sam Flores (138) and Jacob Peterson (285).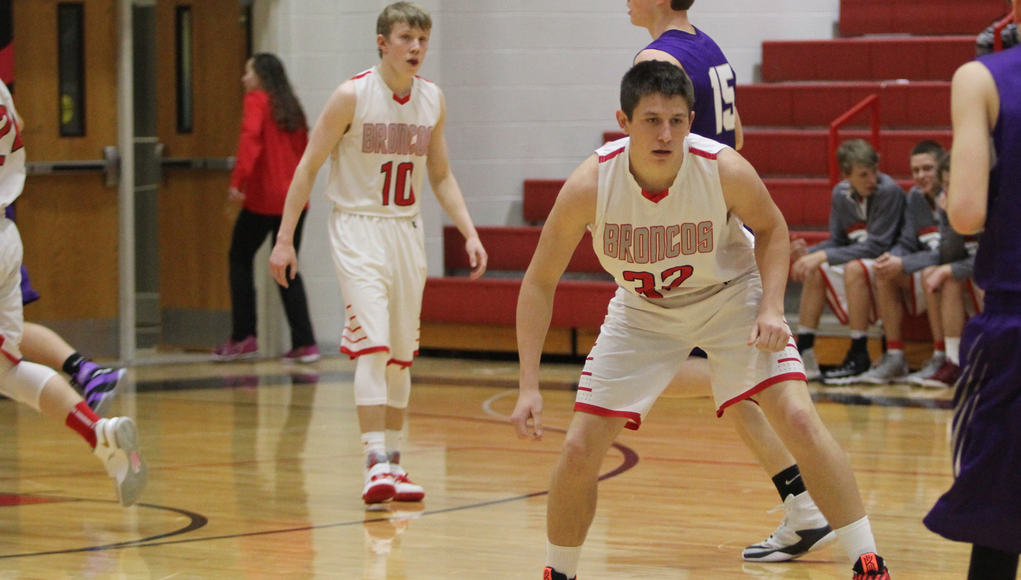 When the mats get rolled up, the Broncos do just fine on the hardwood as well. Giffin's team is 15-1 heading into tonight's game with unbeaten Sumner-Eddyville-Miller, the only loss to Kearney Catholic.
"For the most part, I think we have continued to play pretty well this year," Giffin said. "We need to keep focusing on our defensive effort and to keep improving."
The Broncos are looking for their third straight trip to the state tournament after qualifying in 2015 for the first time since 1987. They'd also like to be the champ instead of running into them in Lincoln. They lost in the D-1 first round to High Plains in 2015 and last year took champion Hastings St. Cecilia to the final minute in an electric Class C-2 semifinal session, eventually finishing fourth to Winnebago.
While Giffin graduated three starters off that team, expectations were still high. Senior point guard Trevor Adelung is averaging nearly 20 points per game and junior Holden Eckhout is averaging a double-double of 16 points and 10 rebounds per contest.
"Trevor really runs the show for us," Giffin said. "He's got a good motor and kind of that 'it factor.' And, he shoots about 45 percent from three and 80 percent from the line so we like the ball in his hands."
Eckhout, the coach said, "is really playing with a high energy level our last few games. He's a kid that can play inside and outside for us and he can run the floor."
But with stars comes the need for role players and Giffin said their other three starters have played well all season and the Broncos can bring in four others off the bench.
Senior transfer Clay Lucas is averaging 11 points per game and "really plays defense with a chip on his shoulder" the coach said. Dakota Abbott (43 blocks) and Grant Bergstrom — both at 6-4 — give Amherst a bit more post presence than they had had in recent years.
Juniors Trevor Lockhorn, Evan Parker, Riley Thomsen and Colleen Jaixen all are providing good minutes off the bench the coach said.
As the home stretch continues on, Giffin hopes his team can build off past state tournament experience.
"Games like tonight (against SEM) where the gym is full, those are the ones you want," he said. "We have some big game experience now, even our guys who were with us but didn't play, they experienced what is was like in those big games last year.
"You can really build on that."
******
About that water.
Giffin notes that much of the success now in Amherst is with "generational kids." Klingelhoefer feels the same.
"A lot of the kids we have now," Klingelhoefer said, "had parents who were successful." Even the head wrestling coach, who sits by his former state champion father gets that feeling. David Klingelhoefer has been an Amherst assistant for 14 years.
And, just like anything in most farm towns you can also trace that success back to hard work. In Amherst, kids are in the gym at a young age.
Giffin counts the success of his program to the work his assistant, Les Adelung, has put into building a youth basketball program.
"That's really what it takes to get some success," said Giffin, now in his fifth season at Amherst. "When I came over, I just wanted to help Les keep that going. That's what it really takes is getting kids valuable instruction."
Klingelhoefer is able to do the same.
"We probably have 60 kids in youth wrestling," he said. "That's just how it has always been. Even when I was growing up, we wanted to be just like the high school kids. And, from there, it snowballed."
It all adds up to successful winters in Amherst. And community trips to follow their teams. Whether in Lincoln or Omaha, you can bet the Broncos will be there.