Twin River volleyball coach Julie Strain thought her Titan volleyball team might have a chance to turn a corner in 2016. But their start so far, is beyond her expectations.
The Titans (7-1) are off to their best start since 2011 when they went 27-7 and finished fourth in Class C-2. It's the school's only appearance ever at the state volleyball tournament. As of Wednesday, they stand third in the C-2 point standings.
"I think it's a little bit of a surprise," Strain said Tuesday afternoon. "But, at the same time, I knew the girls had put in a ton of work over the summer and that we would be much better than we were last year."
The Titans, Strain said, were bolstered by a 2-1 effort at the Columbus Scotus Invitational where their lone loss was to preseason top-ranked Stanton. In the process, they defeated Hartington Cedar Catholic (8-2) and Columbus Lakeview (7-3). Last week they ripped off four wins in a pair of home triangulars against Class C-1 and B competition.
"Going into Scotus you are concerned because the level of competition is so high," Strain said of her team's third place finish. "I think we came out of that weekend with great confidence."
Twin River had won just 36 matches in the four years since their state tournament appearance, but Strain said a strong senior class of seven girls had been working to get to this point. In addition, an early season injury to Sara Czarnick last year has been a blessing in 2016.
Czarnick, who won the 2015 and 2016 Class C long jump titles, was slated to start at setter last fall as a junior. But, in the first set of the season against Osceola she went down with a season ending ACL injury. That meant freshman Gabi Wieck was forced into a starting role.
And, while learning on the fly was hard last year when the Titans finished 6-24, Wieck has taken over the role full-time allowing Czarnick to play anywhere on the floor.
"Last year was hard because we had based on our offense in the summer around Sara setting for us and then she got injured," Strain said. "But, Gabi worked hard and she runs the offense now. It's been a blessing.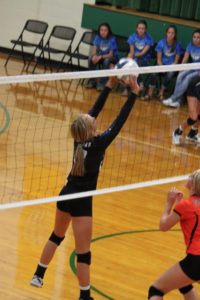 "Sara is so versatile and she is a competitive leader. She doesn't let anyone else take any plays off."
Junior Alexis Borowiak lead the Titan offense early in the season with 48 kills through the first eight contest, but their balance shows on the stat sheet. Seniors Taylor Kemper, Lexi Raemakers and Courtney Nelson add 41, 34 and 32 kills each.
Strain said they all bring unique skills to the team.
"Alexis is probably the girl we are going to go to if we need a kill," the coach said. "Taylor and Courtney in the middle have both really improved. Their vision on the court and hitting different shots has helped us. And Lexi is one of our best defensive players as well."
Strain said libero Samantha Wyman has improved her play as well and is fourth on the team with 51 digs on the season.
"She's worked so hard," Strain added. "And, man, she is getting to balls that I have already given up on most of the time."
Tonight the Titans turn their attention to Class D-1, No. 10 Fullerton in a game that can be seen on the Warriors Striv channel. Strain said they are looking forward to the challenge.
"This is kind of our next step," she said, "to get to play a ranked team and see how we stack up. We played some C-1 and B competition last week and handled that pretty well. We will need to play our best and our block will be important against their tall lineup."
---
Striv Standouts
SOFTBALL: Twin River Softball team. More love for Twin River here. The Titan softball team is 16-2 and at the top of the Class C wildcard point standings after a 6-3 win over Central City on Monday. Calista Pilakowski (10-2, 135 strikeouts) and Tera Paczosa (6-0) lead the way in the circles, but the Titans have six players betting over .300 and have outscored opponents 158-34 on the season.
VOLLEYBALL: Kylie Broich, GI Northwest. Maybe one of the top all-around players in the state, Broich sparked the Vikings to a commanding sweep of Kearney on Tuesday with nine kills, five aces and 19 set assists in three-set win.
FOOTBALL: Austin Stuhr, Heartland. The senior ran for 386 yards on 41 carries, scored six touchdowns and had 10 tackles in a 74-44 win over Giltner on Friday. For the season, Stuhr has 641 yards on 66 carries in just two games.
FOOTBALL: Kaden and Hunter Reimers, Palmer. In the Tigers 42-38 win over previously top-ranked Burwell, Kaden was 20-for-43 through the air for 326 yards and five touchdowns. Cousin Hunter added 23 tackles on defense as Palmer entered the Class D-1 rankings at tenth.
Coaches: Want your athlete recognized as a Striv Standout or featured On the Sideline? Drop us an e-mail to [email protected] or [email protected] Even better? Enter your stats into maxpreps.com and we'll go looking. We can spot a good performance if it's there for us see.