OMAHA — They say records are made to be broken, even if we didn't think it would ever happen. So, there was the Valentine wrestling team on the podium as the 2017 Nebraska State Wrestling Championship came to a close.
When did you know this was a possibility, coach Shane Allison?
"About three years ago," he said, not missing a beat. "Saw this team coming for awhile. Just an unbelievable group."
You can say that again of this group and the post season records they set or matched: points in a tournament (195), individual state champions (four, tied), pins in a district tournament (30, tied), state medalists (nine, tie).
It was a probably a decent bus ride back, but knowing these kids they have a duals trophy they'd like to add to their collection. Six of those medalists will return, but Allison said the Badgers wouldn't have ended up where they finished without a great group of seniors.
"We will lose some senior studs," the coach said. ""We just had a great group of seniors. You just cannot have a season like we did without great senior leadership."
The record, previously held by Guy Mytty's 1989 Tekamah-Herman's team that also had nine medalists, was thought untouchable by most giving the great parity in Class C most seasons.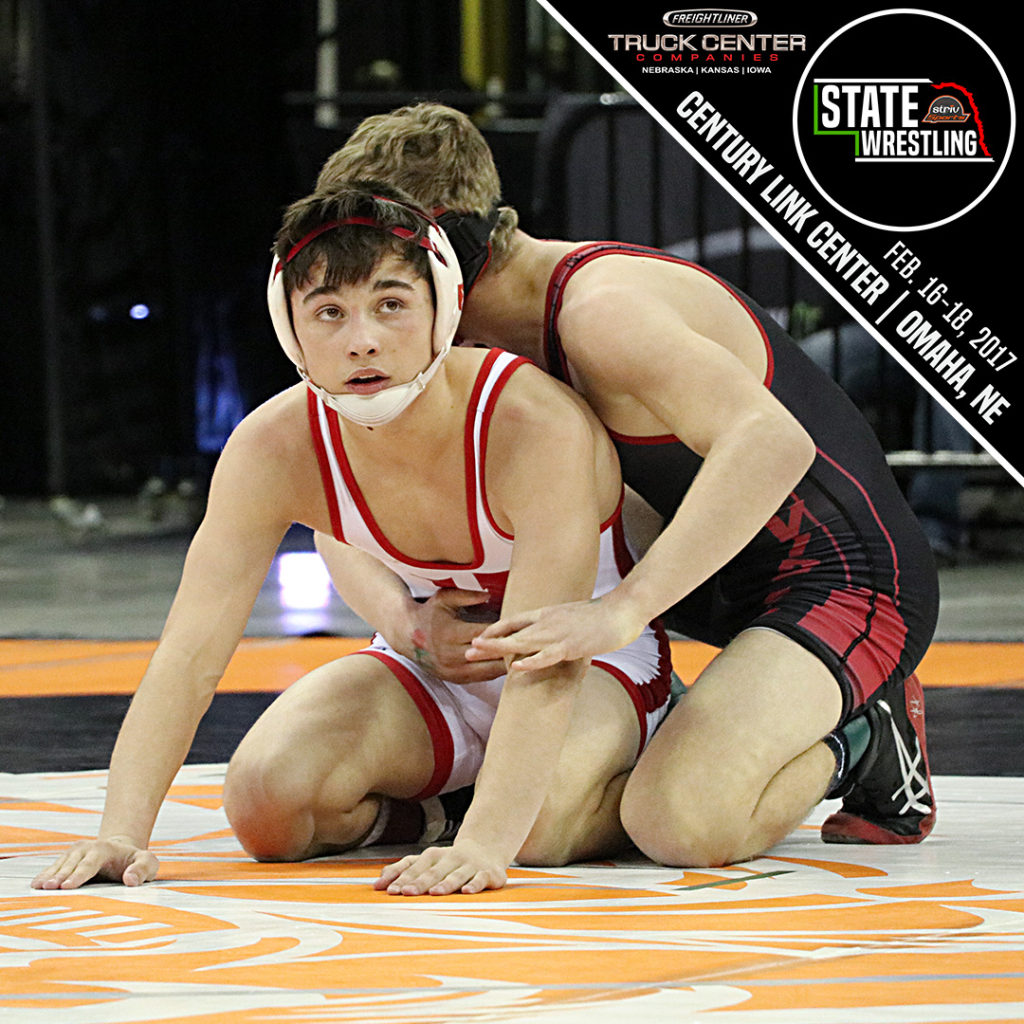 It was on the Badgers mind said 113 pound champ Gage Krolikowski who pinned David City's Seth Styskal in the finals to finish 31-0. And, the freshman helped his senior leaders.
"We were trying to break that Class C record," Krolikowski said of his match. "I knew the team was counting on (a pin). I had to somehow get his shoulder down.
"It's an amazing feeling. Our team has a brotherhood."
Krolikowski joined fellow champs Jordan Kelber (40-0, 126), Caleb Long (33-4, 152) and Donald Stephen (33-3, 170) who will all return next season. Kelber and Stephen are juniors and Long is a sophomore.
Maybe, just maybe, the Badgers will have their sights set on themselves in 2018.
Bearcat Silver
Kearney coach Ty Swarm knew that Friday night would be a key night for his Bearcats to make a push at prohibitive favorite Millard South in the Class A race.
Kearney still had 11 wrestlers alive on Friday night and needed points in the wrestlebacks to make their move. They advanced in four of five semifinal matches, but went winless in the heartbreak round.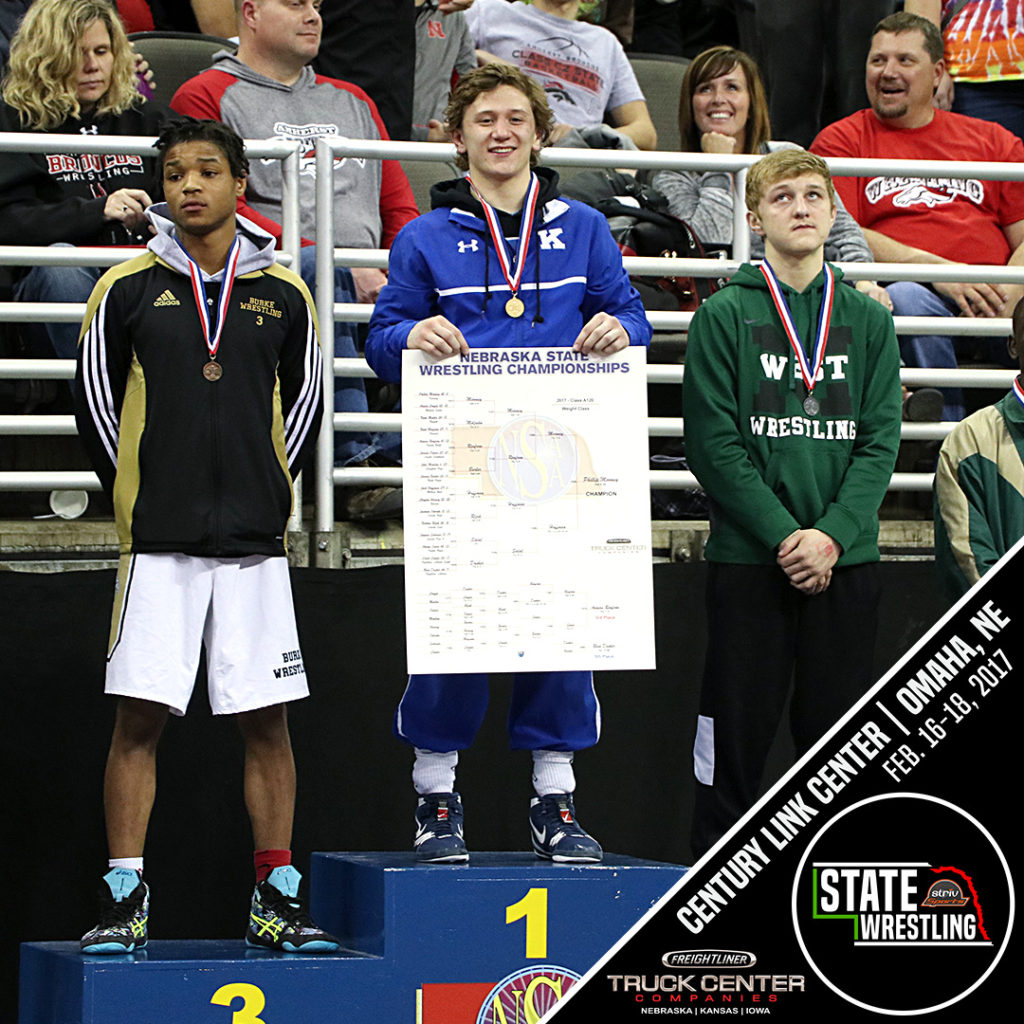 "As soon as we didn't put guys through on the backside last night, we knew it would be tough," Swarm said when it was all over. "We needed that help to chase them down.
"Pretty relaxing (Saturday). Very proud of our two champs, Phillip Moomey and Lee Herrington. They worked their tails off this year."
Moomey, a sophomore, finished 42-2 and pinned three of four opponents at state, the final one Jack Huffman of Millard West in the final who won 113 pounds in Class A last year when Moomey finished fifth after a first round loss to eventual finalist Jake Stodgill of Millard North.
"I kind of had to treat myself as the underdog," Moomey said.
Herrington needed just five minutes, 10 seconds — not even a full match — to become a state champion while pinning four opponents. He beat Joel Anstine of Bellevue East in 30 seconds in the final to finish 41-2.
"It's the ultimate dream come true," Herrington said. "You dream about it as a kid in middle school and then you think about all through high school."
His biggest fan? Maybe Moomey.
"Lee is a bad, bad man," the 120 pound champ said.
Max's Trifecta
Wherever Max Hughes decides to wrestle next season, will likely be the last final at the 2018 state championship. The champ at 106 as a freshman and 113 as a sophomore, Hughes added a 132 pound championship to his mantle on Saturday.
It sets up the rare four title chase for the Syracuse star. He defeated Monte Mumm of Raymond Central 13-4 in the finals.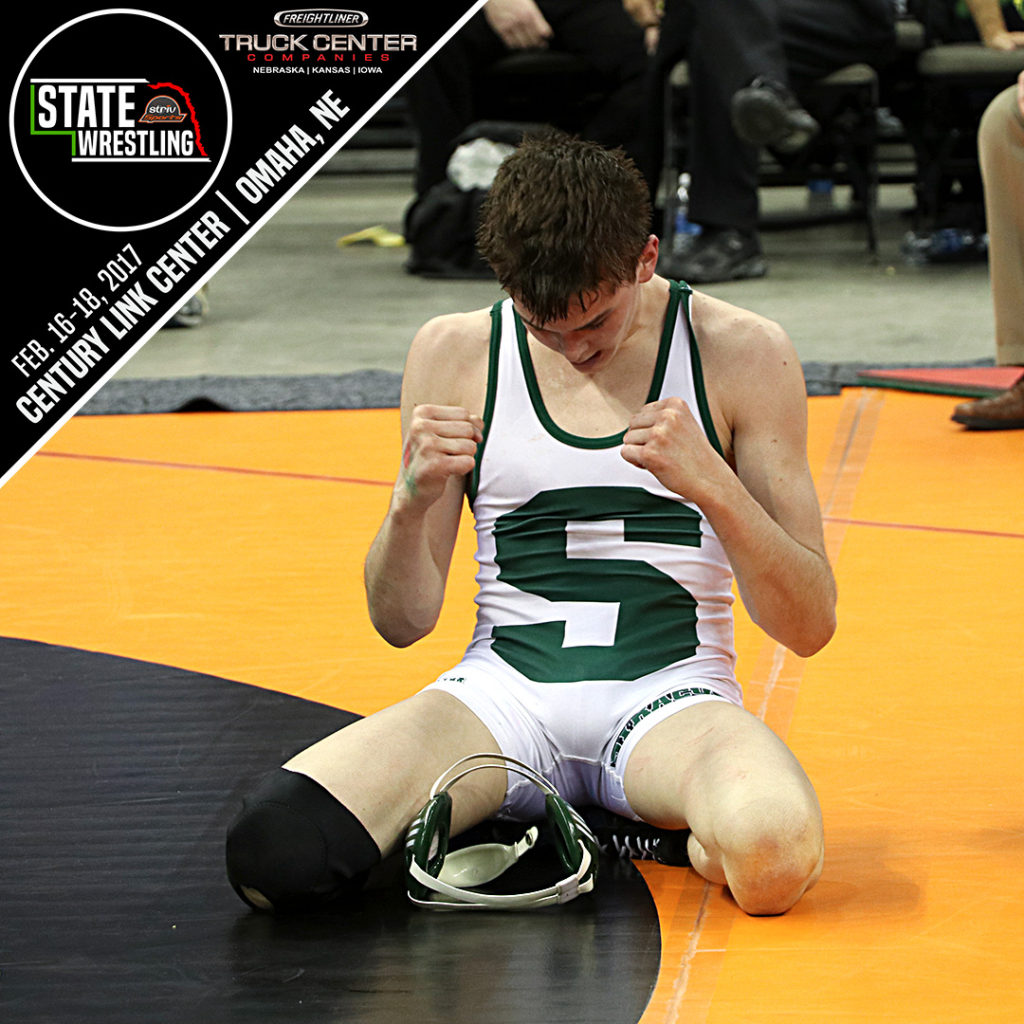 "It feels like all the hard work is starting to pay off," Hughes said. "I am seeing my dreams as a kid finally come true. It feels awesome."
The move from 113 to 132 was not much of a change for Hughes, he said. "Just had to get the feeling of wrestling bigger guys."
And will he move up again in 2018? "For sure," he said.
Now 28 four-time champions in state history with the addition of Korbin Meink of Omaha Skutt and Christian Miller of Plainview on Saturday, Hughes will be joined by Sidney's Derek Robb as wrestlers with a chance at four titles next season.
What does it take? All the stuff this makes you a champion in life.
"Training every single day," Hughes said. "Staying disciplined on and off the mat. You need to do a lot of things to make it happen."
---
[instagram-feed]