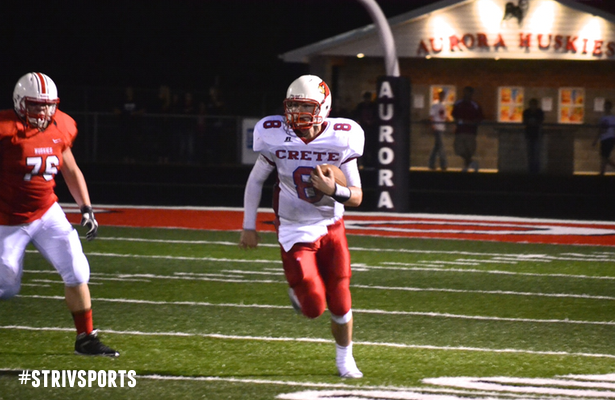 And we're off.
The 2014 prep football season got off to a fast start last night with many great games. The Rewind will try to bring you up to speed on some of those every Saturday during the regular season.
Our first ever Striv Sports Game-of-the-Week didn't disappoint anyone. Class B, fifth-ranked Crete got a 24-yard Jose Marquez touchdown run with 1:45 left in regulation, converted the ensuing 2-point conversion and then Marquez scored from 10 yards out in overtime for a 36-29 win over seventh-ranked Aurora.
It was so much better than that, too.
The Cardinals, coming off a 5-5 campaign in 2013, looked every bit the part of a state title contender in the first half. They led 21-7 and outgained the Huskies 258-76 behind an 8-for-8 passing effort from quarterback Alex McGinnis and the do-everything ability of South Dakota State recruit Jake Harms.
McGinnis threw for 105 yards and two first half touchdowns to Harms, before finishing with 177 yards passing and 93 rushing. Harms plays mostly as a receiver, but his ability to get in the Wildcat can provide a spark offensively and will cause teams fits all year. Harms caught five passes for 104 yards and ran seven more times for 69 yards. He commands the field on defense as well.
But, Crete coach Chuck McGinnis made some great teaching points as he spoke with his team after the game. These Cardinals are not a two-man show.
"You guys can tell, it takes everybody to win a game like this," the coach told his team. "Don't tell yourself, 'I am just on punt cover or just PAT or just kick return,' because we needed everybody tonight. All of those things are important. It takes a team effort."
Indeed, the media didn't even know who the hero was for the Cards. The program listed kicker Manuel Lopez as Marquez's #22 and so he got initial credit for the game-winning scores. But, Crete needed Lopez, too. The senior kicker didn't miss a PAT on the night going 4-for-4.
And, while Aurora coach Randy Huebert may slightly lament his team's ability to run the ball effectively last night, he got a game effort from new quarterback Jake Kittle. The senior ran and threw for 271 yards and three scores — two to speedster Todd Honas — and ran for another score and 46 yards. But, the Huskies manage just 51 yards on the ground.
"Their defense sold out most of the night," Huebert said. "They brought just about everybody on just about every play. I thought our line battled well for the most part."
Let's Rewind:
– Class A top-ranked defending champion Omaha North got a 20-yard touchdown not from Calvin Strong, but Tavion Seals with 37 seconds left to beat Millard West 20-13.
– Pierce Almond did Pierce Almond things for Grand Island as the fourth-ranked Islanders scored a 35-28 win over Kearney.
– Papio-South got three fourth quarter TDs to beat Burke, 21-3 and Bellevue West dominated Westside 41-0.
– In Class B, Omaha Skutt opened defense of their title with a 42-7 whipping of No. 2 Beatrice. Stu Pospisil was there.
– Norris used five first-half turnovers and York missed a late extra-point as the Titans held on for a 21-20 win.
– Falls City and Ashland-Greenwood scored big early wins in Class C-1.
– Class C-2, top-ranked Aquinas defeated Hartington CC in overtime.
– Hastings St. Cecilia sprinted past Ravenna.
Parting shot…
Color me impressed with the 34-7 win that Grand Island Northwest scored against Adams Central on Friday night. The Vikings got a defensive touchdown and balance effort from their offense. Next test — home opener with McCook next week.