WHEREVER FOOTBALL TAKES YOU — The chill in the air comes this time of October – the leaves change colors – and it takes two of Nebraska's most famous football brothers back in time.
"When I look back," Chad Kelsay's voice booms earlier this month, "I don't know if there was anything more fun than playing high school football with your buddies."
Profound words for a guy who was a beloved Nebraska Cornhusker, who played football in front of millions of fans and won two national championships. His kid brother, three years his junior and with a 10-year NFL career under his belt, doesn't mince words about what high school football meant to him either.
"That's really where it all started," Chris Kelsay said. "In high school it was fun being with your buddies and competing with them. We had a tight-knit group."
"You have seen Friday Night Lights. That's what it's about. It teaches being accountable to your buddies and laying it all on the line for them."
Football took the Kelsay boys – the oldest two children of Steve and Jackie Kelsay – all over the United States. It gave them college football national championships and an NFL career that netted over 400 tackles. And, its lesson's brought them back home; to work for Nebraska-based Truck Center Companies.
Their story is a simple one. That football – any sport for that matter – can take you places you never dreamed of going if you work hard; and when it's over, it will continue to be one of the driving forces of who you are and what you become.
Sports were always something that you could fall back on when the Kelsay boys were growing up at the family home south of Auburn on Highway 75. Mom was principal and athletic director at nearby Johnson-Brock High School and dad did it all — farmed, drove a truck and was a deputy sheriff — including teaching his sons a love for the outdoors.
"Growing up, I was probably like every other kid my age in Nebraska," Chad said. "We'd listen to the game on the radio and when it was over, I was Keith 'End Zone' Jones out in the yard."
A deep love of sports was always around, as the brothers were both all-state basketball players and brought home medals from the state track meet.
"We were just around sports a lot," Chris said. "They were always on the television, anytime we would go to my mom's parents house we would watch games, too. Our parents played a huge role in our success."
You can imagine the ribbing the two standouts give each other – Chad flashing national championship rings; Chris the financial fruits of his career with the Buffalo Bills.
Yet Chris still counts his freshman season of high school football – the only one he played with big brother – as one of his greatest football memories.
"When he was a senior and I was a freshman in high school," Chris admitted, "I learned a lot from him."
It was a rare fall that year in Auburn. 1994. The Bulldogs missed the state playoffs after playing in them for the first time in school history in 1992 and following that first trip up with another in 1993. When Chad left and went to Nebraska, Chris led Auburn to three playoff appearances from 1995-97. The final two years they lost in the semifinals to champions Milford and David City Aquinas.
The power of community still resonates in Chad's mind during that first playoff game, when they were undefeated and beat Beatrice in the first round.
"You know, we were a town of 3,500 people or so and we get to the game with Beatrice and there are 5,000 people there when we get off the bus," Chad recalled. "Growing up as a kid in a small town, high school football is such a big deal. The whole town comes out for Friday nights."
Chris will quickly admit to basketball being his first love. He walked right past Tom Osborne in the living room one night after practice when Chad got a full-scholarship offer from the Cornhuskers his senior season. He was being recruited by some small in-state schools, Kansas State and Iowa State prior to Nebraska's interest.
It was a no-brainier. Chad would be the first NCAA Division I scholarship male athlete from Auburn since 1945.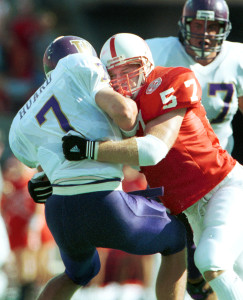 "For a small town kid, it was a big deal," Chad said looking back. "It was an extremely rewarding experience."
Less than a year later, he played in all 12 games for the 1995 national championship team as a true freshman recording 20 tackles and three for a loss. Many consider it the greatest college football team of all time. By the time he finished in Lincoln, he added a 1997 national title and during his senior season he was 1st team All-Big 12 and an academic All-American.
Back home, Chris was garnering national attention and being widely recruited. He got his first offer from Michigan – who shared the national title with Nebraska in 1997 – during his junior season. Then Nebraska defensive coordinator Charlie McBride ended things shortly after that.
At Nebraska summer camp, McBride told Chris, "in words I can't really repeat that I wasn't going to Michigan. They pulled me into Coach Osborne's office and that was all it took."
Playing for Coach Frank Solich, Chris enjoyed a stellar Nebraska career as well. He was a second-team All-American as a junior before being slowed by an injury during his senior year. Still, he was the 48th overall pick by the Buffalo Bills in the spring 2003 draft. Both Kelsay's were recipients of the prestigious National Football Foundation/College Football Hall of Fame post-graduate scholarship.  
While in Buffalo, Chris and his wife, Natalie, started a family. Playing in the NFL got more difficult as their family grew. All of his children — Harper, Avery and Rhett — were born in Buffalo and they still own property in the area, but make their full-time home near Gretna.
"Buffalo was a great part of our lives," Chris said. "We try to go back every year and spend some time there. It really flies by, but one of the things I wanted to do was play for one team my entire career and I was able to do that. That was a big goal for me."
A goal that sounded like it originated back in a small-town in Nebraska.
After his short NFL career — Chad was drafted by the Steelers and spent a year in Pittsburgh and spent another season with the Rams — the older Kelsay had developed a relationship with Truck Center Companies while working for the insurance firm AON.
After 10 years with AON, he was hired as the Vice President of Sales for TCC five years ago and quickly had his eye on a new employee who he played football with in the back yard. After taking a year off and "realizing I couldn't sit still very well," Chris joined TCC as a Fuel Solutions Specialist after retirement and he now works as the Compliance Manager.
"It's awesome to be back together and have our families close," said Chad who has two children with wife, Carie, as they make their home near Elkhorn. "We are about 15 minutes apart and our parents and sister are just down the road in Auburn."
All of this to be part of a company that shared the values system of their small town and of the lessons they learned from high school football. Both said to work for a company that shares their values of work ethic and culture is rewarding.
"I think the industry that we are in is built on hard work," Chris said of working and the culture at TCC. "I think we have success with hiring people who have been involved in athletics because they are not afraid of hard work and to go the extra mile to achieve a goal."
Chad Kelsay said that Truck Center Companies CEO Trey Mytty — himself a former high school wrestler — supports a culture built on a strong work ethic.
"Most of us grew up in small towns where we were instilled with that culture of working hard — especially in the summer months — and we had that put into us by our parents," Chad noted. "I think over time that stays with you. And, it works well for us here."
It's a culture that has worked well for ages. One that started for Chad and Chris Kelsay on a football field in the fall and took them to places they never dreamed of going. An impressive ride for sure, but one that hasn't really ended.
It's still serves them well today — long after the championship rings and NFL contracts — because it works.

It might just start for another prep athlete tomorrow, when the Nebraska State Playoffs begin again. Because when the leaves turn and the chill in the air changes, those memories take you back. Or, maybe, they never left.