WHERE CHAMPIONS PLAY — In this building, one that has quickly turned into the premier facility for volleyball in the nation, small communities gathered to watch championships be won on Saturday.
The Devaney Center, home to four-time and defending national champion Nebraska volleyball, is the perfect stage for the NSAA state championships. Don't let anyone tell you otherwise. The home of 216 consecutive volleyball sellouts for the big state team, it's the perfect gathering spot for towns to come together.
They watch their girls, their team, their town compete for the ultimate dream — a state championship with their friends.
Johnson-Brock sophomore Fallon Stutheit knows how cool this place is. A now two-time champion who has committed to play for Nebraska coach John Cook, she finished with 86 kills on the weekend as the Eagles defeated Meridian in the Class D-1 finals match.
"It's a special place to play," she said. "But it's more special to play for our school, our community."
An all important but in that statement.
There is a camaraderie to this sport and to the communities of this state. Especially in the small towns. The very difference between a community and just a school in a more suburban city.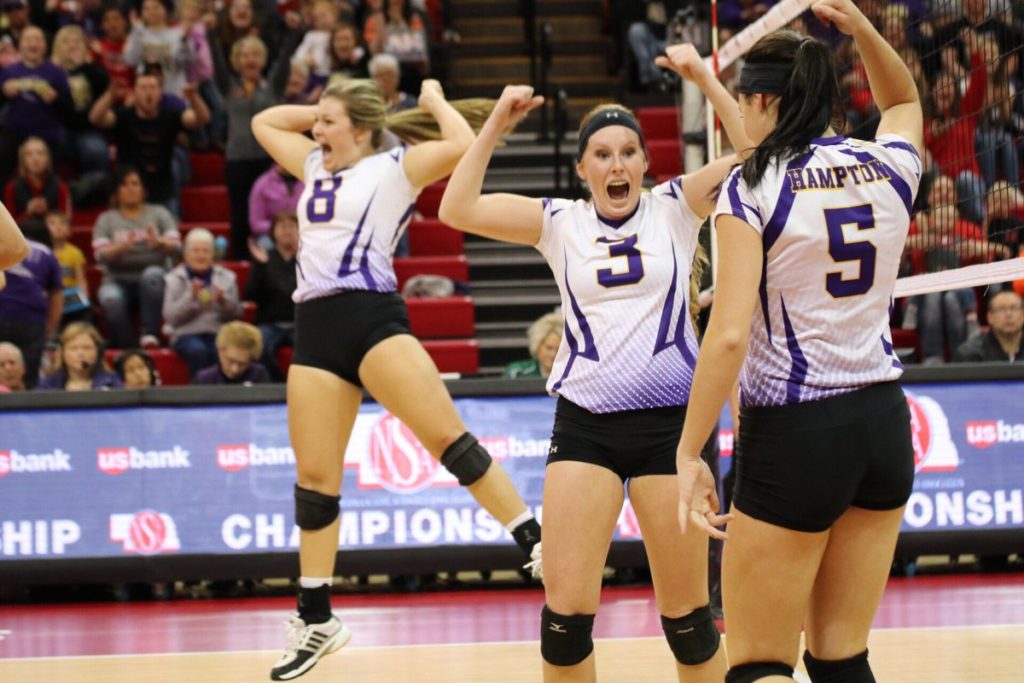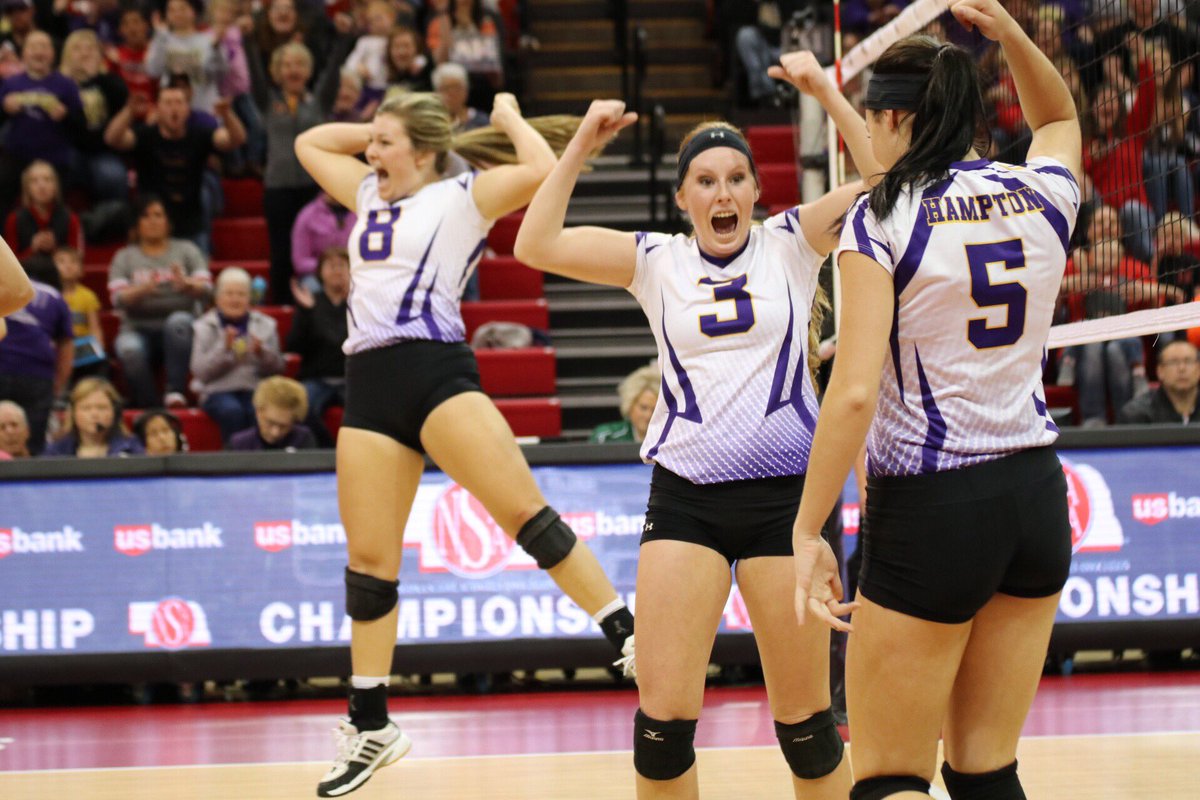 In Hampton, they've done this before.
Basketball state tournaments were the norm in the late 1980s and early 1990s. A decade later, coach Diane Torson won consecutive volleyball titles. For the coach with over 600 wins and now three state championships, the opportunity to do something on a bigger stage has probably presented itself.
What's the lure of volleyball in a small town, in the Crossroads Conference? In Hampton?
"Look at our community," Torson said. "Look at our parents. Several of them have played in state tournaments before. The energy that they bring to it is phenomenal. You can't really beat small-town athletics."
It was evident all weekend on the Hampton side as they swept their way to a championship against Wynot.
Dads in their famous purple and yellow overalls. Moms in their dresses. All cheering to support their kids; most of them doing the same their parents did for them when they competed at a state tournament, or played in a state football playoff game, 20 or more years ago.
Yeah, they'll remember this bunch for a long time here, with a school full of trophies this might be the most dominant team in school history: 35 wins and no defeats; 34 wins via sweep. That's stuff you can't dream up.
"We were relaxed," Torson said. "The girls knew what they need to do. They know that when they are playing well it's when they are having fun. Probably the most laid back group I have ever had.
"We have had the most fun."
Community extends in volleyball. So, the Hawks cherished their title, but stayed to watch their conference mate Meridian — a team they swept twice — in the second game of the day against Stutheit's Eagles.
The Hawks had done the same on Friday supporting Meridian in their five-set semifinal win over Elgin/Pope John. And the Mustangs showed up early on Saturday to watch Hampton as well.
Heads high @MeridianMustang. Thanks for letting us share your story! Congratulations on a great season. pic.twitter.com/DpwquGH3CL

— Striv Sports (@strivsports) November 12, 2016
After taking the first set, Meridian couldn't keep up with Johnson-Brock after that as the Eagles claimed a 18-25, 25-12, 25-21, 25-21 win for their second straight title. Both title games were district final rematches that went the wrong way for J-B in district play.
"We just have a very resilient group," Eagle coach Tera Stutheit said. "They rely on each other, they play a lot for their teammates. I think experience (from last year) was helpful for us."
That and the volleyball communities around them. The season of these three teams miraculously intertwined.
When Johnson-Brock beat Meridian on September 13th at the MUDECAS Tournament, it was in the consolation semifinals. You read correctly. Such is the quality of volleyball played in the small towns of southeast and south central Nebraska.
A day earlier, J-B had lost to BDS. They'd lose only two more times all season. Meridian had lost to Exeter-Milligan — the defending D-2 champ who finished third this year — and was 5-3. They would lose only two more times until the final, both times to Hampton.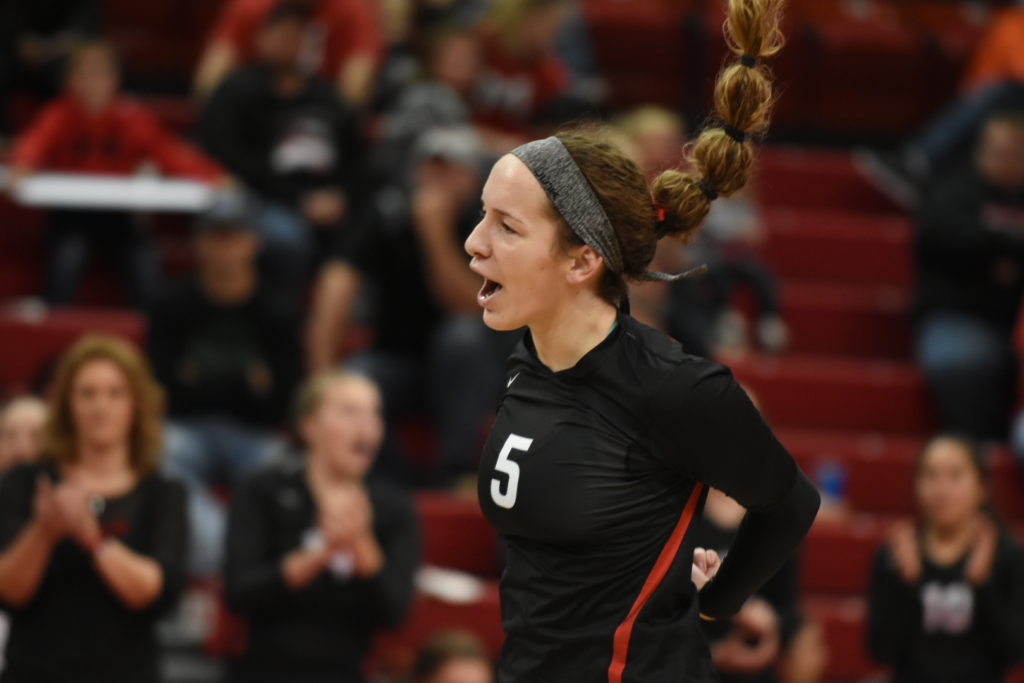 "Once you get to the semifinals (in the CRC tournament), it's just like state," Meridian coach Bob VanWesten said. "It's good for us, but it's tough every year.
"We play Exeter-Milligan and Hampton twice each year. But the support is great. Other coaches and athletic directors have called me. The support has been unbelievable."
So, that story on Saturday morning was about volleyball, sure. About playing where all the little girls heroes play and maybe getting to be one yourself.
But, it was about community, too. About representing more than a school, but a town. Something that was about more than yourself, but your best friends, and cheering with the neighbor from the next farm over.
And, as populations shift, you don't get that everywhere anymore. So you find it in communities like Hampton and Johnson and Brock and Daykin. That teams will bring us all together for a common cause. Those are the lessons that will stick with you forever.