The 5th Annual Striv All-Star Classic presented by Cornerstone Bank brought fans to the edge of their seats in the girls game, and kept them entertained during the guys game.
The blue girls jumped out to a 16-10 lead at the end of the first quarter, lead by Kate Jansky (Exeter-Milligan) and her 5 points. The second quarter favored the Orange team, as eight different players scored lead by Adelene Krutsinger (Dundy Co Stratton) with seven. The Orange lead 32-30 at half.
Momentum swung back to the Blue in the third period, behind five points from Kayla Luebbe (Seward) to give them a 52-48 lead. The blue still lead by seven with 4:44 left, but the Orange two straight baskets from Morgan Samuelson, a 3-pointer from Haley Schukei (Kenesaw), a three point play from Grace Frederick (Dundy Co Stratton) gave the Orange the lead. After the Blue had tied the game at 68, clutch free throws from Jadyn Kleinschmidt (BDS) in the final 20 seconds secured the victory.
Between games fans got to see fireworks in the 3-point and Skills Challenge. The boys 3-point contest pitted Peyton Dubbert (Deshler) against Nolan Sughroue (Adams Central). Dubbert made 18 shots in one minute for the title. Then it was the girls turn, as Brooklyn Minzel (Malcolm) defeated Schukei with 17 made shots. In the finals, Dubbert made 19 shots to edge Minzel (17) for the title.
The Skills Challenge saw a Blue team vs Orange team matchup, with the Orange team represented by Morgan Samuelson, Kalee Wiltfong (Doniphan-Trumbull), Carter Bornemeier (Elmwood-Murdock) and Jackson Hirschfeld (Centennial) and the Blue team represented by Lilly Cast, Brooklyn Gierhan (Centennial) John Emanuel (North Bend Central) and Carson Schwarz (Kearney). Teams are required to make one lay-up, free throw, 3-pointer and half-court shot, with Hirschfeld banking in his first attempt for the win.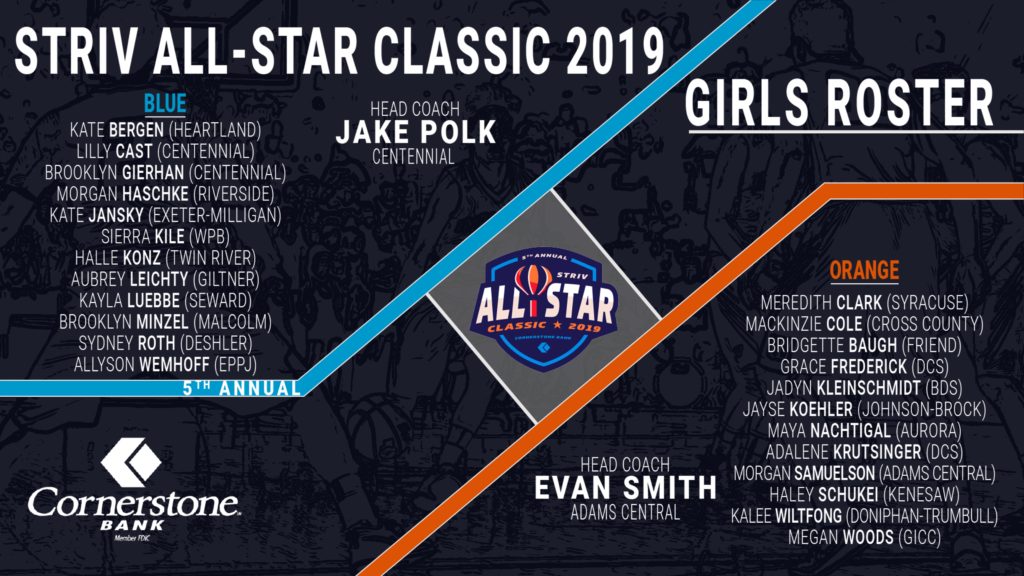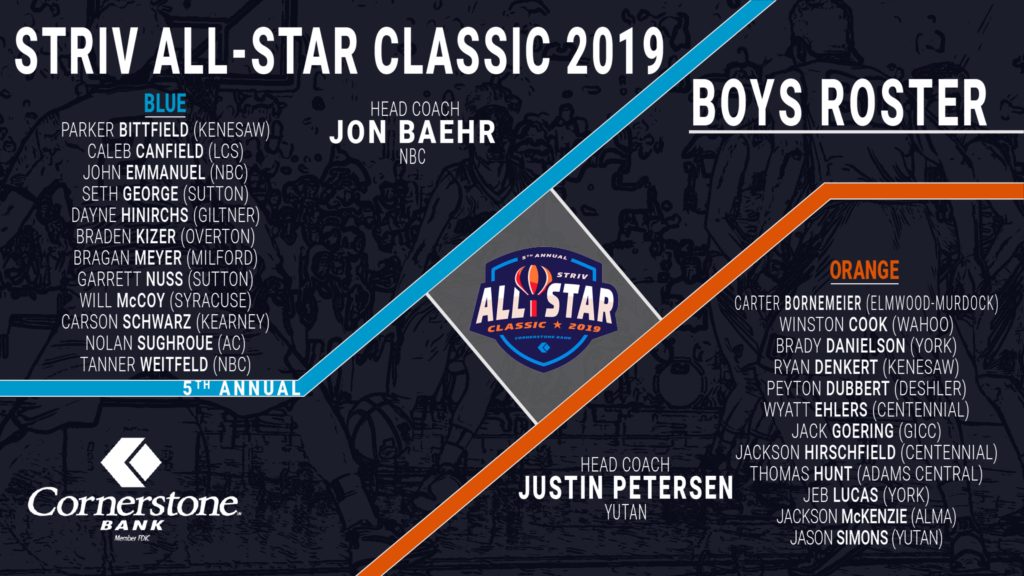 Striv is proud to bring you the 5th Annual Striv All-Star Classic presented by Cornerstone Bank. This years event will once again be held at York High School, on Saturday June 8th. The girls game will begin at 6pm, with a skills challenge and 3-point contest between games, and the boys game set to start around 8pm.
Girls coaches this year lead their schools to outstanding seasons. Adam Central's Evan Smith guided the Patriots to the C1 State Tournament, while Centennial's Jake Polk took his squad to a District final.
The boys coaches also enjoyed season that ended oh-so-close to championships. North Bend Central's Jonathan Baehr saw his team fall in the closing seconds to Auburn for a C1 title, while Justin Petersen of Yutan brought his Chieftains to the C2 finals, where they were ousted by eventual champions BRLD.