Girls Game

Girls Scoring
Orange: Lexi Kadel (BDS) 11; Chloe Schumacher (Malcolm) 8; Bailey Lukasiewicz (St. Paul) 2; Lauren Riley (York) 18 (ties scoring record); Megan Grote (BDS) 0; McKenna Anderson (Riverside) 6; Carley Elznic (BDS) 2; Brooke Fredrickson (North Bend Central) 1; Camry Moore (Crete) 10; Brittney Hinkel (West Point-Beemer) 18 (ties scoring record); Ell Luehr (Wood River) 5
Blue: Cassi Bose (Southern Valley) 14; Claire Kubicek (Friend) 6; Kenzie Turman (Sandy Creek) 5; Cali Shanle (Twin River) 0; Raeleigh Menke (Friend) 7; Taylor Quiring (Heartland) 5; Hannah Beethe (Exeter-Milligan) 7; Bailey Peters (Heartland) 2; Carsyn Zumpfe (York) 5; Kristin Lux (North Bend Central) 9; Tara Mueller (Exeter-Milligan) 2
Boys Game

Boys Scoring
Blue: Tanner Wroblewski (St. Paul) 8; Trestain Seimering (Cozad) 6; Jayden Herzberg (Aurora) 15; Klay Uher (Crete) 12; Caden Norder (BDS) 9; Riley Schliep (Northwest) 21; Logan Shuldt (Doniphan-Trumbull) 5; Chase Largen (Creighton) 6; Heath Haberman (Centennial) 2; Kanon Koster (Kearney) 21; Bryce Danielson (York) 5; Jessie Sullivan (BCNG) 6
Orange: Kole Karcher (Fillmore Central) 6; Lane Huebert (Heartland) 12; Colton Beebe (Cross County) 10; Trent Wilson (Central City) 8; Brady Glause (Northwest) 17; Jarrod Shoup (Hampton) 2; Zach Rust (Elmwood-Murdock) 2; Ben Bohling (Johnson-Brock) 0; Connor Boehr (Heartland) 11; Dylan Gentrup (BCNG) 9; David Erhke (Alma) 7
---
---
Striv founder and CEO Taylor Siebert is pleased to announce that York High School will again be the host for the 4th Annual Striv All-Star Basketball Classic presented by Cornerstone Bank on June 9. The girls game will begin at 6:00 with boys to follow at 8:00 in addition to the player skills challenge and 3-point shooting contest between games. The game was moved a week later this year to accommodate other area games.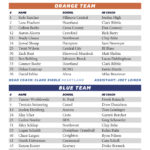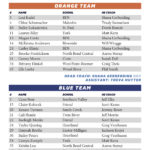 "The first Saturday in June was a success for us, but we wanted to give a little change this year," Siebert said. "So many times our athletes have been forced to choose and we wanted to see if we could make that process a little easier for them this year.
"This event, with great support from Cornerstone Bank, has a great way for us to showcase our student-athletes. Our growth and commitment to help sharing a school's story is highlighted by this event. With over 80 schools, we have plenty of great athletes to choose from and we hope to put on a fun, family-friendly event with high quality basketball being played."
The games will each have their own, unique local flavor.
On the boys side, York High graduate Drew Danielson – the current boys coach at Cozad – will head the Blue Team that will also feature his brother, Bryce, who helped lead York to the 2018 Class B state championship. Highlighting the team will be Kearney Super-State selection Kanon Koster, who led the Bearcats to back-to-back Class A state tournament appearances and will play at Nebraska-Kearney in the fall. He is the all-time leading scorer in Kearney High history.
The Orange team will be led by Heartland's Clark Ribble, who just accepted the head coaching position at Beatrice High School. Ribble led the Huskies to back-to-back state tournaments in 2017 and 2018, while they finished fourth in this year's tournament with a season record of 21-5. Joining Ribble one last time on his team are all-state selection Lane Huebert and Conner Boehr, who has committed to play football at Morningside.
On the girls side, conference friends and rivals Shana Gerberding (Bruning-Davenport/Shickley) and Jackson Krejci (Exeter-Milligan) will lead the Orange and Blue teams, respectively, after leading their teams to the state tournament in 2018. BDS beat Exeter-Milligan three times in the regular season, including a 53-40 in the Crossroads Conference championship game. The Eagles and Gerberding advanced to the Class D-1 final before losing to North Central, while the Timberwolves were third in Class D-2, beating Hyannis 46-45 in the consolation game.
The two coaches will have five of their own players on their teams. For Gerberding, Megan Grote, Carley Elznic and Lexi Kadel will help lead the Orange Team, which also features York all-state selection Lauren Riley and Super-State softball player Camry Moore of Crete. Tara Mueller and Hannah Beethe will join Krejci on the Blue team that also features do-everything Heartland track standout Taylor Quiring and West Virginia volleyball recruit Kristin Lux of North Bend Central.
"Each year, we have been humbled by the amount of talent we have been able to choose from and 2018 is no question one of our top talent pools," Siebert added. "Our coaches that have been selected promote what is great about high school sports, that sports can teach life lessons and be fun all at the same time. We are looking forward to another great night."
Players were nominated by coaches and then selected via a draft creating a game format where four sets of high school teammates will be on opposite sides, two in the boys and two in the girls, for each game.
Boys Rosters
Orange: Lane Huebert (Heartland), Connor Boehr (Heartland), Aaron Alcorn (Crawford), Colton Beebe (Cross County), Kole Karcher (Fillmore Central), Zach Rust (Elmwood-Murdock), David Erhke (Alma), Dylan Gentrup (Boone Central), Trent Wilson (Central City), Jarrod Shoup (Hampton), Brady Glause (Northwest), Ben Bohling (Johnson-Brock). Coach: Clark Ribble, Heartland.
Blue: Trestain Seimering (Cozad), Bryce Danielson (York), Klay Uher (Crete), Tanner Wroblewski (St. Paul), Caden Norder (BDS), Logan Shuldt (Doniphan-Trumbull), Heath Haberman (Centennial), Jayden Herzberg (Aurora), Jessie Sullivan (Boone Central), Kanon Koster (Kearney), Chase Largen (Creighton), Riley Schliep (Northwest). Coach: Drew Danielson, Cozad
Girls Rosters
Orange: Megan Grote (BDS), Carley Elznic (BDS), Lexi Kadel (BDS), Chloe Schumacher (Malcolm), Camry Moore (Crete), Lauren Riley (York), Elle Luehr (Wood River), Brittany Hinkel (West Point-Beemer), Brooke Fredrickson (North Bend Central), Bailey Lukasiewicz (St. Paul), McKenna Anderson (Riverside). Coach: Shana Gerberding, BDS.
Blue: Cassi Bose (Southern Valley), Carsyn Zumpfe (York), Cali Shanle (Twin River), Taylor Quiring (Heartland), Bailey Peters (Heartland), Hannah Beethe (Exeter-Milligan), Tara Mueller (Exeter-Milligan), Raeliegh Menke (Friend), Claire Kubicek (Friend), Kenzie Turman (Sandy Creek), Kristin Lux (North Bend Central). Coach: Jackson Krejci, Exeter-Milligan.
FOR MORE INFORMATION: Taylor Siebert (402.513.8770 or [email protected]) or Eric Allgood (402.513.8743 or [email protected])