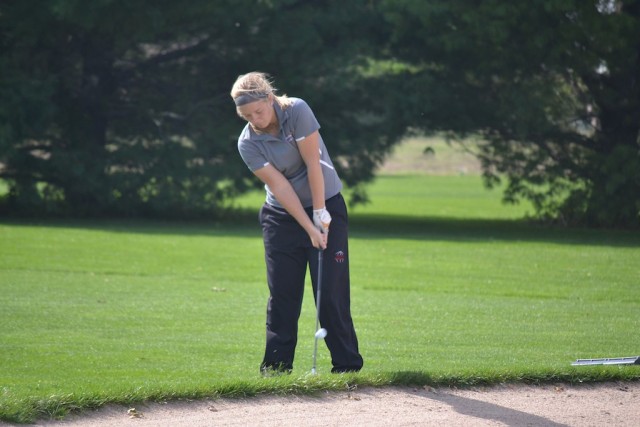 A total of 31 golfers from Striv schools will tee it up at the NSAA girls state golf tournaments which begins Monday morning at three sites across the state.
Class A will play at Norfolk Country Club, Class B will be at Pioneers Golf Course in Lincoln and Class C will participate at Quail Run Golf Course in Columbus. The top three teams from each district and any golfer in the top-ten at their district qualified for the state meet. Aurora, Crete and Grand Island Northwest were team qualifiers in Class B and Dundy County-Stratton and Cozad qualified in Class C.
The following is a list of tee times for the two-day meet.
Class A
9:50 (1st tee) — Emily Jezewski (12), Omaha Central, 94 (district score)
9:40 (1st tee) — Annika Brown (11), Millard West, 95
Class B
11:10 (1st tee) — Samantha Redfern (10), York, 86
11:00 (1st tee) — Kacee Samway (10), McCook, 89
10:40 (1st tee) — Kristin Bell (12), Aurora, 93
10:30 (1st tee) — Murphy Sears (11), Crete, 95
10:10 (1st tee) — Paige McCoy (12), Aurora, 97
10:00 (1st tee) — Megan Canfield (12), Northwest, 98
9:50 (1st tee) — Laura Drevo (12), Crete, 100
11:00 (10th tee) — Jacalyn Johnson (12), Aurora, 105
10:50 (10th tee) — Mallaria Filla (12), Northwest, 107
10:40 (10th tee) — Emily Jeffers (11), Northwest, 108
10:10 (10th tee) — Amy Morris (11), Aurora, 116
10:00 (10th tee) — Tiffany Conrad (10), Aurora, 117
9:40 (10th tee) — Hannah Baum (11), Crete, 124
9:40 (10th tee) — Cierra Osentowski (12), Northwest, 130
Class C
11:22 (1st tee) — Brandi Lemek (11), Doniphan-Trumbull, 87
11:14 (1st tee) — Paige Mestl (12), Heartland, 88
11:06 (1st tee) — Melissa Kyncl (12), Boone Central, 88
10:58 (1st tee) — Molly Cornelius (12), Cozad, 90
10:26 (1st tee) — Payton Zarkowski (10), Dundy County-Stratton, 94
10:18 (1st tee) — Rebecca Lorens (12), Dundy County-Stratton, 94
10:10 (1st tee) — Tazah Weinmaster (11), Cozad, 96
9:54 (1st tee) — Emily Kay (12), Shelby-Rising City, 98
9:38 (1st tee) — Allison Mead (12), Syracuse, 101
11:22 (10th tee) — Courtney Carlson (12), Syracuse, 103
11:14 (10th tee) — Hally Waters (10), Dundy County-Stratton, 104
11:14 (10th tee) — Kaylei Becker (10), Cozad, 104
10:50 (10th tee) — Emily Ratkovec (12), Cozad, 107
10:34 (10th tee) — Andrea Neill (11), Cozad, 117
10:02 (10th tee) — FayeLee Sanford (11), Dundy County-Stratton, 124