Row the boat.
Grand Island Northwest football coach Kevin Stein kept imploring his players to do it last night. All the way until one precious minute remained on the game clock and Class B, No. 7 Scottsbluff had 4th and 2 at the Northwest 20.
So Austin Dammann rowed. And the Viking ship had dispatched the Bearcats 38-35 in front of an elated homecoming crowd.
"We just told our defense to keep going, keep rowing," Stein said afterwards. "They just kept working and fighting."
To that point, Scottsbluff had ran for 376 yards on 56 attempts. When Dammann came from the bottom of the pile on the Bearcats last play, they still had 376 yards after he — and a slew of buddies — stopped quarterback Traceton Halley for no gain.
You had to see it to believe it. And, you can watch the whole thing again.
Each team punted just three times. There were no turnovers. Both kickers were a perfect 5-for-5 on extra points with Preston Sundermeier's 29-yard field goal in the third quarter being the difference. It was a fourth-and-6 play from the 12, one that is usually a 50-50 proposition for an offensive mind like Stein.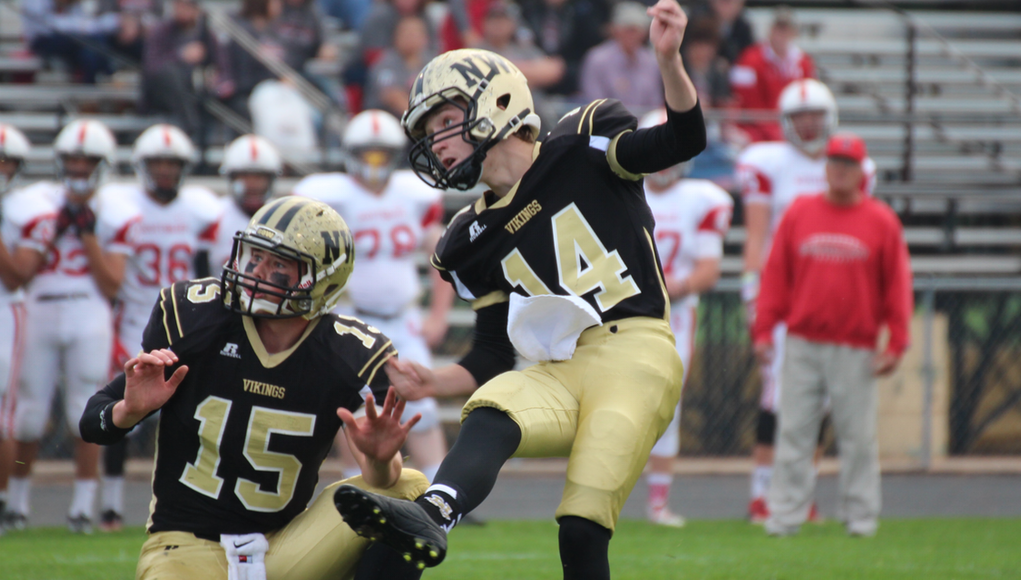 "Should we take the points here," he asked his staff toward the end of the third quarter. There was no hesitation. The Vikings had five fourth downs during the game, punting three times and attempting two field goals. Sundermeier's 37-yard attempt just before half was a just short.
"We've been pretty happy with our kicking and punting game and we've been playing the percentage's a little bit more, when you give a team a long field the odds of scoring go way down," Stein said.
So all the things being equal, it was the Vikings who had one thing that Scottsbluff didn't: Christian Ellsworth. The senior had a hand in 61 of the Vikings 68 plays and accounted for all five touchdowns, two rushing and three passing. He ran for 170 yards on 32 attempts, passed for 220 yards on 19-of-29 throws.
And, he left Scottsbluff coach Joe Benson shaking his head.
"If we play another quarterback in the state tonight, we win," Benson said after the game. "He was so good. So accurate. And, he was impossible to get to all night."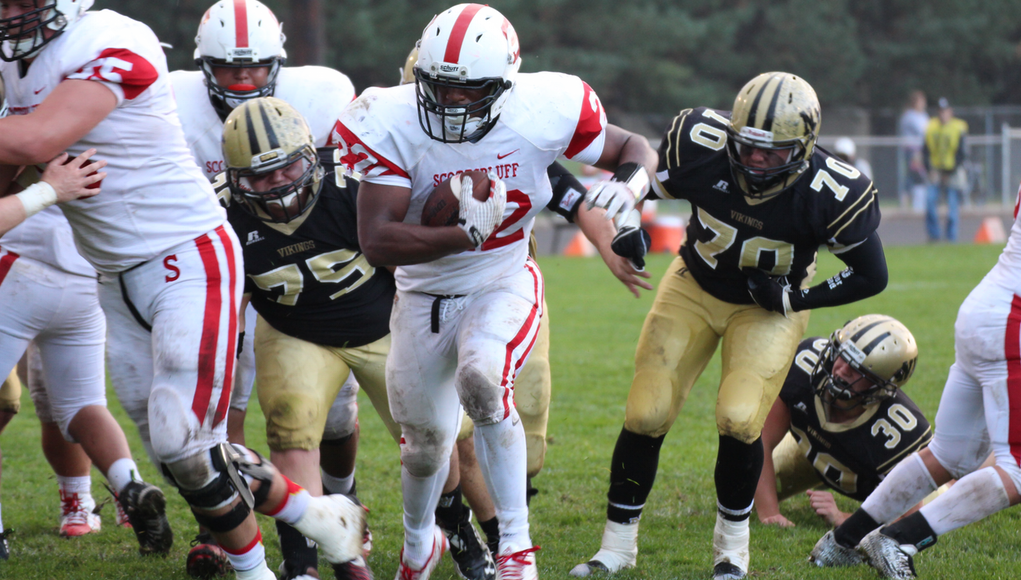 Hip, Hip!!
I'll admit it. I've been trying to keep a secret.
That I think No. 6 Aurora might be better than people think they are. And they proved me right on last night with a 29-7 road win over No. 4 McCook. They scored on their first four possessions and never looked back.
"We started really well," head coach Kyle Peterson said. "We played really well on defense and never really let their running backs get loose."
Preston Dibbern scored on the Huskies opening possession and Austin Allen caught a 21-yard pass from Grant Fox on 4th-and-10 on their second drive to set the tone.
"There was some extra energy in practice this week," Peterson said. "When you go play at McCook there is a special electricity to that place and it can become contagious."
Next week, a trip to Scottsbluff before district play.
Let's Rewind
Class A
No. 1 Wildcat defense dominant in 34-3 win | NebraskaHSFootball Report
No 4 GISH gets perfect 2nd half, tops Westside | NebraskaHSFootball Report
Running game lifts North past Creighton Prep
Norfolk stays unbeaten, Millard West next
Class B
No. 5 York turns away Crete, 31-6
Class C-2
Top-ranked St. Cecilia uses big plays to get past D-T
Eight-Man
No. 30 is tougher for Exeter-Milligan; top Giltner 16-14
Sis, No. 5 Perkins County hammer defending champs