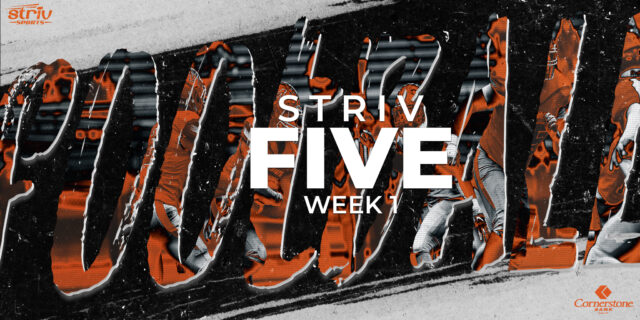 We are back and so happy to give you the Striv 5 for Week One! And, for the first time in our history, we cross the border. Here they are, the top five games for August 28 on the Striv Network.
---
Class B, No. 7 Bennington at Class B, No. 6 Grand Island Northwest: The Vikings have high hopes with an experienced line and multiple playmakers ready to go after advancing to the quarterfinals in 2019. Bennington's new coach Kam Lenhart has nearly 109 on his roster that features seven returning starters on defense. The first-ever meeting between these two schools.
---
Class C-1, No. 4 Pierce at Class C-1, No. 9 St. Paul: The Wildcats move up from a semifinal run in Class C-2 last year, but 19 returning starters could shoulder that load for coach Rusty Fuller. The line is lead by all-state candidate Nathan Scheer and they will block for 2,000-yard rusher Eli Larson. The Bluejays lost their "law firm" backfield that had three 1,000 yard rushers but return five starters including two-way man Garrett Meier.
---
Class C-2, No. 8 Fremont Bergan at Class C-2, No. 7 Yutan: Two teams who were young in 2019 and looking to improve on first-round playoff exits. The Chieftains return 20 starters highlighted by quarterback Brady Timm and 1,600-yard rusher Caden Egr. A big junior class will make up most of Bergan's starters where quarterback Koa McIntyre could shine behind a line led by all-state candidate Nolan Thomsen.
---
Class C-1, No. 10 Auburn at Class C-1, No. 5 Ashland-Greenwood: Auburn returns 20 starters from a 3-6 campaign that had five losses by 15 points or less. If you can believe it, all-state point guard Cam Binder anchors the offensive line at center he'll block for a talented backfield that includes Brody Darnell and Ryan Dixon. Binder's all-state hoops mate, Cale Jacobsen, switches to quarterback for the Jays who lost 16 seniors but gained Cozad transfer Matthew Schuster who ran for 1,600 yards in 2019.
---
Class A, No. 5 St. Albert at Class 3A, No. 3 Lewis Central: Nebraska commit Thomas Fidone and Lewis Central open the season against crosstown rivals St. Albert. Lewis Central is looking to take the next step after a trip to the Iowa Class 3A semifinals in 2019 as they finished 10-3.
---
Watch more live games on the Striv Network here.