SPRINTING AROUND THE STATE TO FIND A WIN; ANY WIN — Millard West is kind of one of those under-the-radar teams in Class A. They proved it again on Friday night.
Against 2017 finalist Kearney, who had won four straight after being blitzed by Grand Island to open the season, the Cats forced three turnovers in the first quarter, built a 21-0 lead, then defeated Kearney 42-20 at Foster Field.
"When you get short fields you have to take advantage of it and we did that," no-nonsense head coach Kirk Peterson told the Kearney Hub after the game.
Tristan Gomes threw a touchdown pass to Kaedyn Odermann and then ran in from 21 yards to give Millard West their 21-0 first quarter lead. Gomes finished the night 21 of 30, for 231 yards and three touchdowns.
The coach, Peterson, is as good as they come in the Nebraska high school game with his trademark baseball hat on backwards at every turn. His teams play a brand of football that generally wins a bunch of games: control the line of scrimmage, win the turnover battle, don't beat yourself up with penalties.
It's something that is built over time. Most of the kids that come play football for the Wildcats know what to expect. They haven't missed the playoffs since 2006.
Another test awaits on Thursday when unbeaten Grand Island comes to town and it looks like the district title will be on the line as well. The Rewind hears you can even watch the game online if you wish.
Broncos balanced, still unbeaten
Centennial continues to grind through one of the most difficult schedules in Class C-2 without a blemish. On Friday, they took down unbeaten North Bend Central 47-14.
The Broncos are tied atop the point standings with Sutton, who they defeated in Week Four. Norfolk Catholic — defending C-1 champion — is third. All of those three have seemingly dominated everyone in behind them.
A collision course looks like it's in the works for semifinal Friday.
The Beast Bailey
Sure Wilber-Clatonia moved to 5-1 with a big 41-14 win over Johnson County Central on Friday. But you can help but take a hard look at the Thunderbirds Josh Bailey.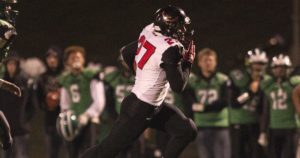 He continues to lead the state in rushing for the 11-man ranks with 1,307 yards on 134 attempts. And, look, the Rewind knows how much the Wolverines pride themselves on playing defense. So when you see 24 carries for 206 yards, you know Bailey is a special talent.
Playoffs hopes are on the line this week in Adams as the Birds take on Freeman.
Speaking of Collisions
Both York and Grand Island Northwest took care of business heading to a huge game this Friday with playoff implications. The Dukes took out now No. 10 Hastings 42-21, and Northwest throttled Beatrice 49-7.
Can Carter Terry solve the Duke defense? Can the Vikings slow down the York run game? All will be on the table on North Road.
Odds and Ends
We have game film requests from Deshler (a 39-35 upset of McCool Junction) and Mullen (who beat D1 2017 semifinalist Medicine Valley 42-40) on Friday night. We might throw them up on the wall in the office and watch.